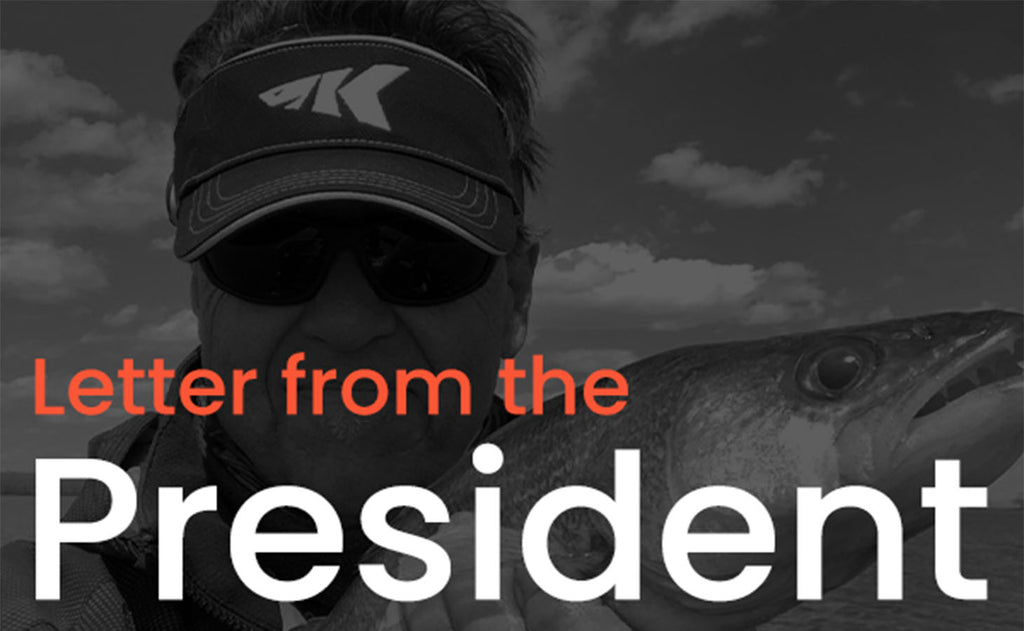 Letter from the KastKing's President
Dear valued fans, partners, and employees,
Growing up in beautiful Bozeman, Montana, fishing, hunting and everything outdoors was simply a way of life. I'm one of the fortunate few that have been able to build a business career through my passion for fishing.
I'll never forget the day I met Tate Cui at ICAST on a hot, steamy July afternoon. In a few minutes, he shared his path for creating this new company he called KastKing. I was intrigued. A few days later, we met again and discussed the future of e-commerce and its impact on the fishing industry. It was that instant that I made a life changing decision to take what I had learned from my retail experience and time spent developing products in the fishing industry, to work side by side with Tate to build a new brand in fishing that would provide anglers with innovative, technology-based equipment and to offer them at prices that all could enjoy. I've never looked back and I greet each day with optimism and joy.
I am thrilled to announce that KastKing is celebrating its 10th year anniversary this month. As we reflect on the past decade, we are proud of the progress we have made in establishing our brand as a trusted name in the fishing industry. We have worked hard to develop products that not only meet but exceed the expectations of our fans, and we are grateful for the loyalty and support we have received over the years.
Our success would not have been possible without the hard work and dedication of our employees. I would like to take this opportunity to thank them for their commitment to our brand and for their creativity and tireless efforts to ensure our products are of the highest quality. While we began our journey as an e-commerce company, we are now expanding into traditional retail environments because of consumer demand. We are grateful for those new business partnerships as they have helped us expand our reach and grow our customer base. This has made KastKing available to more customers around the world.
KastKing is a multi-cultural, international company. We live and work around the world. We each bring different experiences, knowledge and cultural dissimilarities to our work. It is our diversity that reminds us to celebrate the differences in our customers around the world. But even with all our complexities, I hope they all feel that KastKing is a brand for each one of them. At the heart of our company is the realization that we must build our company on the concept of diversity and inclusion. Our customers are as diverse as the world is large and everyone is welcome in our family. Gender, race, age, religion and mobility are not barriers or walls, they simply represent our celebration of the differences that make our world so wonderful.
As we celebrate this 10-year milestone, we remain committed to our mission of providing high-quality fishing products that meet the needs of anglers around the world. We will continue to invest in research and development to bring new and innovative products to the market and to expand our operations to new regions.
To show our appreciation for your support over the past decade, we will be offering special promotions and discounts throughout the month. We also invite you to join us in celebrating this milestone on our social media channels using the hashtag #KastKingis10
Thank you for being a part of our journey, and we look forward to continuing to serve you for many years to come.
Sincerely,
Al Noraker
President of KastKing USA