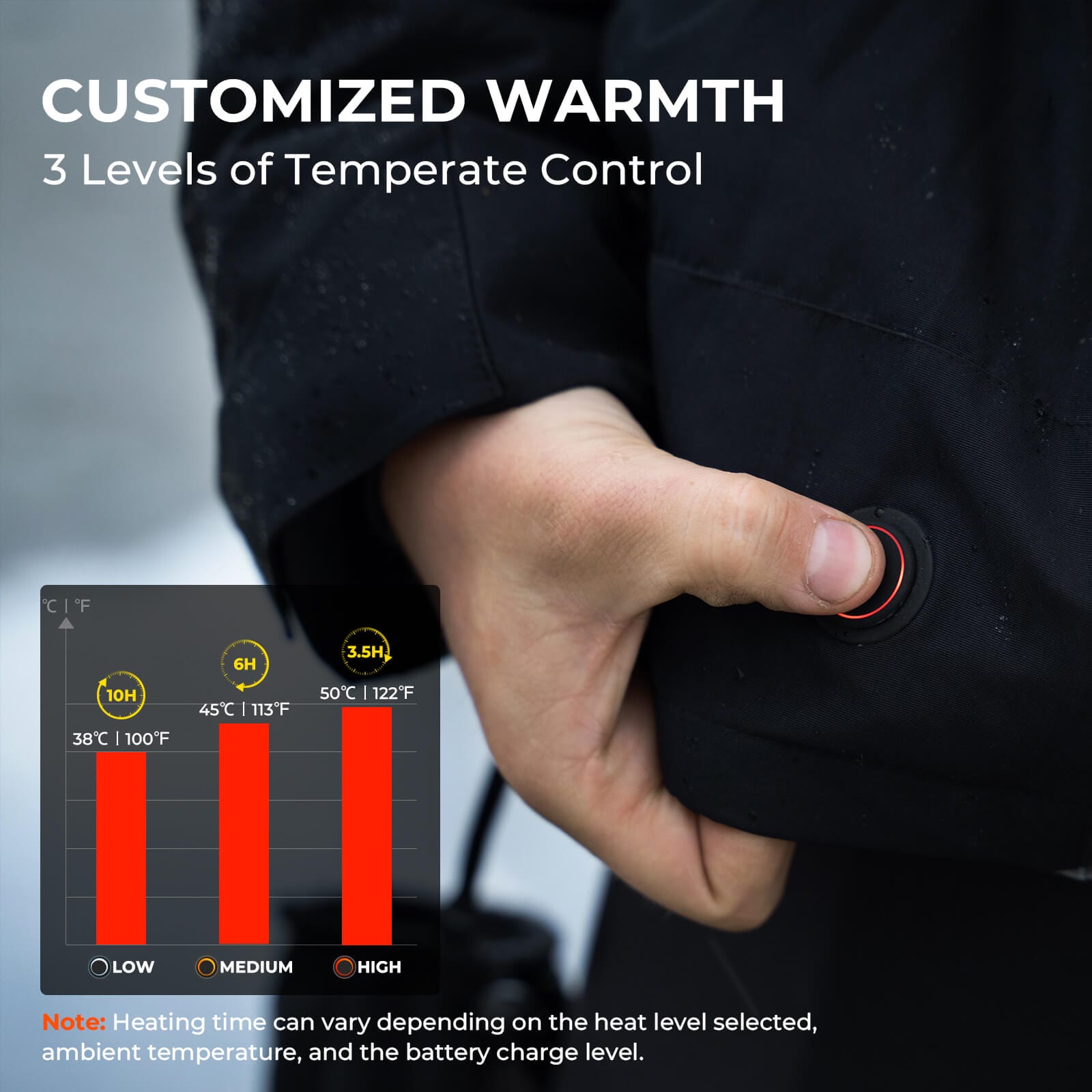 Patented iWarm Heating System
The KastKing Calido Heated Jacket uses a cutting-edge heating system with a carbon nanotube membrane, guaranteeing efficiency and durability. Enjoy even warmth on your front and back with three temperature settings: High (up to 3.5 hours at 50°C/122°F), Medium (up to 6 hours at 45°C/113°F), and Low (up to 10 hours at 38°C/100°F). Safety is key: Overheating Protection and Short-Circuit Protection included. FCC, CE, and RoHS certified for your peace of mind.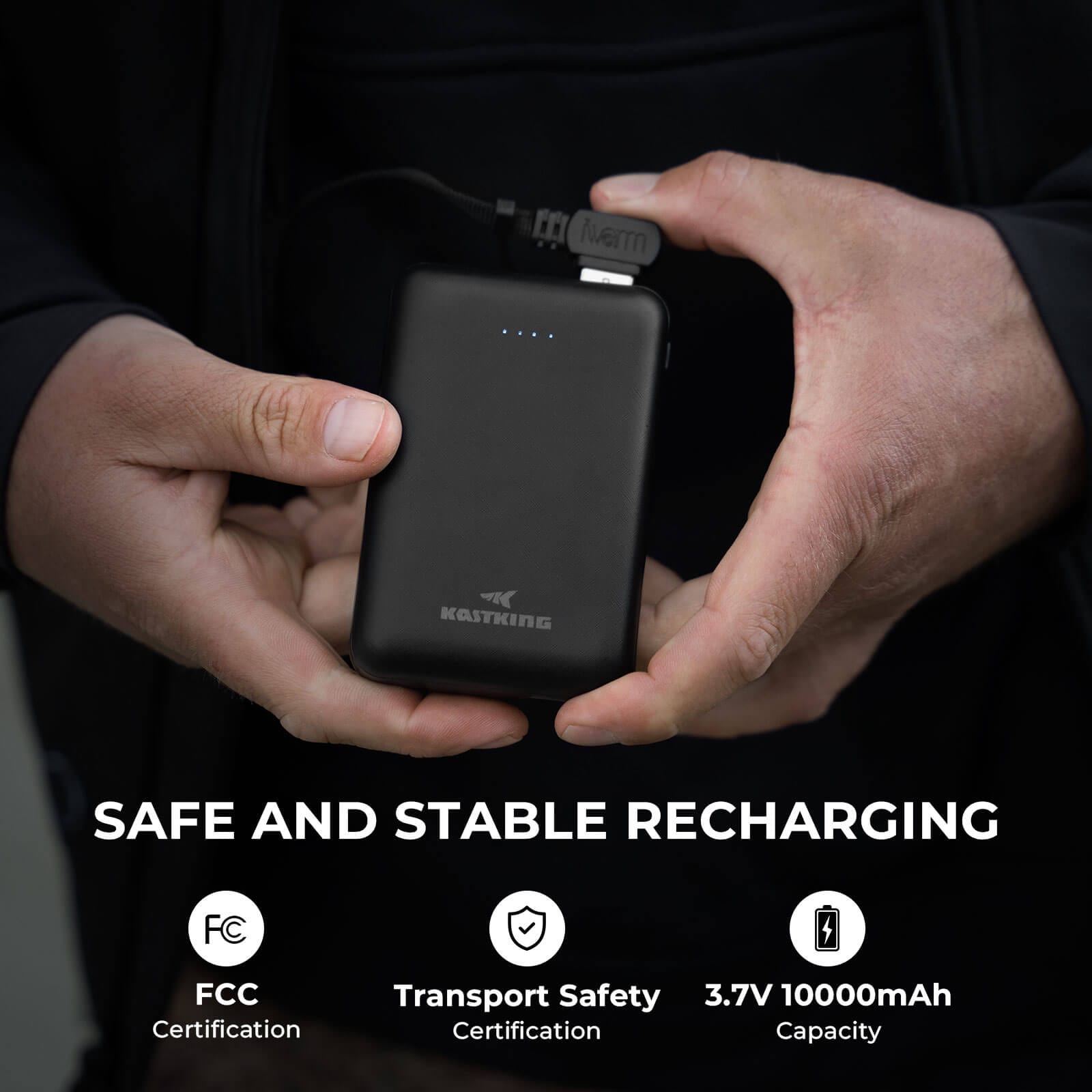 Long-Lasting Warmth with Certified Power Bank
The KastKing Calido Heated Jacket comes with a 10,000mAh FCC-certified power bank for extended warmth. It delivers up to 10 hours of consistent heat on a single charge, with duration depending on temperature settings. This certification assures safety and quality, ensuring worry-free use. Note: Heat time can vary depending on the heat level selected, ambient temperature, and the battery charge level.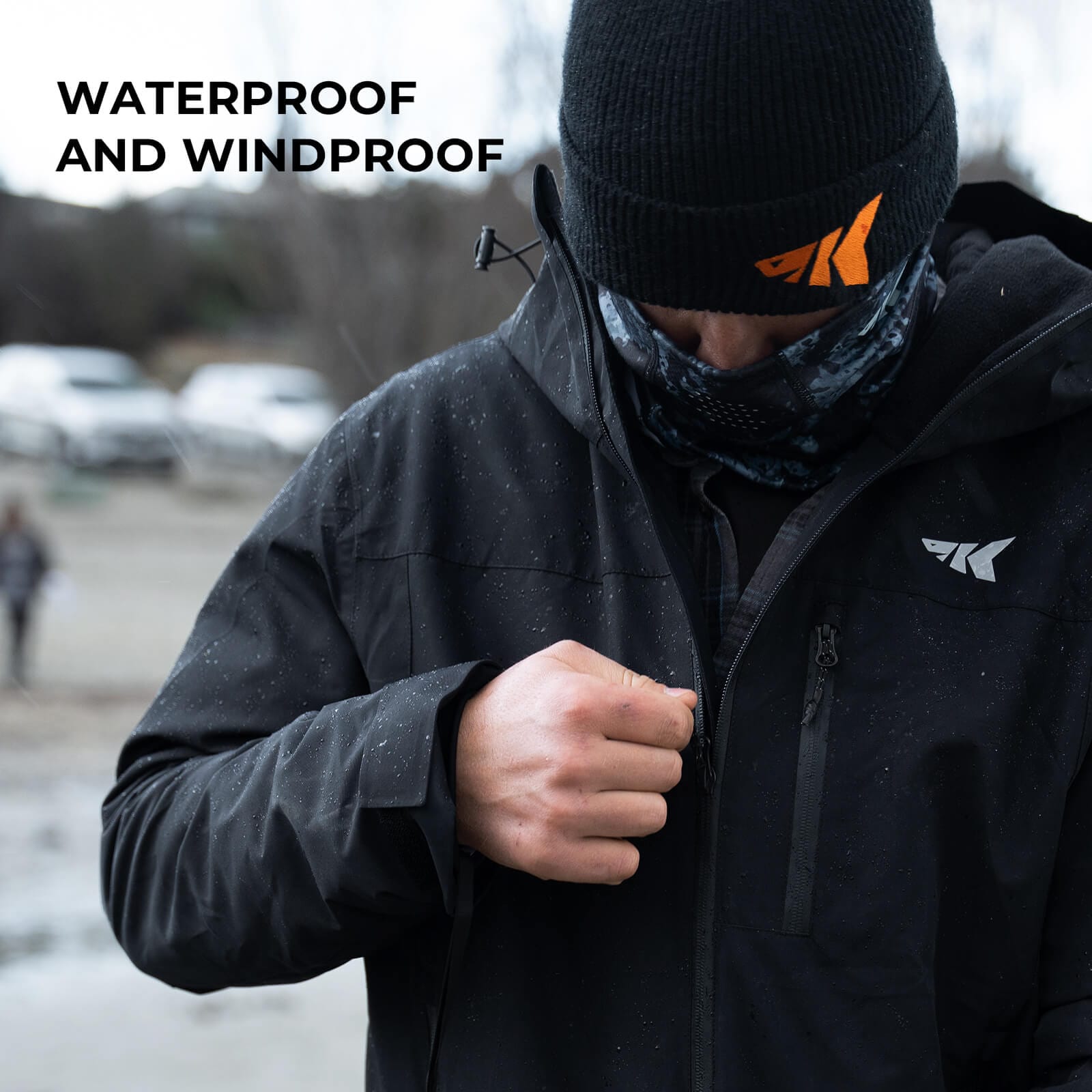 Waterproof Protection
This jacket boasts strong durable water-repellent (DWR) treatment to keep you dry on rainy days. With an 8,000mmH2O and 8,000G/M² waterproof & breathable membrane, it repels rain and snow while allowing sweat to escape. Taped seams and quality SBS waterproof zippers enhance durability, ensuring you stay dry during all your outdoor activities.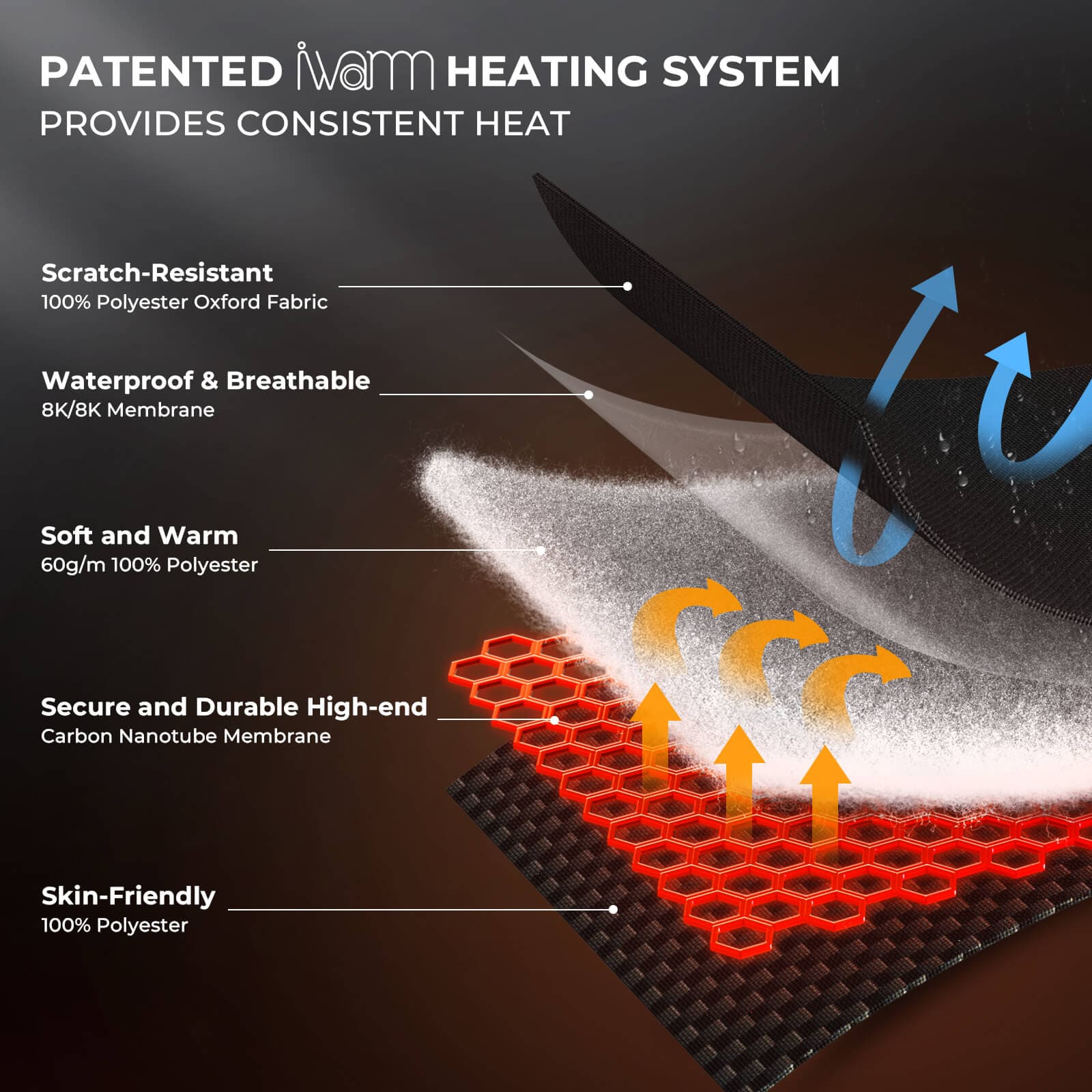 Exceptional Quality and Warmth
This jacket is meticulously crafted from oxford fabric, chosen for its exceptional durability. Reinforced stitching in key areas enhances durability. Additionally, it includes a soft fleece collar for warmth, graphene thermal fabric on the back to retain heat, and polyester insulation for added warmth and comfort.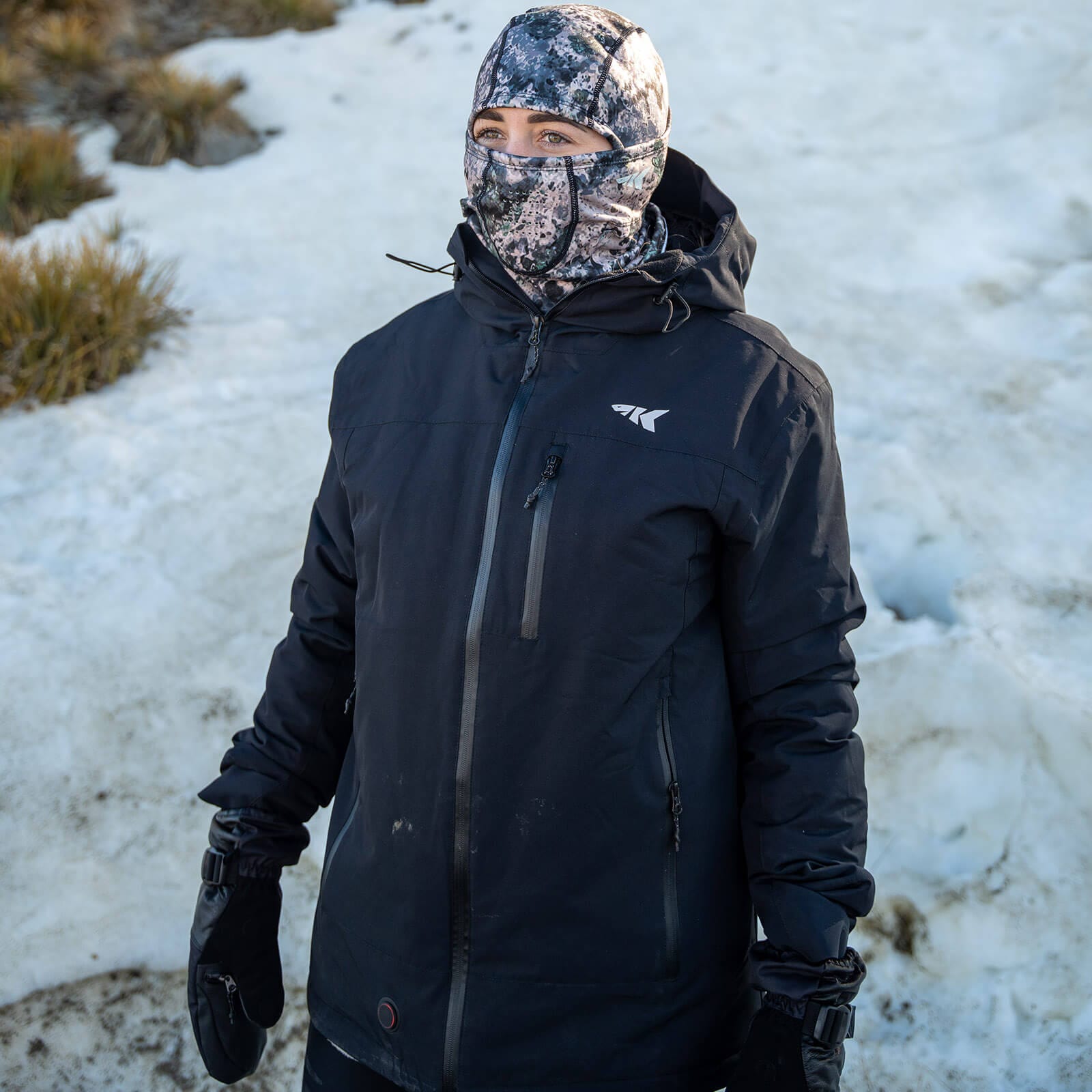 Functional & Comfortable Design
This jacket melds comfort with functionality. Stretchy inner cuffs and an adjustable hem enhance wind protection and prevent sleeves from slipping during fishing. The adjustable hood and four spacious pockets amplify its utility, while reflective logos boost nighttime visibility and safety. It's also machine washable when placed in a laundry bag for added convenience.
Great Coat!
After I purchased the Calido vest and was so impressed, I decided to buy the coat as well. I'm not a winter fisherman but thought this would be great for when I'm out snow blowing. Having the vest and the coat gives me two batteries!!! Which I should also mention that the batteries have two usb ports for power so you can also charge your cell phone at the same time. This is my 36th Kastking purchase this year.