---
SIZE GUIDE ➞
Product Description
KastKing Speed Demon Pro Tournament Series Fishing Rods
Fetures:
Elite Carbon Blanks & Nano Resin Technology - Speed Demon Pro rods start with our own Elite Carbon blanks that utilize Carbon Nano Tube resin technology to reduce weight, increase breaking and lifting strength by over 30% compared to standard graphite blanks. These proprietary blanks are not only strong and light but may just be the most sensitive rods you've ever had in your hands.
Fuji Guides/Reel Seats & WINN Grips - Only the finest Fuji guides and reel seats are used to ensure that reels stay firmly in place and that lines are never frayed or are slowed down by inferior guides. Spinning models using Fuji LV style guides with Alconite rings, casting models use Fuji LN model guides with Alconite rings. Handles and fighting butts are custom WINN golf style grips that provide comfort and a sure grip in all conditions.
Lightweight Composite S-Glass Crankbait Rods - The Speed Demon Pro crankbait rods use a composite blend of S-Glass and high modulus graphite for a lightweight, well balanced, thin rod blank that still has a soft crankbait action.
Specifications:
Length-Action-Power: Casting-7'3 /Moderate Fast /Medium
Line Wt(lb.) | Lure Wt(oz.): 10-17 lb. | 1/4-3/4 oz
Details: 1 Pcs /12+1 Guides /4.94oz /Bladed Jig
KastKing Bassinator Elite Baitcasting Reels
Fetures:
Palm Perfect Compact Design – The Bassinator Elite competition baitcast reel is KastKing's smallest zero-flex aluminum frame casting reel that fits perfectly and comfortably in the palm of your hand. Bassinator Elite is a compact, Palm Perfect cast reel that is ergonomically designed for comfort with easy to open weight-reducing smooth carbon fiber Swing Wing side plates that stay in place when you open them so your side cover will never fall in the water or blow away if dropped.
Tournament Proven Components – Bassinator Elite baitcasting reels are tested by bass fishing pros and are ready for your next fishing tournament with high-end components and features. Bassinator has a hardened aluminum main gear and solid brass pinion gear for durability and smoothness, short main shaft for weight reduction, higher speeds, longer casts without noise, a line memory dial function that lets you know what lb test line you have spooled up, and drainage ports that reduce maintenance.
Ultra-smooth & Reliable – Bassinator Elite Classic uses 10 double-shielded, stainless-steel bearings including two, free-spin super speed spool bearings that provide you with amazing ultra-smooth performance and extra-long casts plus an instant stop anti-reverse bearing for a total of 10+1 BB. The spool tensioning nut has click adjustments for accurate control and it won't back off during use. You can fish like a pro all day long with Bassinator baitcasting reels.
Specifications:
Type: Right handed /8.1:1 /Classic
Weight/Max Drag/ Inch Per Turn: 5.7oz /17.6Lbs /34.1IPT
Mono Line Capacity | Braid Line Capacity (Lbs/Yds): 12/130 | 50/130
KastKing KastPro Braided Fishing Line
Fetures:
Made In USA - KastPro 4 carrier Spectra braid fishing line is proudly manufactured in the USA in our ISO 9001 and Aerospace AS 9100 certified facility to ensure the highest quality possible.
Aggressive "DIAMOND WEAVE" – Thin but exceptional strong "Diamond Weave" is incredibly tough and abrasion resistant.
Great Castability – KastPro Spectra braid's round, smooth finish delivers long, easy casts for both freshwater and saltwater fishing.
Specifications:
Color: Black Out
Strength/Diameter/Length: 40LB/0.012in/300 Yds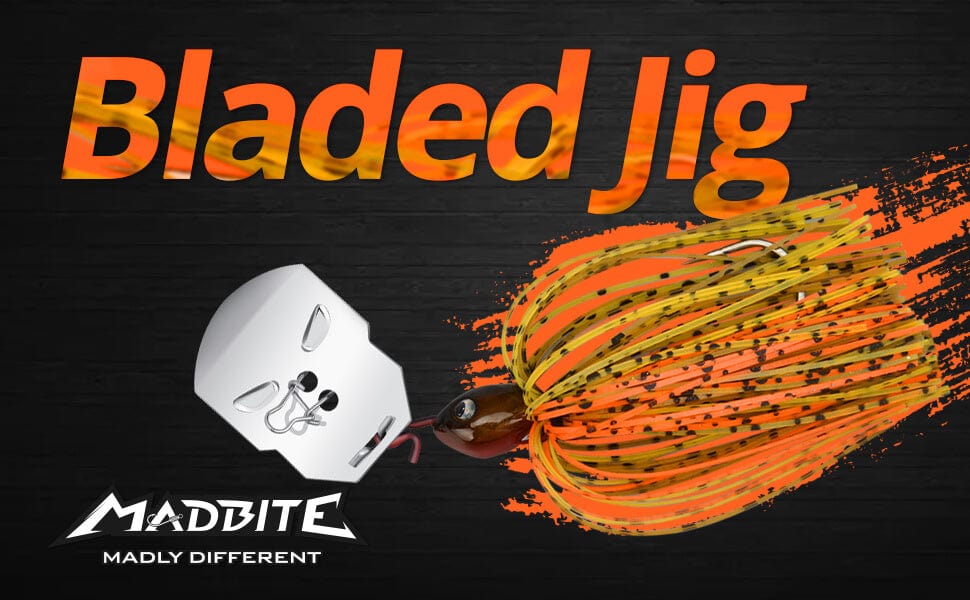 MadBite Bladed Jig Fishing Lures
Fetures:
Bladed Jig Vibrating Action – The new MadBite Bladed Jig assortment all have an irresistible vibrating action that is tournament proven to catch bass and a wide variety of fish throughout the year. Great in clear water or low visibility conditions. MadBite Bladed Jigs can be use with or without soft plastic trailers to elicit strikes even in tough conditions when other baits just don't work.
Multi-Color Silicone Skirts – The soft and supple silicon skirts are available in a wide variety of colors to imitate natural forage and add incredible action and movement to your lure presentations.
Sticky-Sharp Needle Point Hooks – Every MadBite Bladed Jig uses only the finest, sharpest and most durable needle point hooks finished in black nickel plating. The sticky-sharp, heavy wire hooks stand up to hard use in heavy cover conditions and will stay strong even with the most violent hook sets.
Specifications:
Color: Clear Water & Muddy Water
Size: 5 Pack (1/2oz)
Specifications
Hide the non-stock items?
Sign up for KastKing news and updates
| Image | SKU | Combo | Qty | Price($) | |
| --- | --- | --- | --- | --- | --- |
X