---
SIZE GUIDE ➞
Product Description
 
KastKing Cliff Crochet Spirale Series Bass Rod
Features:
Tournament Series Bass Fishing Rods – New KastKing Spirale casting rods are used by elite anglers like MLF Pro Cliff Crochet in competition against the best anglers in bass fishing.
Spiral Wrapped Microwave Air Guides – To further enhance casting distance and accuracy, KastKing used American Tackle Microwave Air, snag less guides.
Nano Resin Technology – The use of Nano Resins in the construction process plays a key role in the performance of these rods. Nano resins decrease the weight of the rod and allow us to create perfect balance points for all day performance.
Specifications:
Length/Action/Power: 7'4 /Moderate Fast /Medium Heavy
Line Wt(lb.) | Lure Wt(oz.): 12-25 | 1/4- 1 1/2
Pieces | # of Guides | Rod Weight(oz.): 1Pcs /9+1 /6.44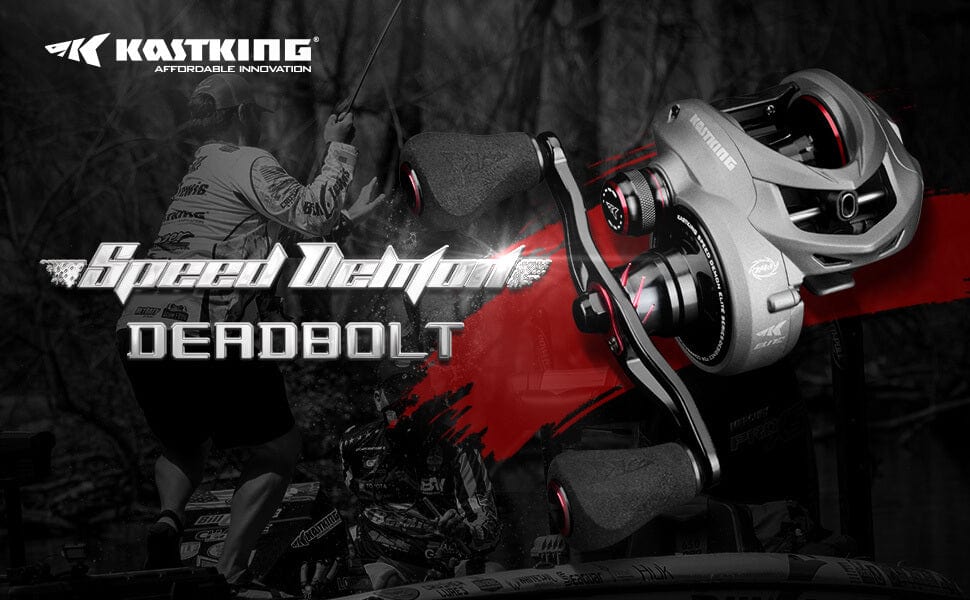 KastKing Speed Demon Elite Deadbolt Baitcasting Reel
Features:
PERFECT REEL FOR POWER FISHING - Speed Demon Deadbolt baitcasting reels were designed to eliminate frustrations anglers were having with their drag slipping when fishing heavy cover.
INSIGHT FROM THE PROS - This casting reel was designed in partnership with Major League Fishing Pro Angler and KastKing Pro Cliff Crochet. When he told us that "The only thing drag's ever done for me is get in the way or not do its duty", we decided to build a reel with no braking system, instead utilizing a spool locking physical design. There is no drag. This reel is locked down so it will not slip, even under the harshest conditions.
STRENGTH WITHOUT THE WEIGHT – Because the Deadbolt baitcast reel is built for power fishing and the most aggressive anglers, we had to build it tough!
Specifications:
Type: Right handed /7.4:1/10+1 (Leave a message on the cart page if you need a left handed reel)
KastKing KastPro Braided Fishing Line 
Features: 
Made In USA - KastPro 4 carrier Spectra braid fishing line is proudly manufactured in the USA in our ISO 9001 and Aerospace AS 9100 certified facility to ensure the highest quality possible.
Aggressive "DIAMOND WEAVE" – Thin but exceptional strong "Diamond Weave" is incredibly tough and abrasion resistant.
Great Castability – KastPro Spectra braid's round, smooth finish delivers long, easy casts for both freshwater and saltwater fishing.
Specifications:
Color: Black Out
Strength/Diameter/Length: 40LB-0.012in | 300 Yds
MadBite 3/5 Pack Frog Fishing Lure Kits
Features: 
Topwater Frog Fishing Lures – The new MadBite Frog fishing lures are natural and realistic looking frog fishing lures. All create exciting and savage strikes from bass and other predator fish on the surface of the water.
Ultra-Sharp Needle Point Hooks – MadBite frogs all feature incredibly sharp, double needle point frog hooks for quick penetration and a strong hold which is especially important when fishing in heavy cover conditions for large fish. 
5 Pack Frog Fishing Lures – This high value kits offer exceptional value and a great assortment of the best colors and body styles for different fishing conditions. Frog fishing is both fun.
Specifications:
Specifications
Hide the non-stock items?
Sign up for KastKing news and updates
| Image | SKU | Combo | Qty | Price($) | |
| --- | --- | --- | --- | --- | --- |
X