---
SIZE GUIDE ➞
Product Description
Combo Specifications:
Rod: KastKing Crixus Fishing Rod
Length/Action/Power: 6'6 /Fast /Medium
Line Wt(lb.) | Lure Wt(oz.): 8-12 lb. | 1/4-5/8 oz
Details: 2Pcs /7+1 Guides
Reel: KastKing Zephyr Spinning Reel
Type: Size-2000 5.2:1|7+1
Weight/Max Drag/ Inch Per Turn: 7.4oz |18LB |26.2 IPT
Mono Line Capacity | Braid Line Capacity (Lbs/Yds): 6/200 8/170 10/130Yds|15/250 20/170 25/130Yds
Line: KastKing World's Premium Monofilament Fishing Line
Color: Ice Clear
Strength/Length: 8 LB/300Yds
Lures: MadBite Species Tackle Kits
Number of pcs: 177
Species: Panfish
KastKing Crixus Fishing Rod
Fetures:
KastFlex IM6 Graphite Blanks - Fish like a gladiator! KastKing Crixus casting rods and spinning rods deliver incredible performance at a budget price. 
Golf Style SuperPolymer Handle – SuperPolymer handles are comfortable, durable and exceptionally slip resistant giving you maximum control over your fishing rod in all conditions.
Stainless Steel Guides w/Zirconium Oxide Rings – KastKing uses only high-quality stainless-steel guide frames with Zirconium Oxide rings that deliver long, smooth casts and durable performance with fluorocarbon, monofilament or braided fishing line.
Specifications:
Length/Action/Power: 6'6 /Fast /Medium
Line Wt(lb.) | Lure Wt(oz.): 8-12 lb. | 1/4-5/8 oz
Details: 2Pcs /7+1 Guides
KastKing Zephyr Spinning Reel
Features:
ALL NEW DESIGN – KastKing Zephyr Spinning Reels are a high level design light weight fishing reel for bass fishing and trout fishing and an excellent choice as a freshwater or saltwater spinning reel. Zephyr, meaning a light gentle breeze, lives up to its name.
MUSCLES – KastKing Zephyr spinning reels deliver up to a powerful 22 lbs of carbon fiber drag. Along with corrosion free graphite body, body cover and rotor, an oversized stainless steel main shaft, brass pinion gear, and double shielded stainless steel ball bearings in key locations that don't quit in a battle with trophy fish.
KEY COMPONENTS - KastKing Zephyr fishing reels are equipped with a braid fishing line ready CNC machined aluminum two tone spool that prevents braid line from slipping under pressure. You don't need to add monofilament fishing line backing.
Specifications:
Type: Size-2000 5.2:1|7+1
Weight/Max Drag/ Inch Per Turn: 7.4oz |18LB |26.2 IPT
Mono Line Capacity | Braid Line Capacity (Lbs/Yds): 6/200 8/170 10/130Yds|15/250 20/170 25/130Yds
KastKing World's Premium Monofilament Fishing Line
Features:
Low Memory – KastKing mono is made with Paralleled Roll Track technology resulting in better reel capacity for easier handling and casting!
Abrasion Resistant – You can now take on a good bass fishing fight with nylon line.
Superior Clarity Plus Colors – Rest assure that your clear line will remain more invisible than ever and colored monofilament are available for many fishing tactics!
Specifications:
Color: Ice Clear
Strength/Length: 8 LB/300Yds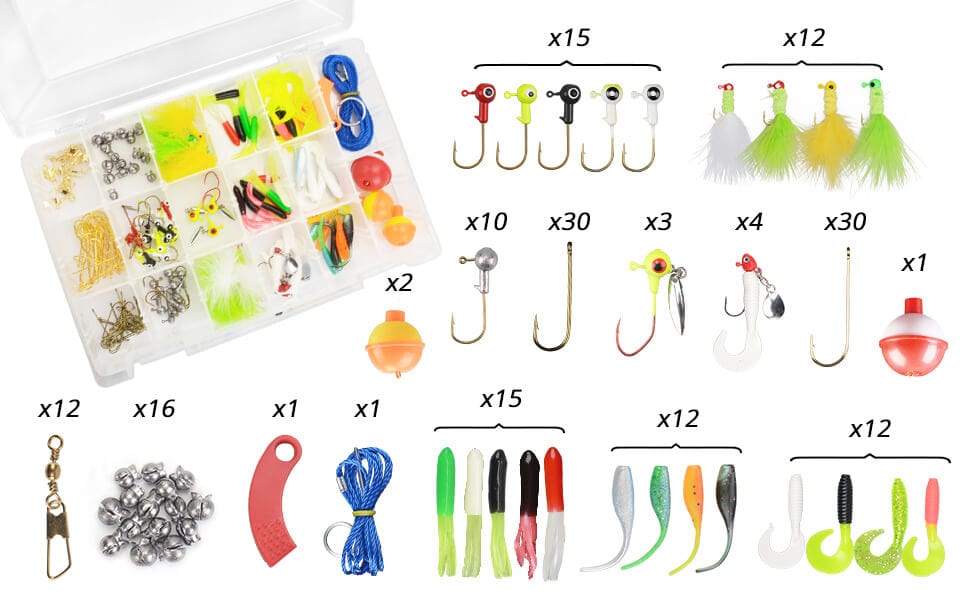 MadBite Species Tackle Kits
Features:
Complete Fishing Lure Tackle Kits – Each MadBite Species Specific Fishing Tackle Kit gives you everything you need to go fishing. Every fishing lure, fish hook, terminal tackle item and bait is selected to be perfect for the species you are fishing for.
Panfish Fishing Lure Kit – The MadBite Panfish Fishing lure kit has 177 pcs of fishing tackle so you can catch panfish! Included are a large variety of fishing hooks for live bait plus both painted and unpainted ball head jigs. To go with the fishing jig hooks there are small tube jigs, curly tail grubs and swim baits. To get the bait down to the fish, there is a wide assortment of weights and sinkers. There are pre-rigged underspin jigs snaps, floats, a line cutter and even a fish stringer
Specifications:
Number of pcs: 177
Species: Panfish
Specifications
Hide the non-stock items?
Sign up for KastKing news and updates
| Image | SKU | Combo | Qty | Price($) | |
| --- | --- | --- | --- | --- | --- |
X