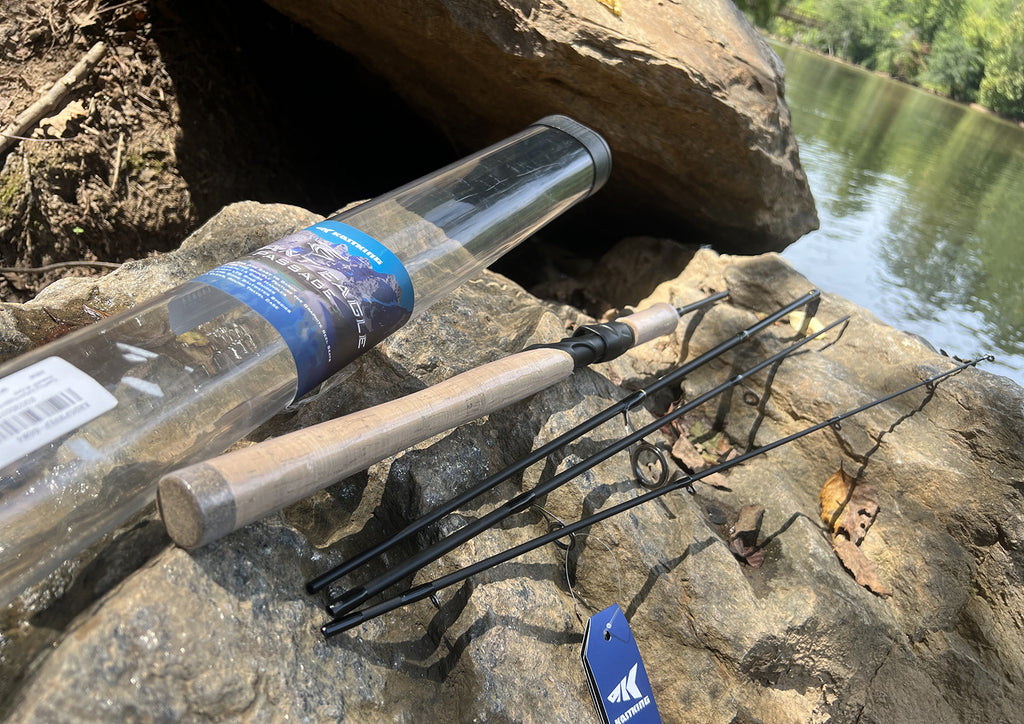 Finding a new travel rod is heavily dependent on the type of travelling you are doing. In this article we will discuss some options based on my experience with traveling all over the US for my job.
As some might know, I am the father of a Boy Scout. I bring that up since some might know that we go camping quite a bit where we travel a distance in the car, unpack and set up and camp. Many times, we have the opportunity to actually find a lake or pond to get some fishing in so naturally we bring some fishing gear. With this kind of local travel, the fishing gear to bring is quite simple, you can just bring your normal poles IF you have space. I bring shorter rods or two-piece setups to these spots. For this, I could not recommend the KastKing Perigee II more. Lightweight, durable carbon fiber blank with some of the best action I have ever had in a rod, the Perigee II is an absolute work horse that can be used for all kinds of fishing. Being that they are two pieces, they are compact and fit almost anywhere in the car.
1.Blackhawk II Travel Telescopic Fishing Rod
For the touch more adventurous from this type of travelling the next level are for hikers or anglers that are trekking a bit is a telescopic rod like the KastKing Blackhawk II. These rods are amazing for keeping in your car or taking along with you in your backpack when you have to walk a bit to get to your favorite spot. I keep a rod with me at all times in the back of my car, my trusty telescopic rod has caught all of the fish in my area at a whim. Mostly used for catfish, I have casted everything from 1oz torpedo sinker for long bombing bait to the middle of a pond or lake to casting 4 lbs test line with only a float as a weight with my Blackhawk II. I think that is what really sets this rod apart from regular rods in that these rods have such a diversity of uses and holds up to all kinds of punishment.
Couple of things you need to be careful about when using this kind of rod. For all telescopic fishing poles, I have ever used or seen is that you extend and retract the pole from the bottom and work your way to the top. When extending, align the eyes so that they are straight and just stretch the pole out. When travelling though this could also be a hazard if the pole extends and could potentially get stuck in the ground and "lance" the rod. I think the caution with this is while they are great to keep in your car or bag, you just need to be sure you know where it is and don't let it get caught up in clothes or could invert on you. I will say though that while fishing, I have never had a problem with them. Some are concerned about the joints breaking or coming loose and collapsing while fishing, but it has never happened to me.
2.Valiant Eagle Passage Travel Fishing Rod
The final type of travel pole is well a specialized travel pole made by Kastking that is pretty new on the market called the Valiant Eagle Passage Travel fishing rod. These rods are the perfect solution for taking with you on your trips where you need a compact solution to pack a rod for some quick fishing while getting to your destination. Most of the rods come in packs of 4, you simple assemble them from the thickest to the thinnest at the top of the rod and away you go! With the long ferules that fit the piece to one another, there is no way to really assemble it wrong with clear markings on each section. For those that are interested in an even more challenging travel opportunity, how's abut a fly fishing rod option? I have not had the chance to see it yet but there is an 8'6" fly rod that can take a fly reel on the go with you. Rated at a 5wt, it is a nice medium heavy option for all kinds of fishing. One of the best things is that these rods all come with a plastic tube for protection and with most of them coming apart to under 20" a section they can get in a carryon. In case you might be more concerned about weight at this point, these are all made with 30 ton IM6 graphite blanks so they are extremely light weight and yet strong enough to fight plenty of fish. It's the diversity of the rod that really makes it so unique and worth taking on your next adventure. Speaking of weight, for all you backpackers out there these rods can also be taken on long distance hikes and attached to your backpack for safe keeping.
I hope you have a good idea now on what can be packed on your next trip. At least I hope to have provided you with some options and pointed out some of the different products Kastking has to offer.