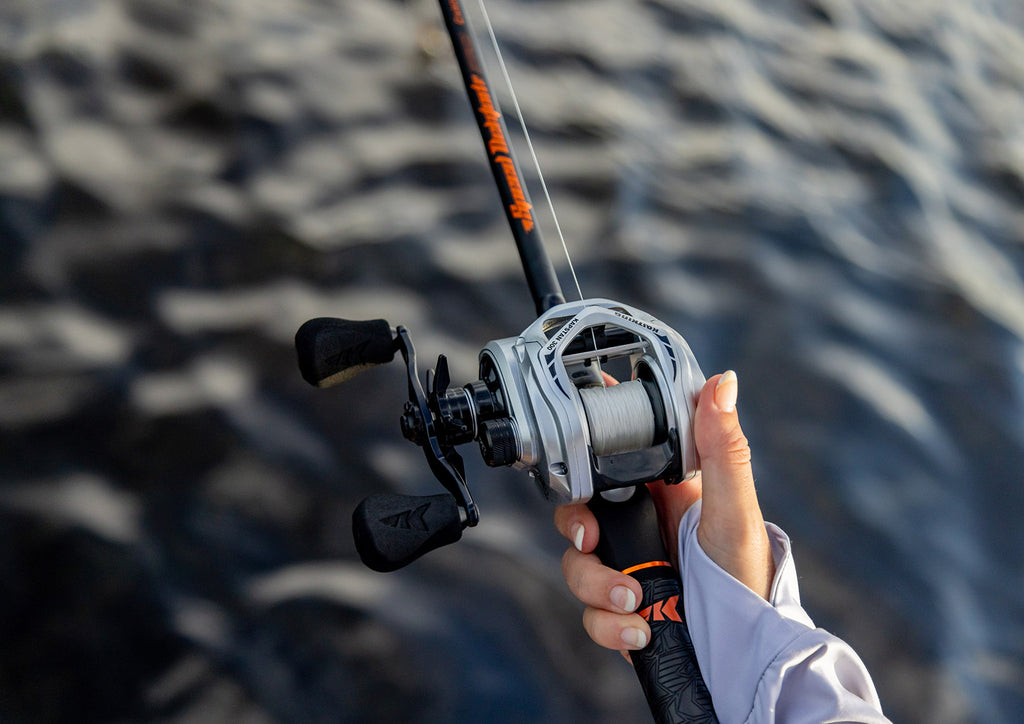 Tips For Choose Saltwater Baitcaster Reel
For most fishermen, the baitcaster reel is the choice for freshwater bass fishing. The high retrieval rates and increased casting distance over spinning reels have made them popular for anglers casting swimbaits and jigs. An area where baitcasters are becoming more prevalent is saltwater fishing. Namely, the "backwater" or inshore angling world has seen an increased demand for purpose-built saltwater baitcaster reels.
For many years saltwater fishing reels were relegated to large spool reels capable of holding large amounts of thick monofilament. However, with the newest ultra-fine braided line, the formerly low-capacity baitcasters can now be spooled with hundreds of yards of an ultra-strength line like KastKing Destron or KastPro. Braid is valued for its high strength and low visibility when fishing shallow water for species like snook and seatrout. One major bonus of using a baitcaster with braid is the lack of wind knots that can plague anglers using spinning reels. The smooth addition of line onto the spool with a baitcaster reduces the chances of wind knots dramatically. There are certainly a number of reasons why the baitcaster is ideal for inshore saltwater fishing, but you can't just grab any baitcaster off the shelf and expect it to perform in the saltwater environment. To save you from the frustration of trying every reel on the market for the right fit, we have created a list of considerations to help you choose the right saltwater baitcaster reel.
Consider the Size Needed
Inshore fishing doesn't require giant gear. The distances needed to cast and the depth fish can run are reduced compared to that of surfcasting or blue water fishing. A good rule of thumb for most inshore saltwater fishing is a reel that can handle 20-30lb braided line; this should be paired with a 6-7 foot rod. Anything larger than that size becomes cumbersome in the channels and bays where most inshore fishing happens. Most inshore baits are between ½ and 2 ounces. This range covers everything from small spoons to four-inch swim baits.  
This size list of requirements leans heavily towards a 300 series or sometimes called a 3000 series, depending on the manufacturer.
Consider the Environment
The combination of salt water and possibly sand can destroy a freshwater reel faster than you can say "got one ."Examine the construction of the baitcasting reel. Make sure it is made of corrosion-resistant materials. Some of the best materials for saltwater baitcasting reels are aluminum, stainless steel, and graphite. 
Just as important as corrosion resistance is making sure the reel is sealed to prevent any saltwater or sand intrusion into the reel's mechanisms like the drag. Look for a baitcasting reel with a sealed drag system. Sealed drag systems are designed to keep saltwater from getting into the drag system and causing it to malfunction. An added benefit of a sealed drag system is the reduced maintenance needed since the system is contained and already lubricated. Most manufacturers will make their sealed drag system a selling point since it adds tremendous value to the reel. Stay away from reels that don't mention if it's sealed. The added aggravation is not worth the possible savings.
Drag
One of the biggest concerns that fishermen have is the amount of drag their reel has. With the possibility of a very large fish chomping down on a bait, saltwater fishermen are notorious for fishing with a reel that has as much drag as possible.
Look for a baitcasting reel with a smooth and powerful drag system. This will help ensure that the line is not damaged during the casting and retrieving process. Avoid reels that have felt washers as part of their drag system. Felt washers are a cheaper alternative to carbon fiber washers and will not survive the abuse that heavy-fighting fish will put on them.
Taking these three factors into account, a baitcasting reel like the Kapstan Elite baitcasting reel is ideal for saltwater fishing. The Kapstan Elite Baitcasting reel (Kapstan for short) fits the criteria to a T. First, the Kapstan comes in a 300 series, allowing for up to 230 yards of 60 lb braid. With that capacity, anglers can fit even more line should they spool the reel with a thinner line. A second check box is the Kapstan is built using a corrosion-resistant graphite frame. The drag system is completely sealed to keep saltwater and sand out of the most critical pieces of the reel. Tieing into the sealed drag is the Kapstan's respectable maximum drag rating of 35 lbs. the carbon fiber washers of the reel help to create a drag that exceeds that of most saltwater spinning reels of the same size. These heavy weight drag numbers are achieved with the reel's easy-to-use star drag. Many anglers, including the author, prefer the star drag system for its ease of use, especially while battling a fish. A drag in the 30 lb range is more than sufficient for all but the most massive snook or striped bass. 
While the next two features of the Kapstan Elite are not part of the initial decision process, they are worth mentioning for their value to an angler. These features are the retrieval rate and the cost. The gear ratio of the Kapstan is 5.4:1. While freshwater anglers may consider that slow for the average size bait, saltwater anglers usually need to fish larger baits, and the slower ratio is ideal. The lower gear ratios also provide more torque when battling these larger fish too. While no one wants to be called a cheapskate, no one wants to spend all of their money on a reel and be left without the money needed to outfit themselves with a rod and tackle. The Kapstan is under $150, making it an absolute bargain for the quality and quantity of features the reel has. It may be wise to pick up two since everyone will want to try them after seeing the success of your new saltwater baitcaster.