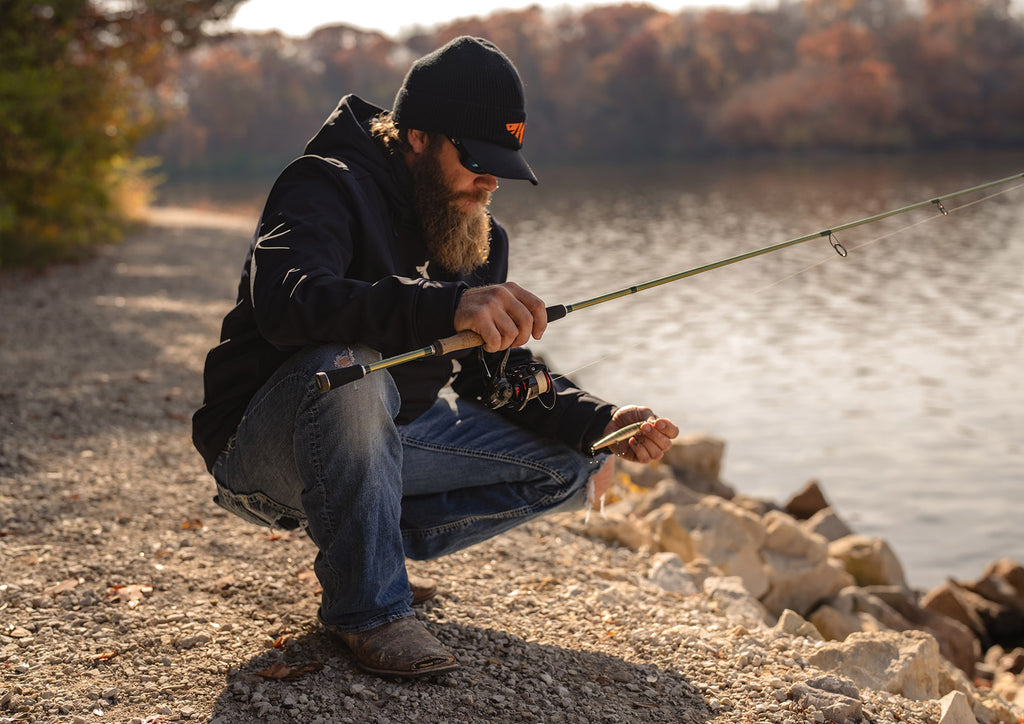 Fishing Tips: Low Water Bank Fishing
I remember patrolling the banks of my local lakes and streams as a kid and the water was always at its peak. Nowadays however with global concerns and the lack of rainfall, many lakes and streams are very low. Bank fishing is a double edge sword when it comes to water levels. At high water times, there is a lot of cover, but access can be tough. At low water times, access is easy, but cover is much sparser. Let's take a look at what you need to know when bank fishing when the water levels are low and a lot of shoreline is uncovered, and what fishing tips we can apply.
Water levels have always played a part in bank and boat fishing. When I visited Lake El Salto many years ago, the water was at its peak. In fact, we actually fished a cemetery area with headstones almost totally submerged. The fishing was great, but you had to work to find fish. Cover was abundant, and the largemouths had ample hiding places to wait for an easy meal to ambush. Fast forward to the 2015 to present day timeframe and Lake El Salto was extremely low. In fact, friends who visited commented that the boats, which were within walking distance of the cabins, now were docked a mile away! The low water made the fishing easier as bass had limited area to group.
Walk the banks
When the water levels are low, fishing tips that will aid in enhancing your odds are critical to your success. Many of us while bank fishing do not pay close attention to detail where structure lies while bank fishing and this is the number one most important tip for bank fishing.
When you are in your boat, you use electronics to find structure, weed beds, etc. On the banks, most anglers will rely on sight. When the levels are high, it is easy to see that tree just under the surface that had fallen, but under low water conditions that same tree may be totally out of water.
Knowing where grass lines begin, submerged structure lies and drop-offs begin will make low water bank fishing a breeze. When you first hit the water, make sure you have polarized KastKing sunglasses. There are many options to choose from and these will aid in seeing underwater grasses and structure just off the shoreline.
Drop-offs and bottom make-up are also critical. For bottom make-up, you can usually tell by the area that is uncovered as the same should carry out from the shoreline. A drop off can be found by looking for water color changes. A drop-off will usually be identified from the shore by a darker colored water. You can also get really creative and buy the Lowrance Fish Hunter Pro which is a castable transducer that pairs to your smart phone and gives you accurate depth, underwater structure and even fish markings.
Where do I cast?
When bank fishing, your cast to fish can vary depending on how the lake or stream is made up. If the lake is large, and the shoreline drops off fairly quickly, then making longer-straight out form the shoreline may suit you better. If the lake is shallower, then making casts parallel to the shore will allow your lure to appear like a wounded baitfish seeking shelter. Bass will often sit in the slightly deeper water, and ambush bait, then head back to deeper water. This is especially true when the water is low and their cover they are used too is now out of the water.
For the long cast fishing tip, using small swim baits with lead heads is a good go-to option. You can allow these to sink to the bottom, and then either slowly retrieve or hop along. Spinnerbaits are another good fishing tip as they too can be fished in varying methods. I love casting a spinnerbait to deeper water and then allowing it to sink to the bottom. Watch your line as it falls for any "twitch" then hit it hard! Larger blades in either willow or Colorado are best for this technique.
For parallel casts my go-to option is a shallow running square bill crankbait in bright colors on bright days and darker hues on cloudy or overcast days. If you know the prevailing baitfish in the area, colors that match the hatch are also good options. As crayfish will abound in the shallows, any crankbait pattern resembling a crawfish is hot.
Bank fishing with bait and artificial worms
Last, but certainly not least is bank fishing using live bait of some form or artificial worms. Bank fishing will almost always have anglers encountering the likes of carp, trout, panfish, bass, yellow and white perch, so live bait is always a great tip.
For most live bait, the simple bobber and hook is the best set-up. The distance between the bobber and hook should be varied depending on the action. I start off with the bait about 1-1/2 feet below the bobber. If I get limited or no action I begin expanding that distance by 1 foot increments to 5 feet maximum. After five feet, I remove the bobber and allow the bait to eight sink or swim to the bottom depending on what it is.
By far the two best baits for bank fishing are nightcrawlers and live shiners. Some anglers will use small frogs, toads, crickets and more, while bass and pike/pickerel anglers may opt for larger golden shiners, bluegill and shad.
For artificial worms, Senko style stick baits and larger 10-inch worms dragged through grass will always get the nod. Ned rigs fished in either deep or shallow water will always get smashed!
Bank fishing can be fun and rewarding, and another great way to get the kids involved in fishing. It takes minimal effort for the most part, and the taste of a good fish fry at the end of the day will add to the pleasure.

When reservoirs are dropped, or drought conditions cause low water areas, a lot of structure will be out of play.

Although this was on a boat, when waters are high, cover is abundant but evidence of this cemetery in Mexico.