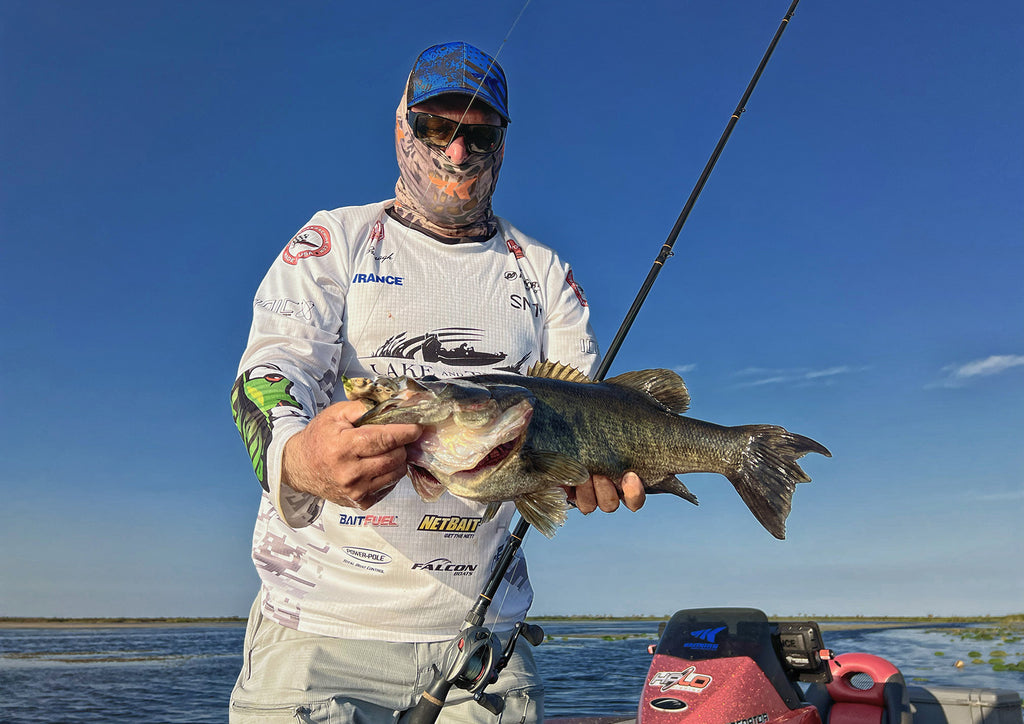 Hot Tips: Late Summer Largemouth Fishing
Have the summer doldrums hit your area? Are you an avid bass angler or just the average Joe looking to get in on the action? Late summer largemouth bass fishing can be challenging depending on where you are. The action can be rock solid, or downright slow. If you know what to look for, when to fish, and what baits and lures to throw, summertime action can be explosive, with some real linkers in the mix too! Summer largemouth bass fishing will pit you against heavy weeds and a usually hot sun. Work through these two conditions and I guarantee you will catch 'em. Below are some bass fishing tips that will narrow the learning and catching curve.
For late summer largemouth bass fishing, there are key factors that come into play on virtually every day. These keys – weather/water temperature, time to fish, and lures/baits and shelter will all be factors in your success. Below is a guide that will hopefully aid in your summer action. We have all heard of the "summer doldrums" but I can tell you this for sure, beat the elements, and summer doldrums do not exist.
Timing
Like in any fishing, timing is probably one of the most important factors. In the summer, water temperatures will climb to unbearable conditions. In fact, some regions of the country the water will top 80 degrees! Some anglers feel the water is too hot to fish, but do you really think the fish stop eating? They have to eat, but the pattern and time will change.
For this bass fishing tip, one of the best times to fish the summer months is at night, at least two hours after the sun has settled. This will give the water time to cool several degrees, making fish a lot more active. Believe it or not, 1-2 degrees will make a huge difference in a fish's behavior.
Another key time period is early in the a.m., 30 minutes minimum before the sun comes up and into the very early hours of sunlight. For this tip, I want to fish the side of the lake that had the least amount of sun on it during the day. If the lake lies north-to-south, then typically I want to fish the east or west sides of the lake. Both sides will see less sun then the north and south. You can also scope out areas that may be more sheltered. A hill/mountain or heavy tree cover will block the sun, keeping that area a little cooler than the areas in direct sunlight.
Shelter and Lures 
For lures, and I am talking strictly artificial lures as opposed to live bait, you need to change up your offering, and where you fish that offering. In the summer when the water heats up, and the sun is making even more uncomfortable for largemouth bass, they will seek shelter.
An assortment of soft plastics will surely get you a bite or two in the summer. Just fish them slightly slower than you would in the spring months. 
Typically in the summer months, slower moving lures are the best options. Although largemouths do feed, they also tend to be more lethargic, seeking out the easy meal. This is the case primarily during the daylight hours. Texas rigged worms, jigs, blade baits and smaller Ned Rigs are all good options. On the night side of things, bass definitely get more aggressive. I love using a black Jitterbug or large Slug-Go worm as largemouths cannot resist them. In fact, bass will crush them after dark. Heading back to the day side of things, topwater frogs, Whopper Ploppers and other floating lures fished in grass and lily pad fields are a great tip. Bass will be under the cover, but always looking up. If a meal comes close, voracious crashes through the lilies or grass can be heart pounding.
Shelter will come in various forms. A good bass fishing tip regarding shelter would be to think any and all objects that can work towards making the water cooler is considered shelter. Some forms of shelter are lily pads, large tree limbs, large underwater boulders that create shade. When fishing heavy cover, look for holes to drop your lure into. These holes are usually where a bass has blown through chasing an insect, bird or frog. Large grass beds are another form, ads is floating grass, even though it may move around on the body of water. In summer, largemouth bass will actually stay with this floating grass throughout the day. Another ideal sheltering area would be docks, boats in a marina or even floating raft style toys anchored in the water. These areas always provide cooler water for a bass to lie.
Weather and Water Temperature
Another good tip is to watch the weather. In the spring and fall months you will always hear about fronts coming through and spiking the action or at times dulling the bite to the non-existent point. In summer, fronts come through just the same, but they are usually a lot more subtle. Very rarely will you see a front in the summer that drops the air or water temperatures that drastically. In spite of this, any water temperature change will alter the state of the bite.
On heavily weed covered waters, the area close to any overflow or dam will be a little cooler and deeper, making a good spot for largemouths.
In the summer bass will respond to water temperature changes as little as few degrees. This is typical of night fishing as stated above and the temperature drop from the daytime bite. Another factor with a front coming through, and probably just as critical if not even more critical is the drop in barometer. When the barometer drops it absolutely triggers fish to put the feed bag on. In the fall, a cold front will effect bass bigtime as it may signal the last opportunity for baitfish to be prevalent. However, in the summer, the bait will not leave, but will also become more active and leave their sheltering spots and be easy targets for largemouths.
Summer Fun
Whether you are a weekend warrior, avid tournament angler or casual fisherman looking to score with largemouth bass, summer can be an awesome time to fish. The weather, albeit sometimes hot, can also see some of the nicest days of the year you will fish. Use these tips above to increase your chances at a fat largemouth and I am sure summer fishing will not be the doldrums you hear about.