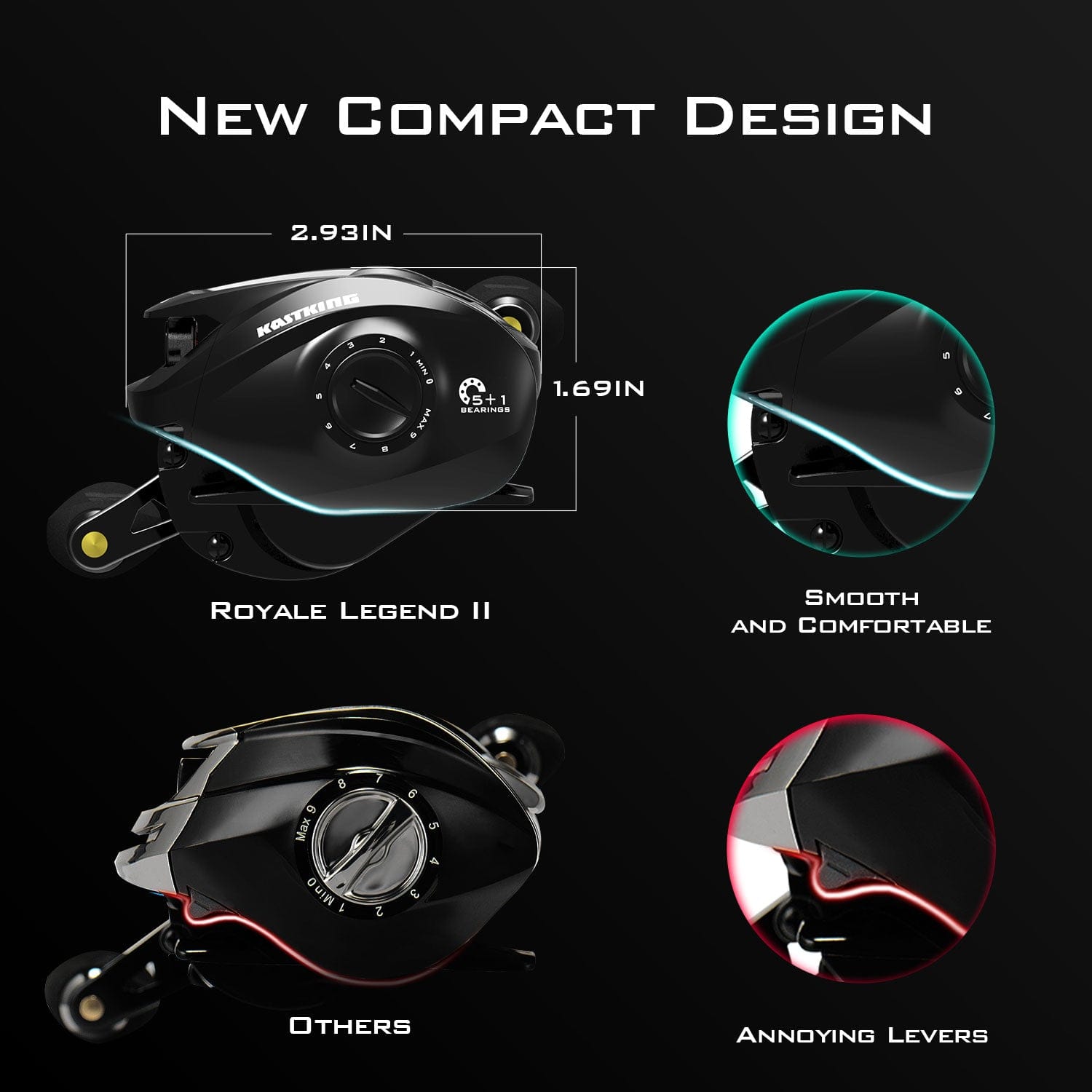 NEW COMPACT DESIGN
KastKing Royale Legend Series has been anglers' favorite baitcasters since 2014. Royale Legend II Baitcasting Reels are totally redesigned for comfort and super performance! It's a compact size low profile baitcaster fishing reel combined with a concealed side cover release that makes the reel comfortable even after thousands of casts during a day of fishing.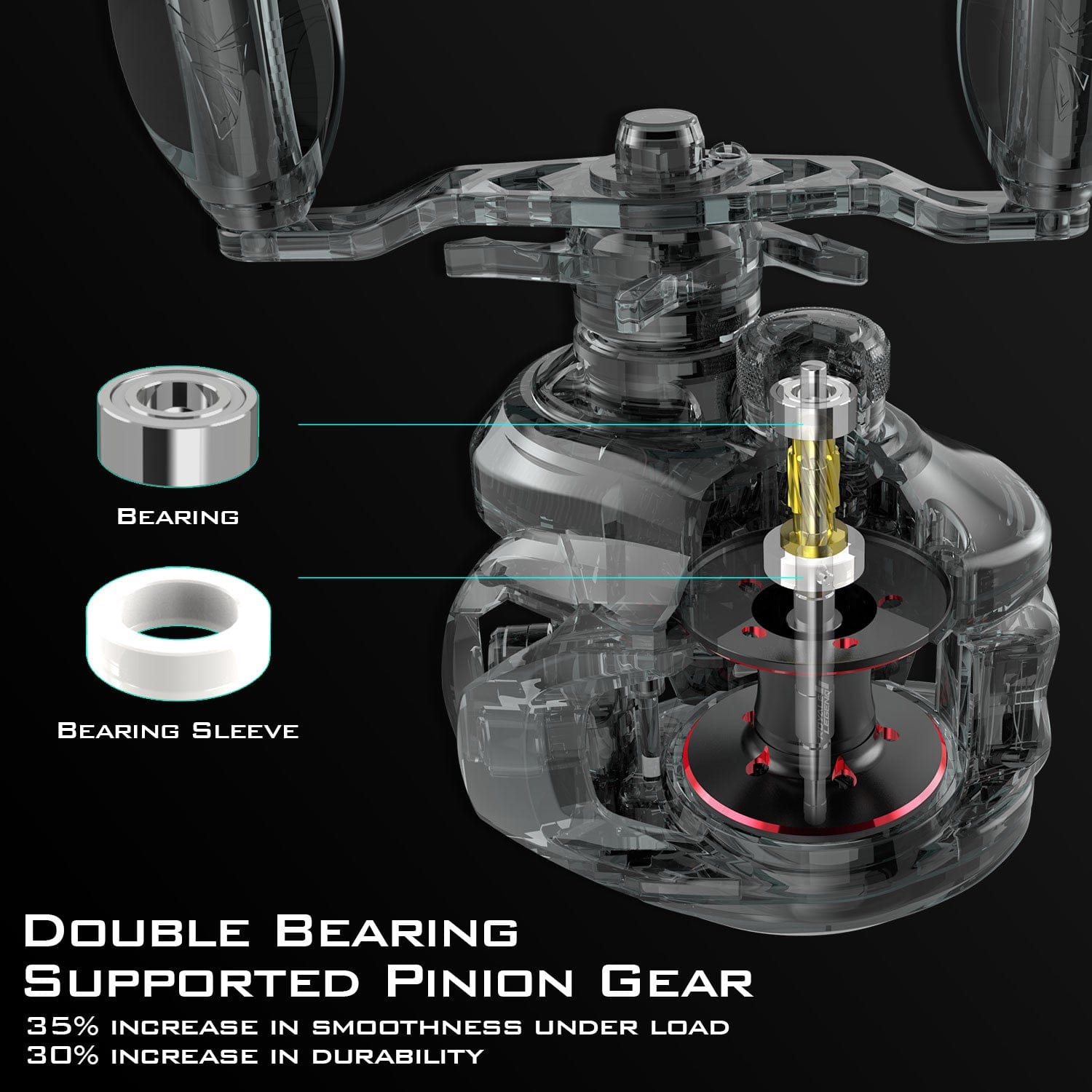 LEGACY CARRY-ON AND BEYOND
The new Royale Legend II casting reel has carried the legacy and set a new bar for performance and durability. For the first time, KastKing implements the double bearing supported pinion gear technology to a $40 reel, that delivers a 35% increase in smoothness under load compared to the original Royale Legend. This new design structure increases durability by an astounding 30%.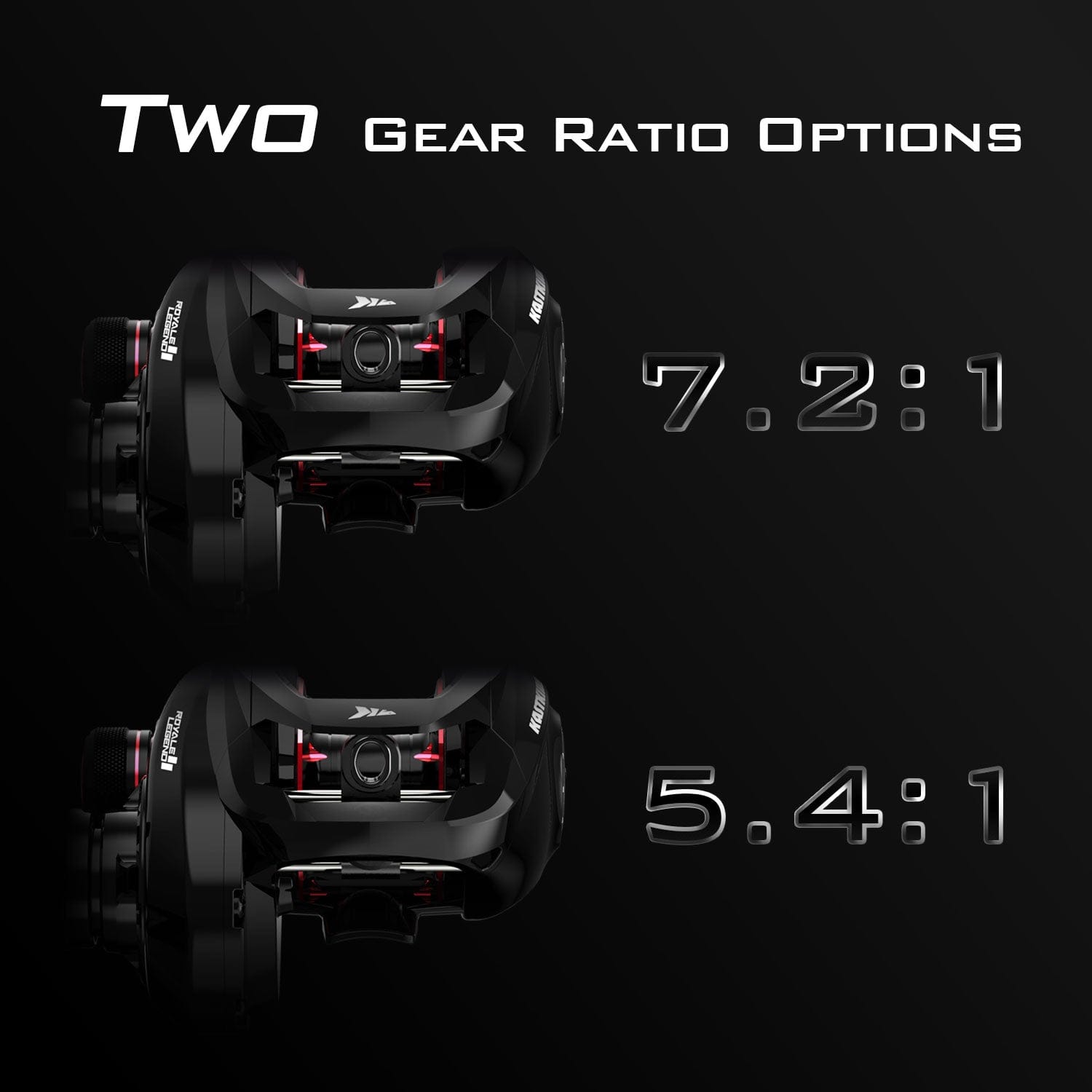 FASTER AND LIGHTER
Royale Legend II provides faster gear ratios than the previous models. The new 5.4:1 gear ratio model is perfect for crankbaits or slower presentations, while the 7.2:1 gear ratio model that quickly picks up fishing line at 29.8" per turn is great for pitching jigs or burning baits at high speed. Compact design also saves weights for Royale Legend II, making it just 7.2oz, which is lighter than most of graphite side covers and frame casting reels available today.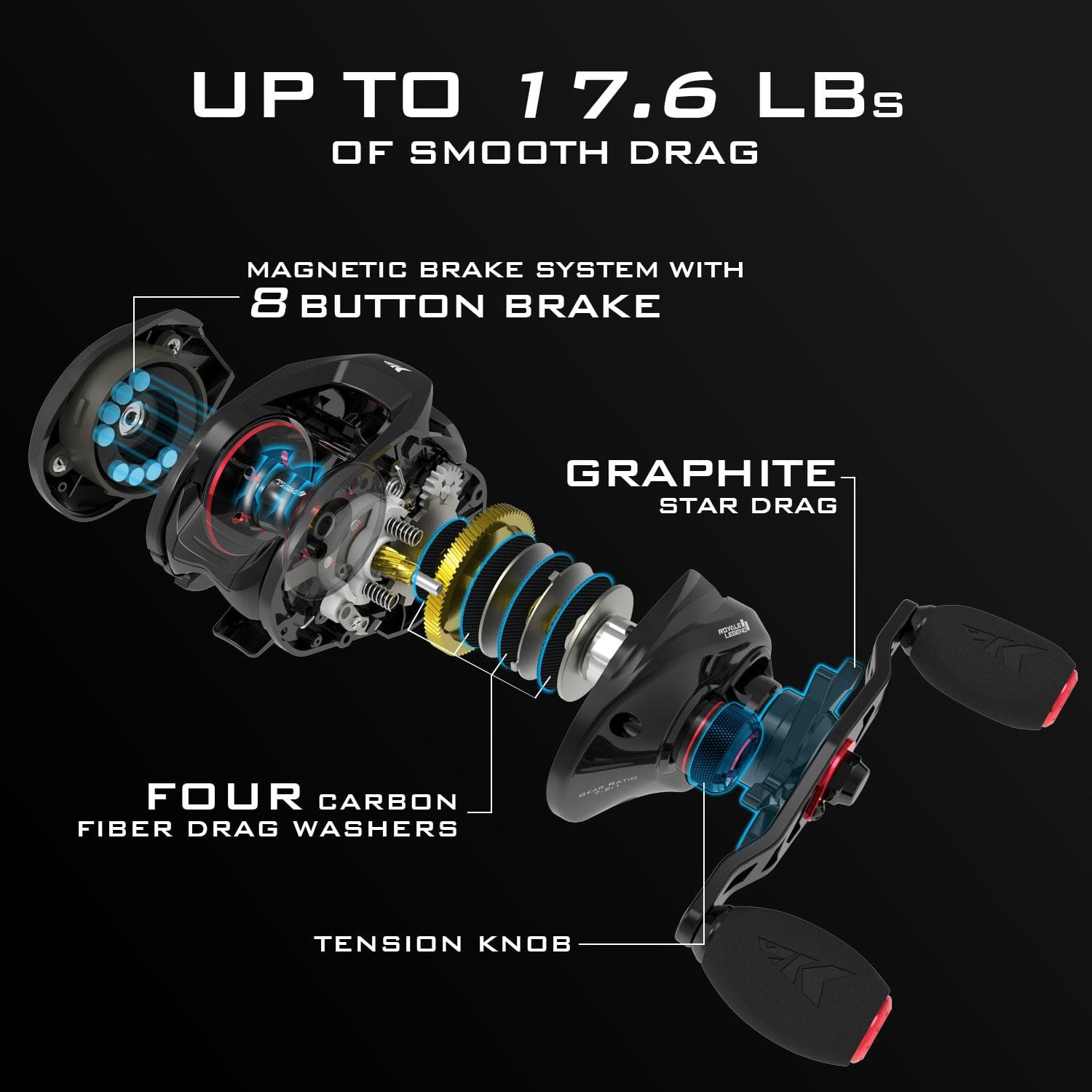 STRONGER
KastKing's new Royale Legend II casting reels are equipped with an extra-hard stainless steel main shaft, Hamai precision machined brass gears, diamond shape ceramic line guide and CNC aluminum spools for strength and durability. Combine those high-end features with a quadruple disc carbon drag that delivers a fishing stopping 17.6 lbs of drag and an incredibly low price, and you have the best value in baitcasting reels available today.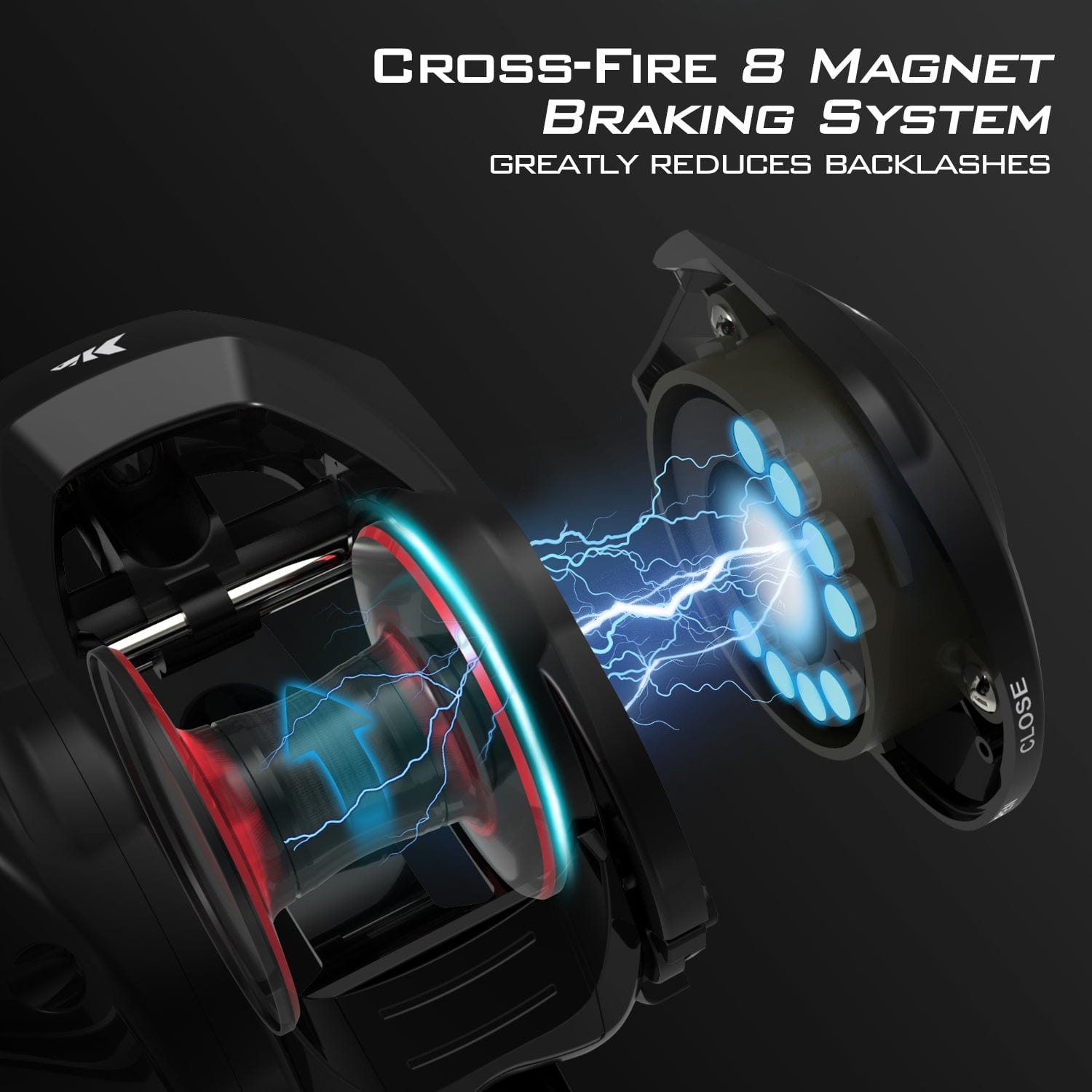 CROSS-FIRE MAGNETIC BRAKING SYSTEM
To avoid time consuming and frustrating overruns and backlashes, the new Royale Legend II fishing reels include a newly designed, dynamic magnetic braking system with 8 magnetic buttons, compared to only 5 or 6 on most other reels. Royale Legend II's ten-level adjustable braking system eliminates casting issues while maximizing casting distance and fishing line control in windy conditions. Say goodbye to overruns and hello to more fish in the boat.
Looks and works great love it
Smooth
Casting adjustment and drag are very smooth and adjust very nicely
SO FAR
I've not had a chance to use the reel. I did load it with 12 lb P-Line fluorocarbon and the reel is very smooth. Light and comfortable in my hand.
KastKing Royale Legend II Baitcasting Reel
Quality , affordable casting reel
The royale legend ll is a quality budget casting reel. I believe it comes in 2 gear ratios. I believe they are 5:4:1 and 7:2:1 . Don't quote me. But has been an excellent casting reel. Would not and have not hesitated to recommend the royale legend ll to someone.
KastKing does put out some pretty good products at a good price point.