Tournament Series Bass Fishing Rods – New KastKing Spirale casting rods are used by elite anglers like MLF Pro Cliff Crochet in competition against the best anglers in bass fishing. As a true power angler, he played a key role in their design for power fishing techniques, jarring hook sets and heavy cover. He wanted a series of fishing rods that were affordable for all and easy to understand. There are 5 rods in this series and were each designed to cover a wide variety of techniques.
State Of The Art Blank Technology – To build a truly special fishing rod, especially one designed to perform for the world's best anglers, it starts with the blank. For this series KastKing has developed two new rod blanks that are thin, light, sensitive and incredibly powerful. Three of these rods use a new Toray high strength, IM8 graphite blank. The other two use a proprietary 70/30 Complex Composite material that enhances performance with moving baits.
Nano Resin Technology – The use of Nano Resins in the construction process plays a key role in the performance of these rods. Nano resins decrease the weight of the rod and allow us to create perfect balance points for all day performance. They also increase overall strength even with thin diameters and lighter overall weight. You simply must experience the incredible hook setting power in these baitcasting rods, it's unlike anything you've used before. Simply put, they're engineered to win!
Spiral Wrapped Microwave Air Guides – Cliff and our design team incorporated "Spiral Wrapped" guides in the creation of KastKing Spirale bass fishing rods. These guides take the rods to the next level in performance over conventionally wrapped guides. Fishing line is directed away from the blank as the guides rotate around and under the blank starting after the first stripping guide. To further enhance casting distance and accuracy, KastKing used American Tackle Microwave Air, snag less guides.
Premium Components – To ensure a solid platform for your casting reel, we've selected the American Tackle G2 Edge casting rod reel seats. These reel seats are extremely light and strong and keep reels firmly in place while fighting large, powerful fish. Each feature an exposed blank window for the ultimate in rod sensitivity. Triple AAA cork handles are used for comfort and sensitivity over EVA or rubber. The split rear handle design improves balance and is protected by an EVA fighting butt.
Product Description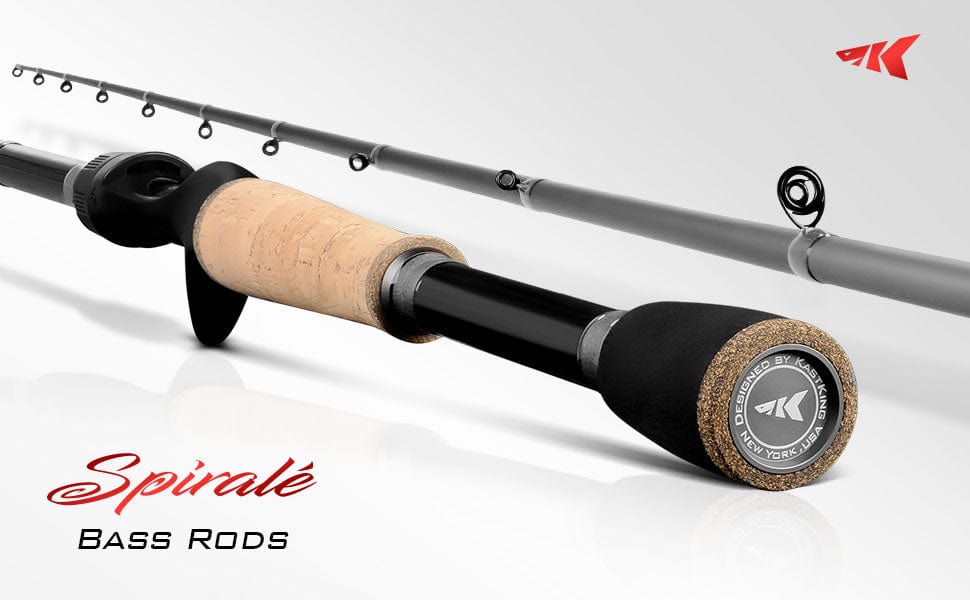 New KastKing Spirale Bass casting rods were designed for and with the help of elite tournament bass fishing anglers like Cliff Crochet. Cliff is known as a true power fisherman so the new Spirale series of rods had to be ready for jarring hook sets and working big fish out of heavy cover.
It all began with two new proprietary blanks designed to handle true power techniques like flipping, pitching or punching heavy cover, casting frogs with heavy braid or working moving baits in tight, dense areas. The first blank is made with a Toray IM8 High Strength graphite allowing us to keep the rods very thin and light while possessing incredible strength and sensitivity. The second blank is a 70/30 complex composite blank that was specifically designed in two lengths for moving baits. Each is perfect for its intended purpose and will easily handle a wide variety of baits.
Nano resin technology is used to increase strength while keep weight to a minimum even in thin, small diameter rods. Even the 7'8" Extra Fast rod with a Very Heavy power rating is unbelievably light allowing the angler to fish big baits all day long without fatigue.
Cliff and our designers took these rods to the next level in performance by using a "Spiral Wrap" guide design utilizing American Tackle Microwave Air Snag less guides. The first stripping guide is located on top of the rod as in traditional casting rods, but each transition guide then begins to curve around the blank until it reaches the running guides which are all located on the bottom of the rod. This eliminates any line contact with blank which reduces performance and accuracy. The results is a highly sensitive, powerful and long casting rod required by anglers wanting the best.
KastKing uses only premium components are used on the new Spirale Series. Reel seats are American Tackle G2 Edge casting reel seats that keep reels firmly in place no matter the conditions. Triple AAA cork handles are comfortable, improve sensitivity and look great!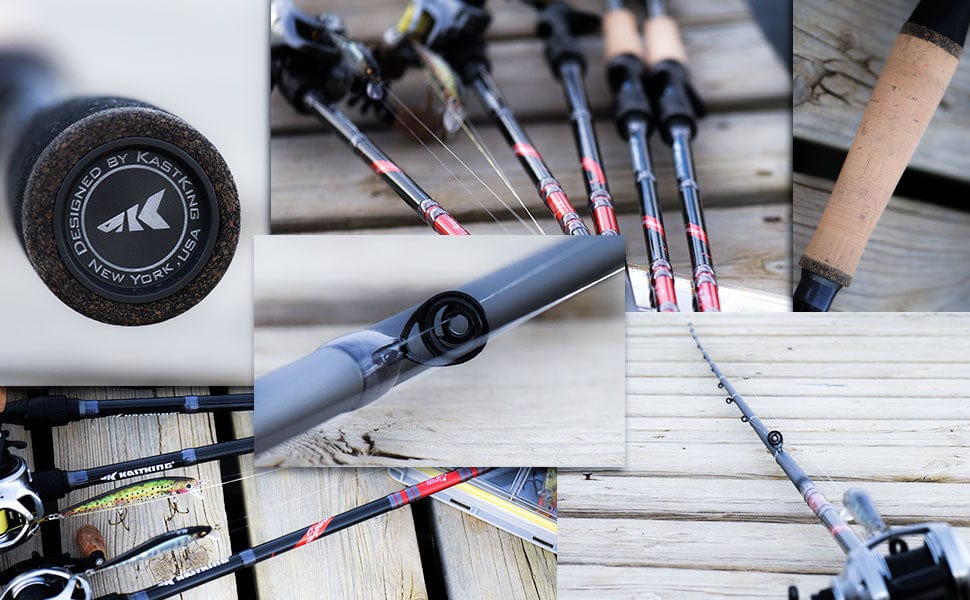 I broke my spinnerbait/chatterbait rod and needed a new one. This is my first KastKing rod purchase and I'm quite pleased with it. Got the MH 7'4" Moderate-fast paired with my 6.5:1 Megajaws and it hauled in a 5 pound bass with strength and quality you could feel. I have confidence I'm landing fish when I use this rod and strongly considering another one.
It is so well designed rod, so light and so sensitive rod that I had nothing but happiness to do a bass fishing with it.
Great value and great fishing pole!
Works great with my new Deadbolt baitcasting reel
I like how durable this rod is and how sensitive at the same time. I caught a carp that was 13 lbs and the bat eagle ray was 11 and they pulled my drag a little at 39 lbs. by the time I tightened it all the way. The rod was at a 90 degree angle while trying to get those in too. So I'm pretty impressed at how much they can flex and I'm sure it can handle bigger fish.