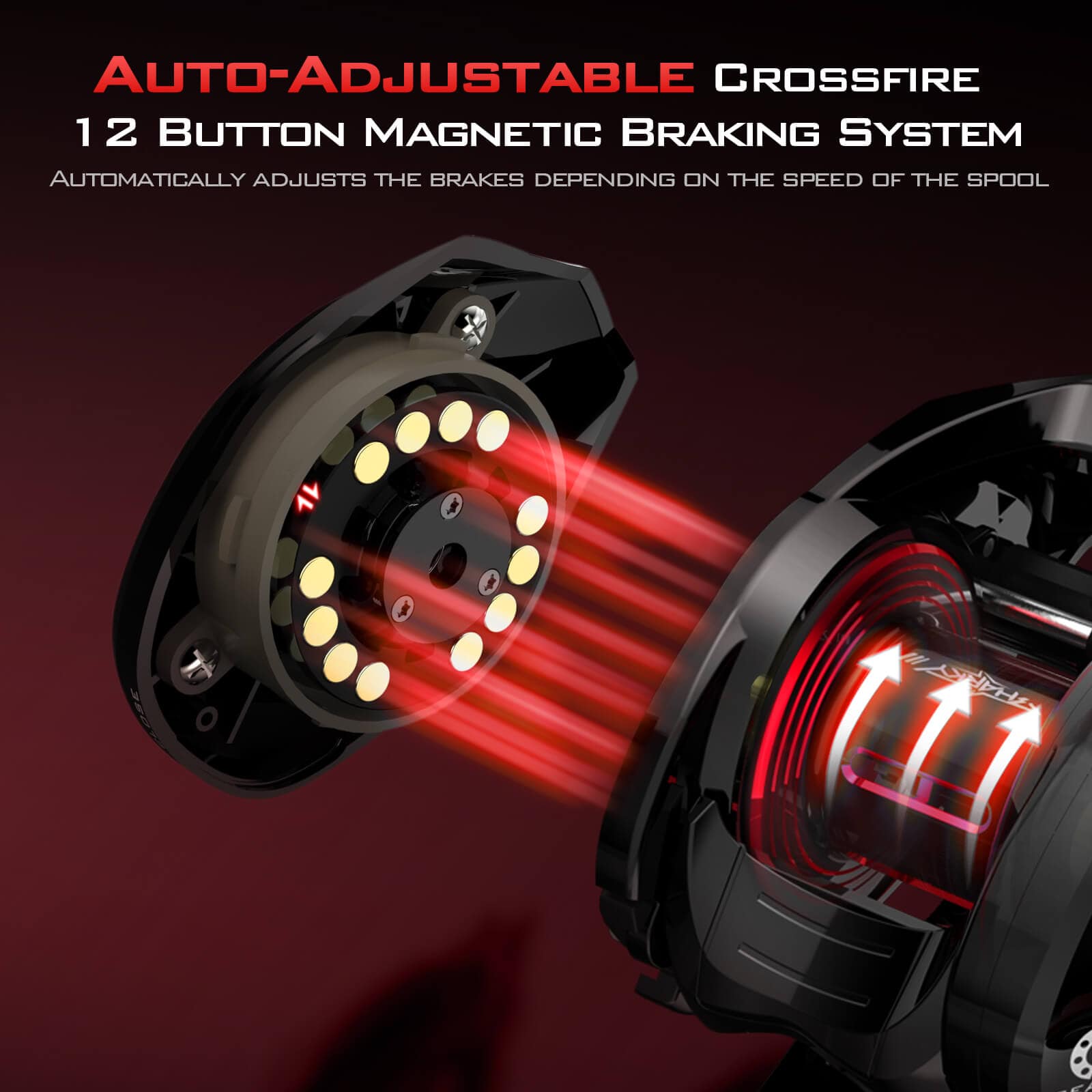 ADVANCED BRAKING TECHNOLOGY
Sharky III baitcasting reels are built with the Auto-Adjustable Crossfire 12 button magnetic braking system that provides incredible braking control. As the speed of the spool increases, the magnetic field adjusts to slow down the speed of the spool when braking is needed to prevent overruns. As the speed of the spool decreases, the magnetic field diminishes, and the magnets retract to maximize casting distance.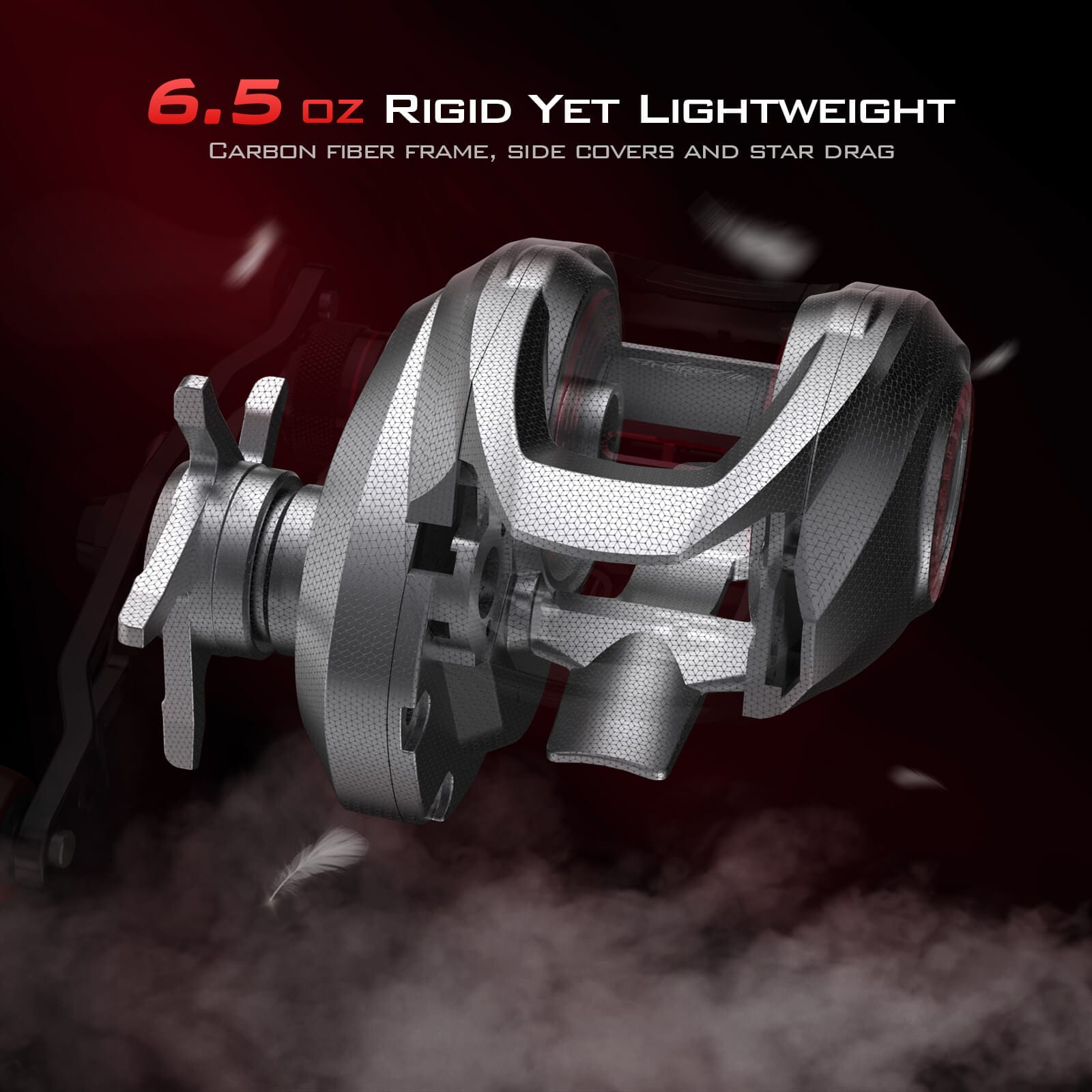 LIGHTWEIGHT YET POWERFUL
The Sharky III baitcasting reel's carbon fiber frame, side covers, and star drag reduce overall weight to only 6.5 ounces while also providing the necessary strength to withstand the stress serious anglers will put this baitcaster reel through. The triple disc carbon fiber drag generates 17.6 lbs of maximum drag power. This system provides smooth drag without hesitation.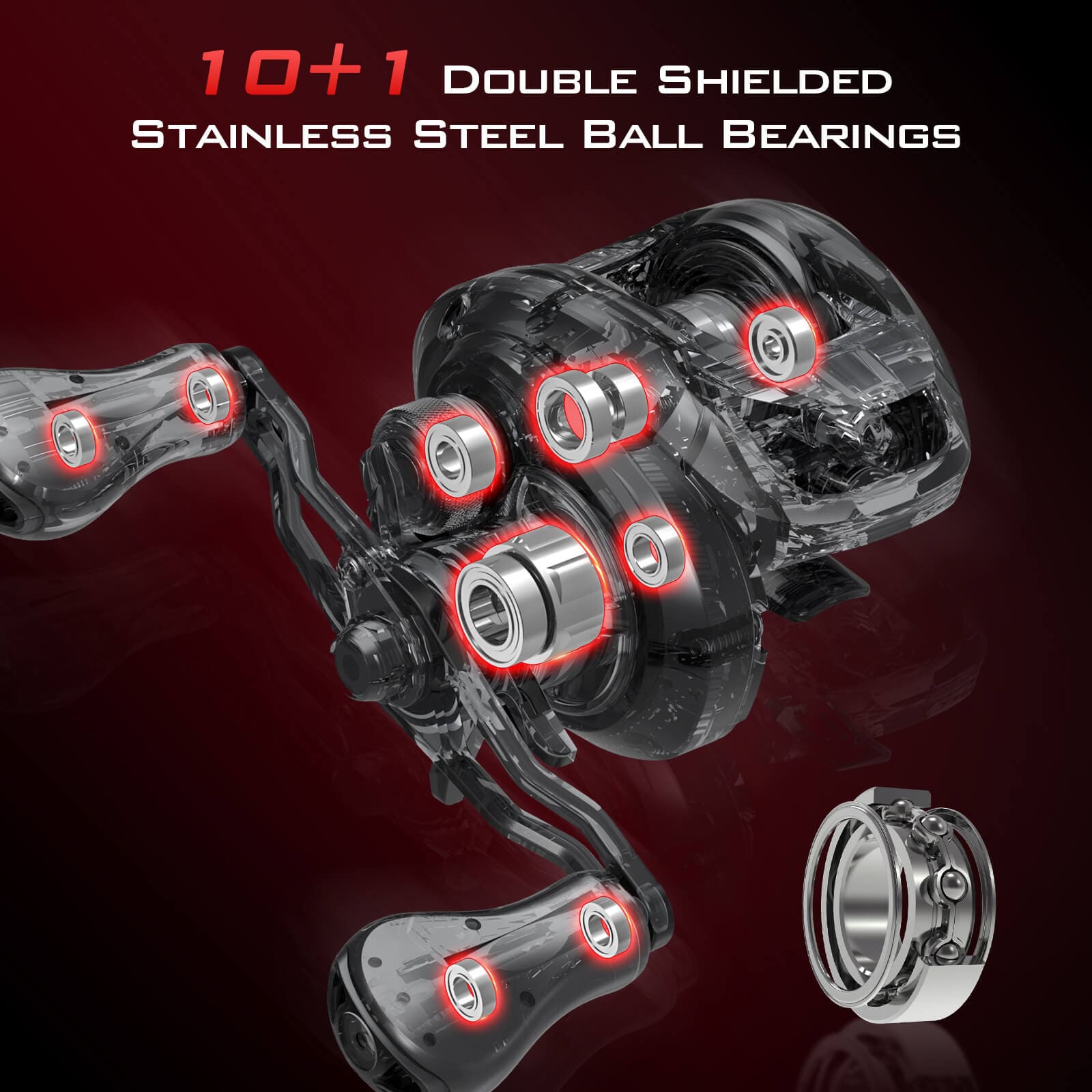 FAST AND SMOOTH
The Sharky III baitcasting reel is built with 10+1 double-shielded stainless steel ball bearings for silky smooth retrieves. With a 7.2:1 high-speed gear ratio, the Sharky III baitcaster reel is a highly versatile casting reel for anglers hunting for a new fishing reel. And the manganese brass pinion gear, hardened aerospace aluminum main gear, and brass main gear shaft ensure this reel maintains flawless performance for countless future fishing seasons.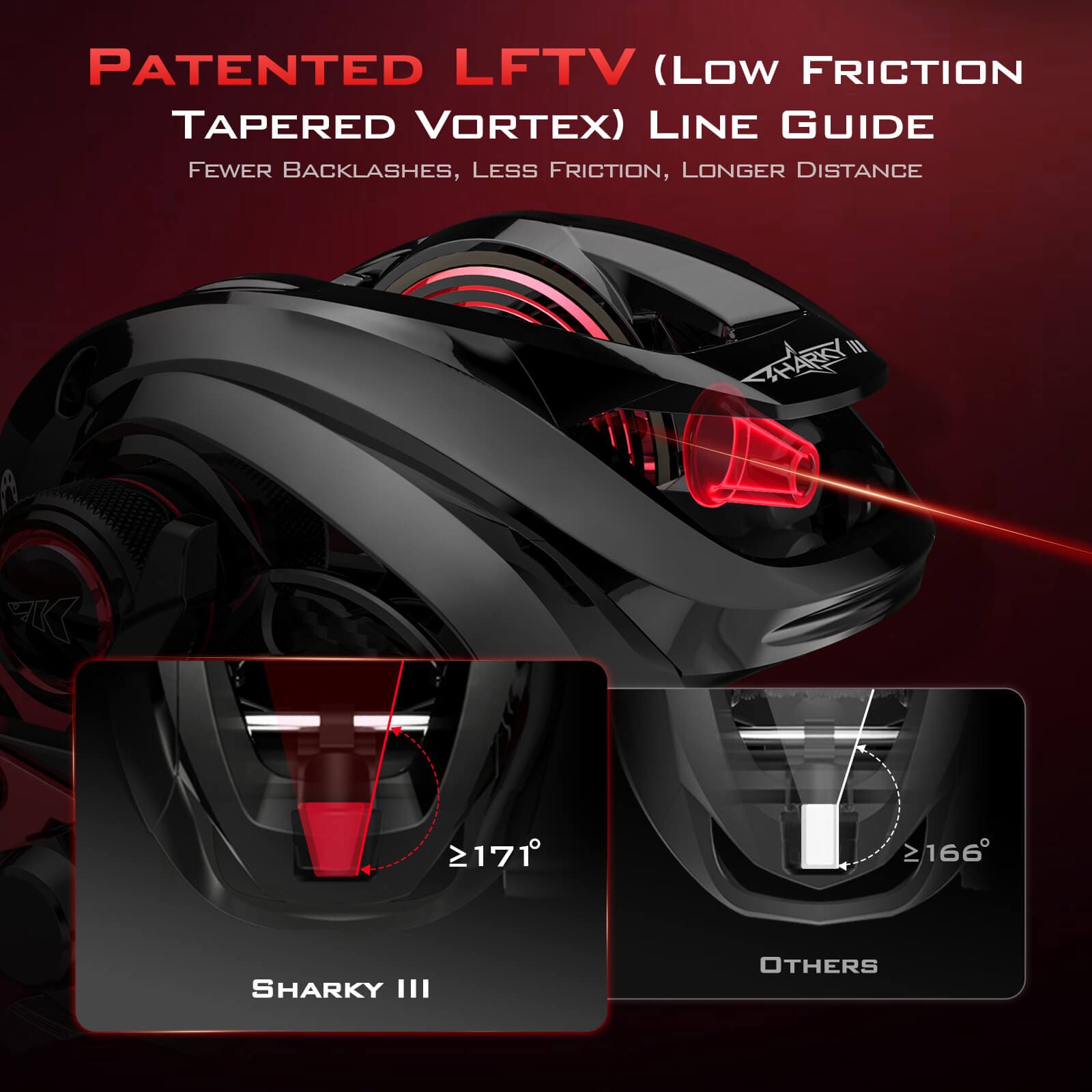 EXTREME CASTABILITY
Sharky III baitcasting reel's patented LFTV (Low Friction Tapered Vortex) line guide allows for less friction on the line as it leaves the spool, translating to fewer backlashes and longer casts. The shallow aluminum spool rotates faster than a traditional spool and provides additional control and exceptional casting accuracy.
PREMIUM FEATURES THROUGHOUT
Anglers are in complete control with the carbon fiber star drag, allowing them to easily adjust the drag pressure when hooked up and experience greater success landing big fish. And the tension knob features an audible click adjustment to keep your setting precisely in place and helps anglers make fine adjustments when needed. The lightweight aluminum handle provides strength while reducing weight, and the premium paddles offer excellent comfort.
Ringan, tapi...
Semua ok, tapiii
cons:
star drag clicker.. bunyi agak plastic. bukan steel click.. feel cheap
kayuhan agak tidak fit.. rse gelong bak kata orang perak 😂
thumb bar stuck dan tak solid,, bila nk kayuh.. rse mcm stuck, sangkut
aku dulu pkai banax titanic pro,,mmg ikut scale pd magnetic brake.. biasa set 2-3 .. tapi bila pkai model ini.. kne setting 5-6 scale.. agak pelik skit 😂😂.. lure berat, rod sama jee
pro:
kayuh mmg sedap sbb bearing byk,,. angkat kayu 4 kg tade hal (kupaw pnye pasal 😂😂😂, kayu pun jadii laa)
drag 8kg.. mmg umpp.. size cinonett je, tapi padu bak hangg
by the way, baik cari model lain.. kastking good brand. tapi ad masalah pd model ini..
harap omputih paham ap yg aku tulis😂😂😂
hangpa tak paham.. hangpa google sndiri 🤣🤣