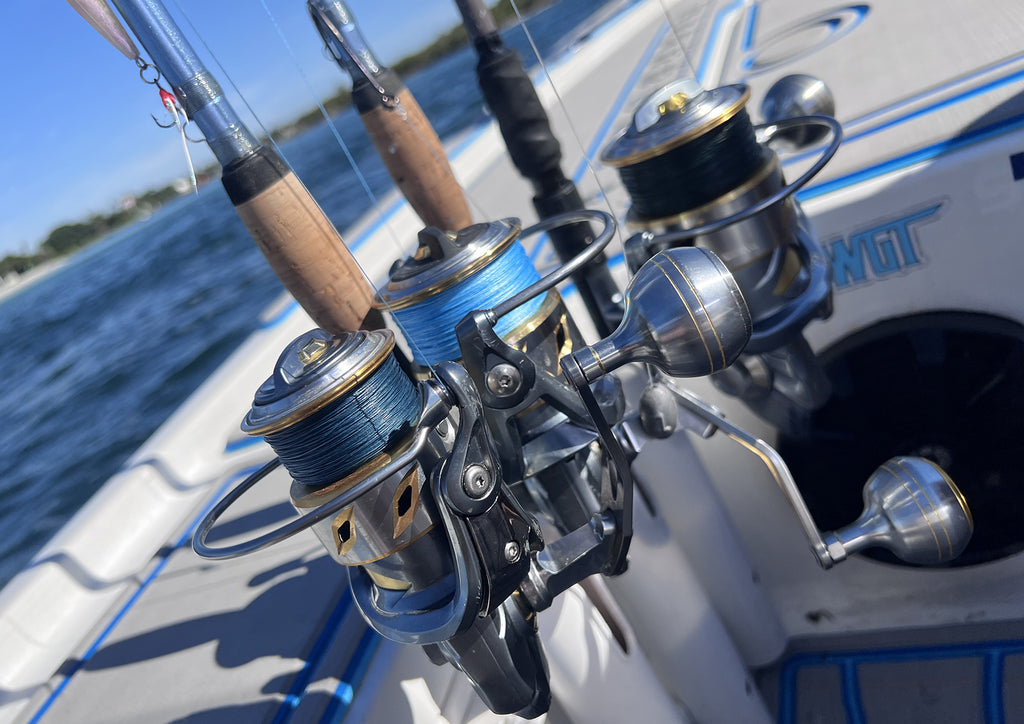 Choosing the Right Braided Line for Saltwater
Saltwater fishing is many anglers' dream. From inshore species like flounder and snook to deep water fish like grouper and tuna, the options of species are limited only by location. One asset to saltwater fishing is the prevalence of braided lines. While there can be a few detractors when using braid, the line type is preferred by many anglers regardless of location. However, not all braid is equal. Line strength, color, and thickness are all factors that should be considered, especially when the water and species can vary so dramatically. This article will highlight the strengths and weaknesses of braid while fishing saltwater and highlight products and line types that fit well in different saltwater locations.
Thickness
Braided fishing line is ideal for several reasons, first is thickness. Braided line is, on average, 50% thinner than monofilament line. In the case of the KastKing KastPro 13X Finesse Braid Fishing Line, anglers have a line that is 75% thinner than comparable weight mono. Regardless if anglers choose from an ultra-thin braid or even a standard braid, the amount of line on the reel is increased. For deepsea fishing wrecks or deep-dropping baits for pelagic species, the added capacity allows anglers to use smaller reels, decreasing cost and fatigue. From experience, while slow pitch jigging for snapper, the lighter your set up the less your arms will feel like jelly.
The thinner line will also cast farther. When surfcasting and trying to reach the second sand bar anglers use every advantage they can find. Braided line has been a top choice for distance casters since its invention. The line's smoothness and light weight are ideal for carrying baits and lures father than could be accomplished with mono.
Line Strength
The breaking strength of braided line is viewed as its greatest asset. The woven threads that make up braided line create a tensile strength higher than expected, especially over the length of the line. Just like the bonus of a thinner diameter line having a higher breaking strength on the same size line gives anglers the added comfort that if they hook a monster tarpon while fishing, the line should hold up to the prolonged battle.
The shock absorption of braided line is nearly zero, which can be both a curse and a blessing. The lack of stretch in braid gives anglers a better feel for what the bait or fish may be doing even at great depths. What that lack of stretch means for deep dropping is when you raise your rod tip two feet, your bait moves two feet. In rolling seas, that change in rod tip could give your bait on the bottom a look like a pogo stick. Conversely, setting that hook is almost instantaneous when you get a bite. The downside of this lack of stretch is when a fish jumps or grabs the lure there is no give in the line, and the hook can pull out. This lack of give is why most trolling setups use monofilament of fluorocarbon. A fish hitting a bait trolled at high speeds would risk straightening a hook or damaging the rod with the force it sustained. While braided line isn't the best choice for trolling, it makes a wonderful line for jigging and fishing topwater lures. Whatever the style of fishing, it's important to have your drag set a bit lower than you would with mono; this will reduce the risk of pulling a hook out of the fish's mouth.
Abrasion Resistance
Anglers who have lost a big fish in cover use phrases like "broke off" or "rubbed though". While both these idioms are technically correct, the truth is the lines used were probably knicked or worn before they hooked that fish. Sharp rocks, shell beds, and even the mouth of the fish can put knicks and scuffs in the line that will fail at a critical moment. Braided line resists abrasion better than other styles of line because the multiple strands shield each other from total breakage. It's still wise to check your line, especially if fishing areas like docks and bridges where barnacle-crusted pilings can cut lines in an instant.
Color
With the exception of a few keen-eyed fish species like roosterfish or permit, line color doesn't dissuade many saltwater species. For the off chance that it might, anglers can select blues, gray, or green braided line that will blend in with the water becoming nearly invisible. For anglers that want to keep an eye on their line, such as when surf casting or deep dropping, there are many high visibility options like white, chartreuse, and yellow that will stand out in any condition from a sunny day to a nor'easter. KastKing's Destron uses a "CFT" Color Fast Technology, a no-fade abrasion-resistant coating that will stay bright no matter how much sun it receives. Speaking of the sun, another advantage of braid, especially for saltwater fishermen, is that it doesn't break down from UV rays. Monofilament degrades from exposure to the sun. Many anglers change their mono out every year, braid will maintain its strength until its cut or lost. 
Braided fishing line is ideal for a number of techniques. For saltwater fishermen, the benefits of strength and thickness far outweigh the weaknesses. Being able to feel the bite of a ling cod at 80 feet or more is one of the reasons why braid is spooled on more and more reels every day. Whether you are casting a pencil popper for striped bass on Block Island or waiting for a gag grouper off a wreck in Marathon, braided line is the right choice.