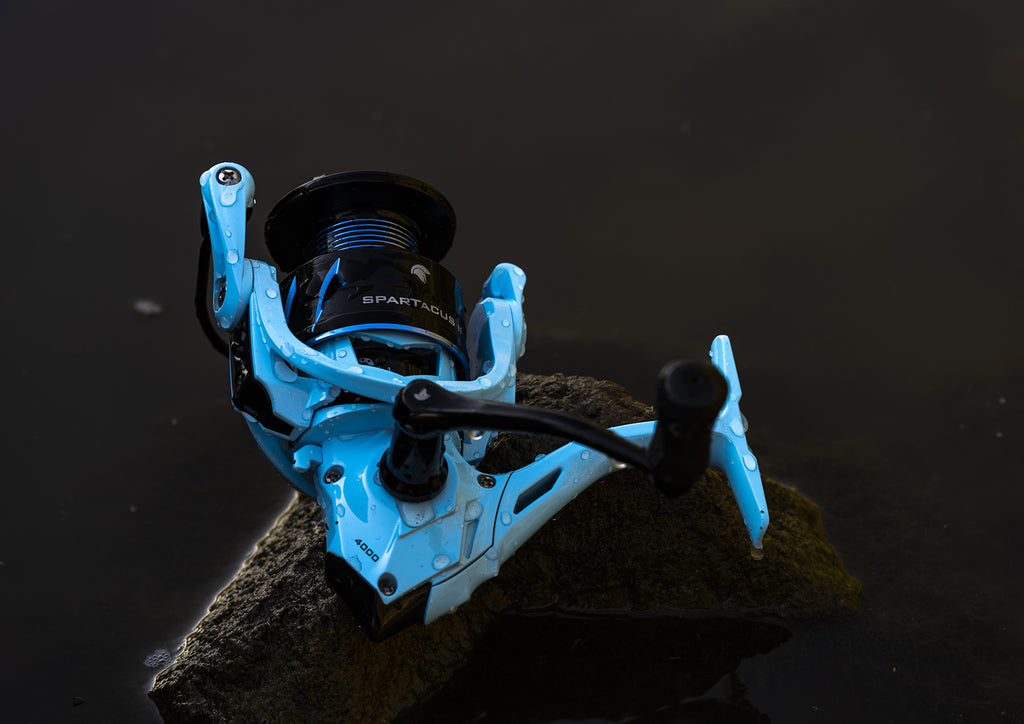 Things To Consider When Buying Spinning Reels for Bass
When buying a spinning reel for bass fishing there are always some important considerations that need to be made by the consumer. The process can be daunting so I thought I would see if I could simplify the process by creating a bit of a checklist of items to consider when shopping for your new reel.
Spinning Reel Sizes
One of the first things that an angler should be considering is the size of the bass you are targeting. Spinning reels are sized based on a scale from 500 - 8000 and can even go higher into 10,000 sizes. Like so many other parts of fishing there are no standards for sizes from manufacturer to manufacturer so be very cautious. What is standard is that the smaller the number, the smaller the reel, so a 500 size is pretty small and used for ice and crappie fishing where minimal line capacity is needed and using 2-6 lbs line is just fine. The larger size reels like 8000 up to 10000 are normally used in targeting much larger, bulky fish where the fish can make long runs and need the line capacity and thicker line to bring them in. People using their reels for saltwater applications would often be looking in the 5000 + sizes. For most applications a good all around bass spinning reel to start with is a 2000 size.
Line Size
If you know the areas you are fishing and how large the bass are that you are targeting it would be very good of you to think about the size and yardage of the line needed. The size of the line you will be using is actually determined with what kind of line you will be using. Most reels are sized with either braid or monofilament (mono) line being used. With braid being roughly 30% the thickness of mono, it is advisable to think about the size of the bass you are fishing for and size that in mono. Then, take that number and multiply it by three to match the braid. Example: The bass you will be fishing for are between 4-6 lbs, I would size that up and start with a braid size of at least  20-25 lbs braid and using a mono or fluorocarbon top shot of your preference. Now with that in mind, you can start thinking about just how much of that size line you will need.
Line Capacity
Some fishing areas require long casts to get to where the bass are and other times you can find yourself walking around a pond or lake and don't need much line at all. It is advisable that whatever length you will need at maximum, to triple it and start there. For example, I can walk around the little lakes by myself and never need more than 50 yards. Just to start the calculation, I would immediately look for a reel that can handle at least 150 yards of line. With this known you combine this with the size of the line that you are using and you can determine the spool size that would accommodate your needs. In recent years, there has been much more consideration for the finesse type of fishing for bass. Many spinning reels have been introduced with spools that are wider and take less line to fill. This is so you can use thinner line and not have to fill it with an underlayer or base of line then top shot your thin line. Just makes things a bit easier for casting and loading thin, light lbs test line.
Drag
The second to last consideration of a spinning reel is the power of a fish. This is normally aligned right with the size of line you are using but is a prime consideration for the drag you will need your reel to have. That lbs drag is certainly a consideration but another fine detail of the reel you may be looking for is what kind of drag the reel has. A reel with carbon washers like so many of the higher end Kastking spinning reels are equipped with is vital for a fisherman that is looking for a smooth drag with minimal sticking and could be less likely to wear out as normal drags may do over a period of time. Keep in mind that many bass anglers want to have very strong drags to assure a solid hook set. The drag that is chosen should not only be about the size of a fish but the manner in which you will fish and assure you can turn the head of the fish or spitting the hook.
Body and Operation
One of the last details that may be important in determining the right reel for you is the actual body and operation of the reel. The actual operation of the reel is not something that is within the scope of this article but if you are curious on how to use a spinning reel, I would encourage you to come back to the KastKing site and review additional how-to articles. Believe it or not there are attributes in the body of the reel that may be a determining factor for some. One of these attributes is the reel speed or Inches Per Turn (IPT) of a reel. The higher the number, the faster the reel as it is pulling in inches of line per revolution of the HANDLE to get your fish in. This obviously makes a huge difference if you are interested in getting a bass in from cover before it has a chance to spit the hook or break the line behind branches or rocks. This works hand in hand with the drag to turn the head of the fish towards you as quick as possible. Another factor of importance to many is the water resistance of the body and bearings. An angler that is using their reel in areas where it is likely to get wet often will want to look for water resistant, double shielded bearings to avoid rusting and "gunking" up the bearings over time.