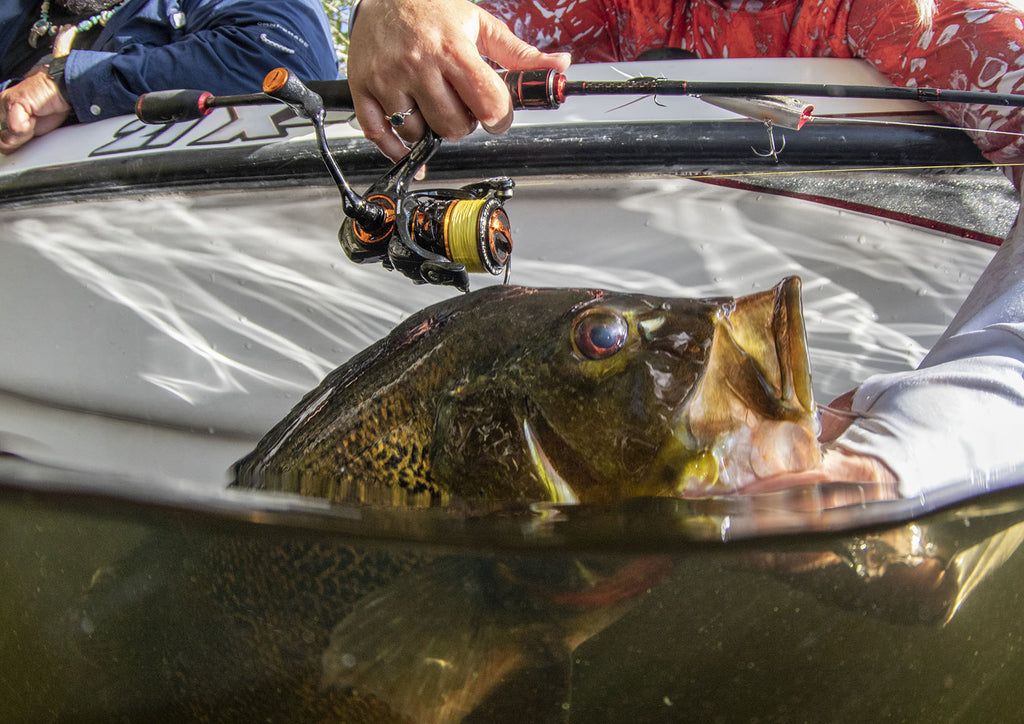 Type of Fishing Reels - Which One is Right For You?
Fishing reels are an important part of any angler's tackle box. There is a wide variety of different types of reels available, each with its own advantages and disadvantages. Knowing which one is right for you can be tricky, so here's a quick guide to the different types of fishing reels and how to choose the right one for your needs.
Spinning Reels
Spinning reels are the most popular type of fishing reels and are a perfect choice for most beginners. They are available in a large variety of sizes and are easy to use. Spinning reels have a fixed spool, which helps to reduce line twists. They also tend to be lightweight, making them easy to carry and maneuver. Spinning reels are great for a variety of techniques, such as trolling, light line casting, and jigging. Overall, spinning reels are a good choice for anglers of all levels of experience who want an easy-to-use and versatile fishing reel.
One of the best spinning reels out on the market today is the KastKing Zephyr Spinning Reel. This little reel comes in at a great price and includes all of the key components that you need in order to get started fishing right away. 
Baitcasting Reels
Baitcasting reels are also very popular and are most commonly used with heavier tackle. They are great for casting into heavy cover and into deeper water. Baitcasting reels have a revolving spool, which helps to reduce line twists. They also have adjustable braking systems that allow for better casting control. Baitcasting reels are great for bottom fishing and are often preferred by experienced anglers because they allow for more control over the cast and the ability to handle larger fish. Additionally, baitcasting reels can be used with a wider variety of lures and baits, making them versatile for different fishing situations. 
If you are looking for a great baitcasting reel, KastKing also has you covered. The KastKing Verus Assassin Performance baitcasting reel is an excellent choice for anglers who want a versatile and durable reel that is capable of handling larger fish. This reel is made from high-grade materials and features a smooth and reliable casting system, making it easy to use and effective for a wide range of fishing situations. 
Spincast Reels
Spincast reels are a simple type of fishing reel that is known for being easy to use for beginners. They have a closed-face design, with the fishing line and spool protected by a circular housing. To cast the line, the angler simply pushes a button and releases it, causing the line to be cast out. The design of spincast reels makes them ideal for those who are just starting out in fishing, as they are less likely to experience tangles or backlash compared to other types of reels. Additionally, spincast reels are usually very affordable, making them a good option for those on a budget. However, they are not as powerful or capable of casting long distances as other types of fishing reels, so they may not be the best choice for experienced anglers or for catching large fish.
For a high-quality spincast reel, the KastKing Brutus Spincast Fishing Reel is a solid choice because of how versatile and rugged it is. It is extremely easy to operate for anglers of all skill levels and can handle fish of many different sizes. This is the perfect option for many thanks to its size, weight, and durability! 
Conventional Reels
If you are after larger fish species, then you need a conventional reel. These are a type of fishing reel that is well-suited for catching larger fish. They are typically used in saltwater fishing and are known for their strength and durability. Conventional reels have a fixed spool that allows for longer casting distances and the ability to handle heavy fish. They are typically heavier and bulkier than other types of fishing reels, but this added weight can be beneficial for anglers looking to have more control over their reel and the fish they are reeling in. Overall, conventional reels are a good choice for experienced anglers looking to catch larger fish in saltwater environments.
KastKing produces a phenomenal conventional reel with the KastKing Rover Round Baitcasting Reel. This reel is made with a durable aluminum frame and features a smooth and reliable drag system. It is also equipped with a comfortable handle for easy handling and a line capacity ring that helps you keep track of how much fishing line you have left. The KastKing Rover Round fishing reel is a great choice for those looking for a reliable reel that won't break the bank. 
Which Type of Fishing Reel is Right for You?
Choosing the right fishing reel can be overwhelming, as there are many different types and brands to choose from. When deciding on a fishing reel, it is important to consider the type of fish you will be catching, the type of fishing you will be doing, your level of experience, and your budget. For example, if you are a beginner, a spinning reel may be a good option because it is easy to use and versatile. If you are an experienced angler looking to catch large fish, a baitcasting reel or conventional reel may be a better choice. It is also important to consider the type of fishing you will be doing, as some reels are better suited for certain techniques, such as fly fishing or deep sea fishing. Ultimately, the right fishing reel for you will depend on your individual needs and preferences.