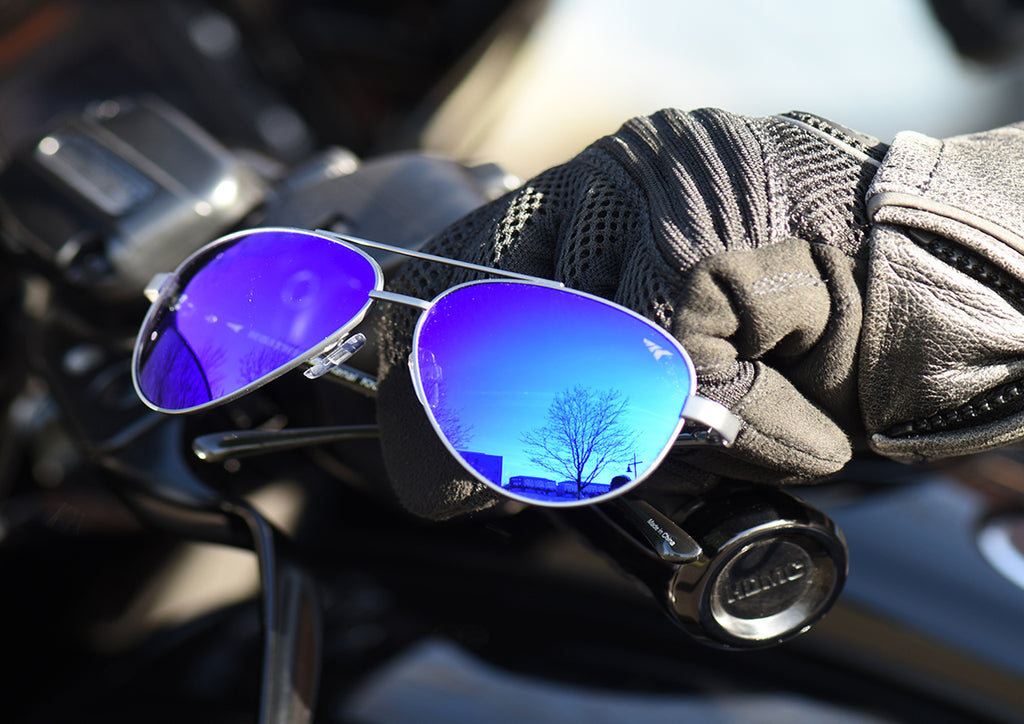 What Does Polarized Sunglasses Mean
By now, it should be no secret that sunglasses are more than trying to look stylish on the beach and feel comfortable.
Using a good set of sunglasses is vital for keeping people's eyes healthy. They help to block out harmful UV (Ultraviolet) rays.
And this is why polarized sunglasses are an excellent option for anyone that likes to spend their time outdoors, work outside, or take part in high-glare activities.
This article aims to explain what polarized sunglasses mean, showing some of their advantages and disadvantages, and so much more.
So, don't go anywhere!
What "Polarized" Sunglasses Mean
Polarized sunglasses were designed to block bright reflected light, known as glare, and it can be pretty damaging for people's eyes. 
When the glare is reduced, it makes the eyes feel more comfortable and helps to provide a better picture of the surroundings. 
Here's the thing:
Sunlight scatters in all directions. But when the sunlight hits a flat surface, the reflected light tends to become polarized. And this means the reflected rays travel more uniformly, usually in a horizontal direction.
And this can create an annoying/dangerous intensity of light that reduces visibility to a dangerous level.
You've probably noticed this happening when looking at the hood of a car or a calm body of water on a sunny day.
All sunglasses help protect people's eyes in some fashion, which is shown by the UV rating on the sunglasses when purchased. But… 
Only polarized sunglasses have the potential to filter out the intense glare provided by the sun. And in the following section, you're going to learn how this process happens:
How Polarized Sunglasses Work
Polarized glasses have been designed with a particular chemical that helps filter the glare from the sun before it reaches your eyes. 
The chemical molecules are lined up to block the light from passing through the lens. One of the best ways to think about it is to imagine the polarized lenses working as a blind for your window.
The only light that can pass through the blinds is the small openings that can be seen.
Polarized glasses provide a vertical opening for light, which means only light rays that approach your eyes from a vertical direction can fit through the lens.
This lets the glasses block out horizontal light waves from bouncing off the water or shiny surfaces and reaching your eyes.
Because of this light filtering technology, the sunglasses will provide a darker image but often feel a lot clearer than standard glasses.
Increases contrast and minimal colour distortion
Reduces eye strain
Reduces glare and reflection
Provides clearer vision in bright light
These few advantages make polarized sunglasses perfect for people who like to spend a lot of time outdoors. To make things better, they really help improve vision in high glare situations.
They're also great for people who spend a lot of time driving throughout the day. The glare-reducing abilities allow a safer and more confident driving experience.
And while polarized sunglasses have many significant positive aspects, they also have a few issues that people need to consider before purchasing them:
Disadvantages Of Polarized Sunglasses
They don't work well for flying
They make it difficult to look at LCD screens
Decreased visibility in low light situations or driving home at dusk
Your eyes may feel sensitive to how the lens changes the lighting
One of the biggest downsides of polarized glasses is that it makes it difficult to look at LCD screens. And this means you could struggle to look at the dashboard, ATM, or your mobile phone. And this can provide an annoyance or safety concern.
And to make things worse:
Polarized sunglasses can also perform negatively on specific tints on the windshield, making driving a potentially dangerous experience.
And when the sun starts to go down, it can also be difficult to see while driving, so don't be fooled by people's claims about polarized sunglasses working well at night.
When To Use Polarized Glasses
Battling the sun's rays all day can make people's eyes grow tired, but with polarized sunglasses, things look different. People will attest that their eyes feel less tired when using polarized sunglasses, making them an excellent choice for certain situations.
Here are some specific situations where wearing polarized sunglasses can be very helpful:
Fishing: When people use polarized sunglasses for fishing, they'll notice that the glare is significantly reduced, and they can see into the water a lot easier. And this can help them pinpoint a fish's location.
Snowy environments: Snow and ice can cause a lot of glare, making simple tasks a lot harder. And this is why a pair of polarized sunglasses can come in handy for anyone that loves the snow.
Boating: Long days on the open ocean can cause a lot of eyestrain, making boating a problematic experience. But, with polarized lenses, the glare is taken away, which provides a better viewing experience and helps when driving the boat.
Golfing: There have been a few conflicting reports regarding polarized sunglasses and golfing. Some people claim it makes it harder to read the green while putting. But many golfers can agree that wearing polarized sunglasses can reduce the glare on fairways. Also, if your ball ends up in the water, you can see it a lot easier with polarized glasses.
Final Thoughts & Takeaways
Remember, not all sunglasses can block harmful ultraviolet rays from the sun, and not all of them are polarized. 
For this reason, it's essential to check out the labelling on the sunglasses before making a purchase. If you are unsure whether the glasses are polarized or not, you can use a testing card to double-check.
It's usually a little card with a dark patch on it. If you can't see the writing with the glasses, they're not polarized sunglasses.
Another thing to note is polarized sunglasses are more expensive, so if the price seems too good to be true, it probably is.