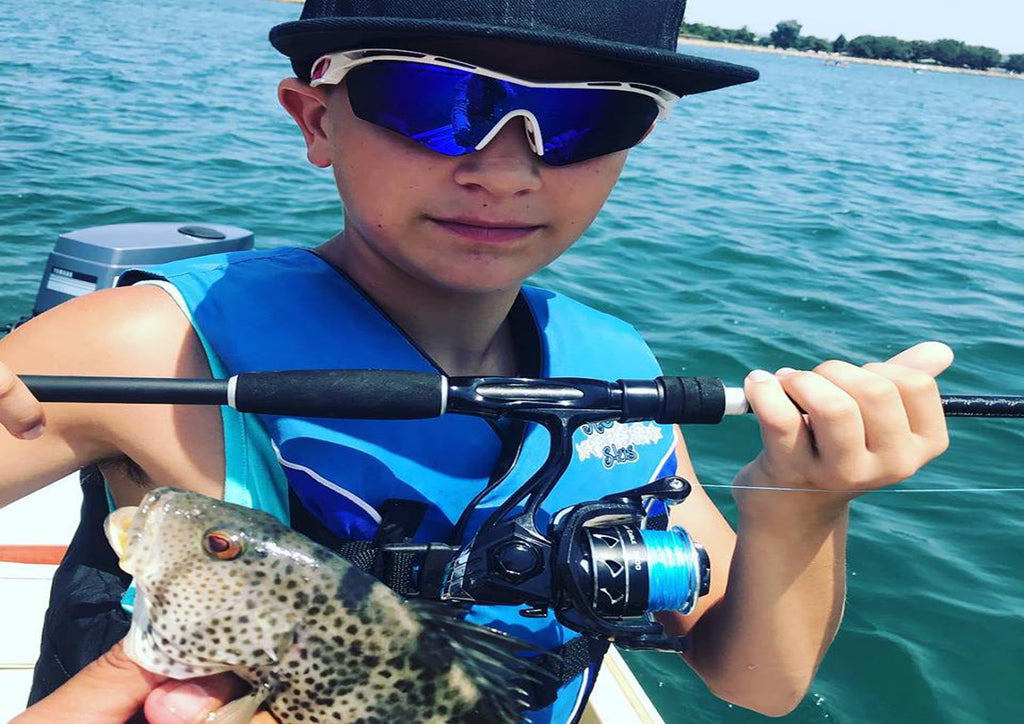 Best Rod and Reels for Youth
Do you have a little one in your life that wants to get into fishing and you don't know where to get started? I'd love to help you out with some things to think about when buying a rod and reel for youth kids.
Let me introduce myself first. My name is Travis Burch Youth Director for Kansas Bass Nation and Owner of The World Fishing Tour. I put on fishing tournaments and events for kids 8 years old to adults. I'm no expert by any means, but I do enjoy watching kids and adults evolve in the great outdoors. I have a lot of experience in watching what kids need and want out of a rod and reels.
The first thing you need to know is what kind of fishing is the kid going to do? You can really dial in the perfect rod and reel for someone. There are also some versatile rods that will work in most applications of fresh water fishing.  
When it comes to really young kids 2+ years old, first time fishing adults, plus just some people who are used to that type. Usually, start them on a spin cast type of reel like the Brutus Spincast. This is a great option and super affordable one at that. You can learn to cast, catch fish, etc. But over time you'll learn you are limited to what lures you can cast. Re-spooling a fresh line from KastKing.com can be more of a chore with a spin cast. Plus you lose casting distance with a spin cast but it's a great starter option. 
If it was my child I would start them on that but be very quick to change them to an open face/ spinning reel. You could start them with a Zephr 1000 series finesse spinning for a couple reasons. The finesse spool doesn't have the crazy amount of line most open face reels have. Making it easy to clean up a bad cast, wind knot and/or re-spool if your child is anything like mine and wants to change lures every 15-30 minutes.  
Let's say your child has mastered a spin cast and an open face reel already and wants to try a bait caster. There's a couple options I'd recommend. You can either start them with the finesse reel and spool size making it super easy to learn casting without crazy backlashes Zepher Finesse Baitcaster Another option is starting them out with a versatile reel like the Royale Legend. One trick I'd recommend before letting them make that first cast with a longer distance spool is adding a piece of electrical tape around the spool about 100 yard in so while they are learning you don't ruin an entire spool of nice line from KastKing with a bad bird's nest. What that does is allows the nest to be small and learn to pick them out easier. Another tip is to dial the brakes in to where it barely hits the ground or water causing very little loose spool. Then reel back up and cast. As they get better they can loosen the brakes a little and take off the cheater tape.  
Once you've bought that new rod and reel for that angler of yours or yourself for that matter you'll want to grab some line. Go to KastKing they have amazing braid, mono, and fluorocarbon lines. When it comes to line you need to know a few things in my opinion. Don't use braid on a beginner spincast reel. Mono floats and has stretch which is good for most top waters and bigger game like Channel cat.
Fluorocarbon is great for getting baits a little deeper and really good for most moving baits for let's say bass fishing. I prefer 8-20lbs fluorocarbon for bass fishing depending on clarity of Lake. Cleaner the thinner you go so fish can't see it. Braided line I use on all my spinning reels to a leader. Usually 15 to 8lbs or 20 to 10/12. That also depends on the clarity. When it comes to pan fish you want to go a lot lighter 4-6lbs straight fluorocarbon is usually good. Big game 20lbs or higher mono depending on your target species for beginners is perfect.  
Want to start off with a place to put all your future tackle with the tackle bag by KastKing.com Not to mention all the new cool tackle madbite has come out with. From vibrating jigs, spinner baits, Ned rigs, to terminal tackle. You'll want to load up on those for sure. 
My buyers guide 
When it comes to what I'd buy for my child it would be in this order as mentioned above.
Beginner  
Beginner to Amateur
Like mentioned above I'd start with this combo 
Amateur to getting Competitive 
Once master that I'd go to this set up 
Competition Youth
This is my preferred youth setup for competition because of affordability and it has plenty of options to really have reels for every need. 
College to higher competition like The NPFL, MLF, or Bassmaster. Then I'd go with every single one of these top of the line rods and reels. 
If you haven't had a chance checkout my article on how I got started using KastKing. I'm just a customer that became a brand ambassador for KastKing because I'm so confident in the customer service, price points, and quality of the product they put out. I'm not a paid employee of the brand. So if you ever have any questions or need any help along the process of your purchase with their products don't hesitate to contact me at kansasyouthbass@gmail.com Here at KastKing you become part of a family. Just search #KastKing or #KastKingUSA on social media and you'll see a lot of happy faces using a quality brand everyone can afford. Hope to see you all out on the water and/or fishing from a bank soon.