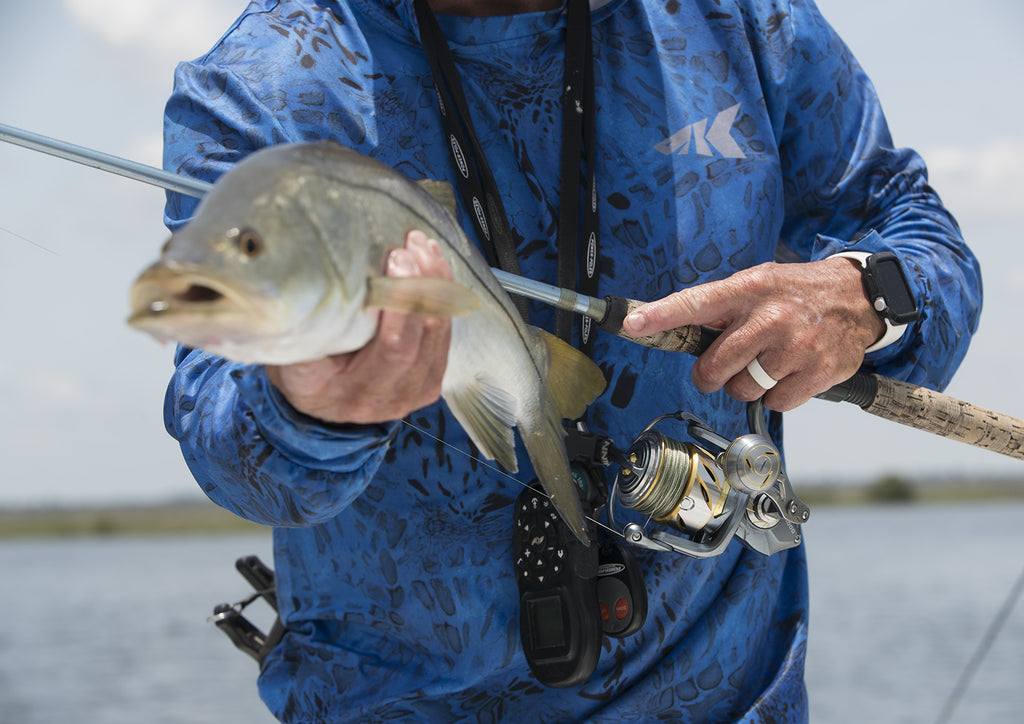 What Is the Best Rod for Saltwater Fishing
You've already chosen your preferred spot for fishing. Instead of setting up your gear on a riverbed, near a lake, or other freshwater location, you've decided that those beach spots, shores, piers, and boats are ideal for you.
But what is the best rod for you when it comes to the required equipment to ensure your success? There are so many rods and reels on the market that it can be incredibly overwhelming. Do you go for a casting rod, spinning rod, ice rod or even a combination? Unfortunately, there is no easy answer.
In this guide, we'll take you through the types of rods for fishing in saltwater locations, things to look out for in a rod, as well as our recommendations for the best overall rods for saltwater fishing.
Difference Between Saltwater and Freshwater Fishing Rods
Perhaps you're an amateur angler who wants to fish in any location regardless of the water type. Can I do it with just a single rod? Well, technically, you can use the same rod for saltwater and freshwater fishing. But expect to go back to the store to buy another rod after it breaks from the corrosion of the water on the rod.
The biggest difference between saltwater and freshwater fishing rods is the construction. Whilst on the surface the two rods seem rather similar, the materials used in the construction of a saltwater rod are made to be corrosion resistant – ensuring that the rod stays strong for longer.
Some of the materials used in construction include:
Fibreglass
Graphite
Composite
Whichever rod you decide to go with for saltwater fishing, ensure that the materials used in its construction are corrosion-resistant. That way, you'll ensure it stands the test of time.
The Best Type of Saltwater Rod
There are three main attributes of a rod that makes it ideal for saltwater fishing: length, power, and action. You'll want a steady combination of all three that works just for you to get the most out of your saltwater fishing rod.
Let's look at the best combinations.
1. Length
Baitcasting and Spinning Rods both have their advantages. Those that are newer to the fishing world may inch towards a spinning rod as it has less of a learning curve to master. On the other hand, if you're slightly more skilled and have the time to practice, you may prefer a baitcaster rod.
Depending on where you're fishing for saltwater conditions and your style of fishing, we have a range of options for you:
Short Rods (Under 7 Feet) – ideal for heavier fish offshore. Due to its short length, casting distance won't be as far, but when you're offshore fishing, that's all you're ever going to need.
Longer Rods – If you're an inshore or surf angler, you're going to prefer a longer rod as it has a greater casting distance. Whilst it won't be able to handle as heavy fish as a shorter rod, you'll certainly be able to catch some trophy fish.
2. Rod Action
Experienced anglers may always discuss rod actions, perhaps even commentators or stores – but what does it actually mean? Essentially, the faster the action the higher up the rod the bend takes place.
The types of rod action include:
Fast-action – the tip of the rod
Medium-action – the top half of the rod
Slow-action – the bottom half of the rod
For closer range and heavier lures, you're going to need a fast-action rod. But if you're needing to cast longer distances with lighter lures, then medium to slow rod action types will benefit you greatly.
3. Rod Power
The power of a rod is dependent on two things: the weight of the line and its overall strength.
To determine the type of rod power you're going to need for your fishing type, it's pretty easy:
Lighter rods – inshore & shallow waters
Heavier rods – offshore & piers
As you can probably guess, a lighter rod will only be able to take a certain amount of weight for the fishing line. You must be careful with the equipment that you purchase. There is no point in buying the heaviest and strongest type of fishing line if you're only going to buy a light rod – the two simply wouldn't work together.
Our Recommendations for the Best Rod for Saltwater Fishing
#1 Professional - KastKing Estuary Inshore Saltwater Fishing Rods
Designed with spinning and casting rods in mind, the KastKing Estuary inshore Saltwater Fishing Rod is the ideal candidate for those that are going fishing in shallower depths.
Features
Extremely lightweight
Fast-Action Rod
Toray IM7 Graphite Blanks for sensitivity and strength
American Tackle Microwave Air Guides for increased corrosion resistance
With all the saltwater fishing features you could ever need, the Kastking Estuary Inshore Saltwater Fishing Rod is priced at $119.99.
#2 Beginner - KastKing Perigee II Fishing Rods
Coming in at a much lower price point is the Kastking Perigee II Fishing Rod. Its price of $49.99 doesn't match it's outstanding features making it perfect for any beginner looking to go saltwater fishing, without breaking the bank.
Features:
Carbon Fibre Blanks
KastKing Power Transition System
Fuji O-Ring line guides
Lightweight
Powerful
Don't let the price confuse you, as the Perigee II is one of the best all-around rods on the market. Whether you're wanting a casting or spinning rod option, fast to medium rod action or a range of power – this tool has everything you could ever need and is completely customisable to your needs.
Roundup
Whether it is the more professional KastKing Estuary Inshore Saltwater Fishing Rod that you go with or the much less expensive beginner-orientated Perigee II rod – both have incredible features jam-packed into such little form factors.
For inshore or boat fishing, these two rod options will be able to give you everything you need from line weight management and casting accuracy to power and strength.
Let us know your thoughts on these options once you pick it up via our online store.