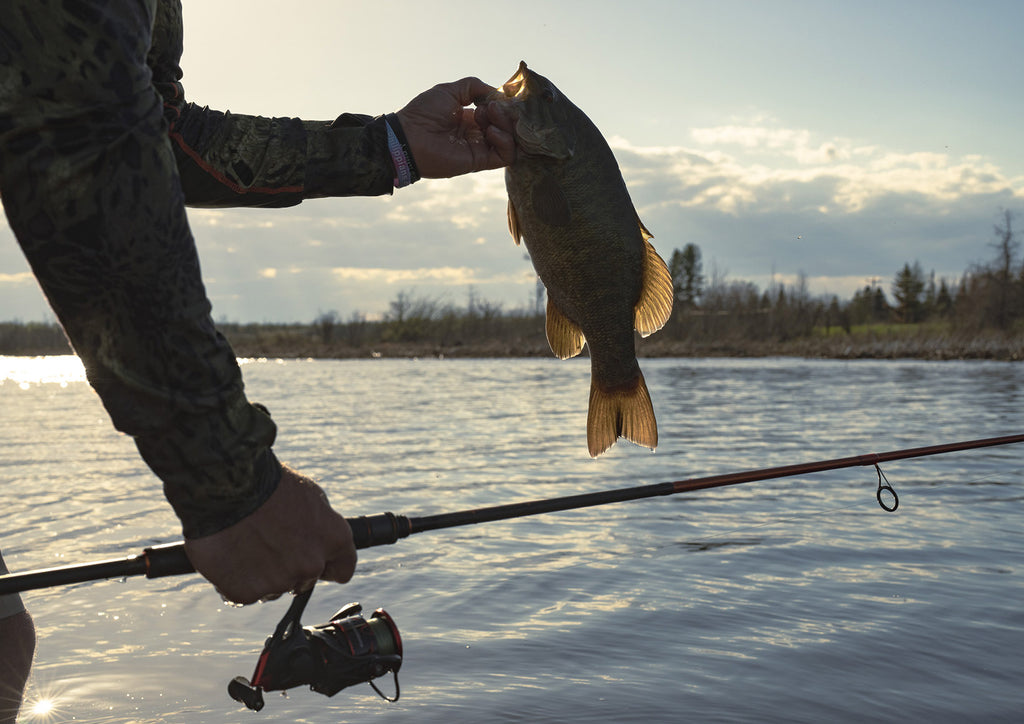 Differences Between Smallmouth and Largemouth Bass
Both smallmouth and largemouth bass are the most popular freshwater fish species in the country. Everyone from true beginners to fishing experts love to catch bass in many different types of environments. Bass fishing is a giant industry with numerous professional tournaments and thousands of different brands and companies providing everything you need to catch big largemouth and smallmouth bass. But many anglers may wonder what are the biggest differences between both fish.
After all, a quick glance and you will see that both largemouth and smallmouth bass are extremely similar. They have similar shapes, sizes, and often live in the same areas. But even with all of their similarities, these two fish species are very different. Let's go over the key differences that you need to know between these two fish and why they are important!
Key Differences Between Smallmouth and Largemouth
The biggest difference that is often the most obvious between largemouth and smallmouth bass is the size. Largemouth bass can grow much bigger, while smallmouth will usually be much smaller. In general, smallmouth bass will be around 8 pounds or less, while largemouth bass can easily grow larger than 10 pounds and beyond.
Another obvious difference between the two species is the color and appearance. Smallmouth are often called "brown bass" due to their darker colors, while largemouth bass are sometimes called "green bass" because of their color. While the colors of both fish will vary depending on the location, age, and environment, smallmouth bass are generally darker than largemouth in appearance.
Of course, as their name implies, you can tell the difference very quickly between smallmouth and largemouth by looking at the mouths. Largemouth bass have much larger mouths with their upper jaws extending past their eyes. The jaw of a smallmouth will usually be right in line with its eyes. By taking into account all of the physical differences, you can quickly be able to tell what kind of bass that you are looking at.
Smallmouth Vs Largemouth Locations
Another difference between smallmouth and largemouth bass is their home locations. While these fish are similar, they prefer to live in different types of environments. For example, smallmouth bass prefer to live in colder waters, while largemouth bass do better in warmer waters. That is not to say that both can't live in the same waters (both hot and cold) but in general, the water temperature can play a big part in the species of bass that you will be catching.
Their preferred habitat will be different as well. Largemouth bass will mostly be found near the cover. They prefer to find structure and cover such as stumps, trees, rocks, weed beds, and grass to hide in. They will even hold tight in their cover when they are feeding as well. This can also make them a little easier to find even in dirtier water, as you don't need to see the fish. You simply need to find the cover that they are hiding in.
Smallmouth bass also like cover, but they won't enter and stay in it as largemouth bass do. Instead, they love to hunt around the cover and will seek out rocky structures in deeper waters. It is also not uncommon to find good numbers of smallmouth bass in open waters where they can chase around bait fish with ease. This also makes smallmouth bass easier to find in clear water as opposed to largemouth who are easier to find in murky water.
Fishing for Largemouth and Smallmouth Bass Tactics and Gear
A wide variety of tactics can be used to catch smallmouth and largemouth, but there are always going to be a few pieces that stand out for each species. Starting with largemouth, larger baits and lures are going to be key. One of the most effective ways to catch big largemouth bass while they are in thick cover is to flip and pitch into it. These fish can often ignore your lures unless they are super close to them, so large plastics or jigs can be a great way to land right next to them and ignite a strike.
Smallmouth bass will also chase just about any lure, but favorites tend to include things like crankbaits, spinnerbaits, and jigs. Smallmouth are very conscious of heavier fishing lines, so be careful to use a thinner line that is harder to see. Smallmouth bass can see much better in the water than largemouth bass, especially on bright sunny days. Use the ultralight tackle to trick their eyes and to give yourself even more fun when you catch one at the end of your line!
Which Species is Better?
So at the end of the day, which one is better? Obviously, there is no right answer, and each species has its own set of unique characteristics that make them amazing. Avid fishermen love arguing which one is better, but the truth is they are both fun to pursue. Whichever one you prefer, do your homework to learn everything you can about them in order to take your fishing success to the next level and most importantly, have fun with it!
Final Thoughts
Although very similar, smallmouth and largemouth bass have many differences that you can learn to look for while out on the water. Knowing these differences could mean the difference between catching nothing or catching that next fish of a lifetime. From their physical differences to their preferred habitat, there is a lot to learn when it comes to smallmouth and largemouth bass.