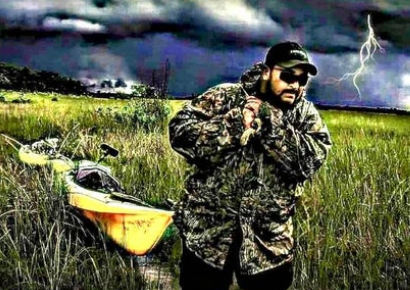 Fishing in the Everglades
Fishing in the Florida Everglades
By Gus OneBear Batisita
The Everglades; one of the only ecosystem systems of its kind. Most that hear the word Everglades believes that the Everglades is nothing more than a swamp. I should know, being an Everglades Fishing Guide for over 30 years. But, still today with all the knowledge and information that we have access to, my fishing trip guests are in amazement when I tell them that the Everglades is a river. The water in South Florida once flowed freely southward throughout half of the State. The water flows 2 mile an hour, flooding low land creating many unique ecosystems within a short range. The water also travels through the estuaries of Biscayne Bay, the Ten Thousand Islands, and Florida Bay which are a mixture of different water types. This is what makes fishing in South Florida so spectacular.  From the flooded Cypress Domes, Sloughs, Sawgrass marshes, series of ponds, lakes, and manmade ditches and canals that all connect. Then the freshwater and saltwater collides together, becoming brackish water, which is a whole other unique ecosystem. Then you have saltwater from the Gulf and the Atlantic. In the Florida Keys boaters and fishermen have access to Both Gulf and Atlantic waters from a very short distance to cross over. Also just imagine a place where you could look out over the water and catch the sunrise on the East without any obstacles then watch it set at the same very spot. Perfect example, fishermen on the fishing piers in the Florida Keys could witness the morning sunrise, then spend the whole day fishing  and enjoy the ending of the day by watching the beautiful Florida Keys sunset.  Only in South Florida!
Also, the Everglades being a sub-tropical area, it's very diverse with exotics and non-native species. Throughout the history of Florida, coconuts from other parts of the world washed up on our South Florida shores due to strong current and bad storms. With hundreds of years in the making, South Florida Coast has developed into a coconut palm jungle. I hate to break it to you but, coconut palm trees are not native to Florida. Many come from Central and South America. The only native palm tree is the Sable Palm which doesn't product coconuts. If it's an exotic or invasive tree, plant, insect, fish or reptile, the South Florida climate does very well for their inhabitance and growth.
 Other than the crazy explosion on exotic reptiles that has made the Everglades their home, South Florida has the most exotic species of fish as well.  In the late 1950's the Tiger Oscar was the very first Cichlid discovery in the Everglades.  Back in 1984 Florida Fish & Game conducted an experiment and released hundreds of Peacock Bass into our waterways. As we now know Peacock bass are very prolific in South Florida. In the 1980's the Mayan Cichlid was another fish that made a strong impact to the Glades. We have four species from Africa. They are the African Jewelfish, Blue Tilapia, Spotted Tilapia, and Hornet Tilapia.
As mentioned, the first Cichlid found was the Tiger Oscar, which was a much desired fish in the pet trade. But, the first Tilapia was introduced in the early 1960's, which is the Blue Tilapia. The Blue Tilapia was introduced by FWC for research purposes, but these fish were released into open waters and never authorized; these fish can grow over 10 lbs. In 1974 the Spotted Tilapia was discovered in the Everglades, and then the Hornet Tilapia was discovered in 2005.
We have Game Fish from the Amazon River, like Butterfly Peacock and Clown Knife fish. The Black Pacu and the Red Bellied Pacu, which are Piranha species', are also found in South Florida canals. These are just to name a few. There are 34 exotic species of fish found in our waterways. As devastating as this is to our ecosystem, one thing is for sure. Fishermen from all over the world come to South Florida to try to land the bucket fish of their dreams. Travelers don't have to stress about bringing along many different rod actions. Fresh or inshore saltwater Florida fishing can be done with a Medium Light to a Medium or a Medium Heavy Action fishing rod.
 Now that I have gotten your attention and gave you a history lesson on the Everglades, let's talk about my favorite Glades Warrior Pack. In better words, my fishing gear. I am a huge fan of light tackle fishing. I target all fresh and most inshore saltwater fish with nothing more than a Light or even a Medium Light rod.  My current rods that I use for light tackle fishing is the KastKing Calamus and the Resolute rods. I own both in Light/Fast Action. I have caught just about every freshwater fish with the Calamus light fishing rod from huge Peacock Bass and Largemouth Bass to monster Bowfin and Snake Heads.  It has the sensitivity and ability to cast very light lures and has the backbone for fast response and hook setting. 
Every rod has to be matched with a fishing reel. Normally a 2000 series reel goes well with a Light power rod; you can also go for a 3000 series reel. Outfitting my Light rods is the KastKing Valiant Eagle 2000 spinning reel and if it's wade fishing the saltwater flats I switch out the Eagle and attach the KastKing Sharky III spinning reel.  Now for the most critical part of this set up which is the weakest link, it's the monofilament line. I have always had issues with light pound test lines. The fishing line needs to be thin, tough and of great quality to work well with this light gear set up. For the past 3 years I had put my trust in KastKing Copolymer line. It hasn't failed me yet. Also a favorite of mine is the KastKing Masters monofilament fishing line. Both of these monofilament lines are great. Considering these line are made thinner than other mono's, I will go for a higher pound test line. I normally spool my reels with an 8 to 12lbs test. I have also fished with a 14lbs test line on light setup for Barracuda's. No problem with the line snapping off under stress or casting lighter lures. It has worked great for me.
The preference and benefits of Light Tackle fishing is the accessibility and adaptability of a light fishing rod.
Accessibility; It's great to take along with you when other activities are conducted and fishing isn't the main focus of your adventure. Like hiking or camping. It's compact and light to take with you without being such a burden. It could be strapped anywhere in or on your backpack and not add overwhelming weight or sacrificing space to your bag.
Adaptability; my take on a fishing rod being adaptable is that a Light Fishing Tackle Setup could fill the void of many rods. For instance, a medium heavy or heavy power rod will not do very well in casting out the light lures that are needed for some types of Florida Everglades fishing.  It's great for some fishing applications but it wouldn't gave the one rod does all capability. They are a bit cumbersome to take on a hike or camping scenario, especially when it's only one rod set up that will be accompanying you on your adventure. The adaptably of a Light fishing combo is that it can be fished in many styles and techniques. You can target many Everglades Game fish from small Bluegills and Warmouths using small jigs to huge Peacock Bass and Largemouth Bass using worms, hard swim baits and flukes, and the same applies to fishing saltwater flats.
There are many benefits of owning a Light Fishing Tackle combo, if it's going to be your one rod Everglade's side kick. But, if you are taking along many technique specific rods, there's always room for one Light fishing rod to add to your arsenal.  There's nothing better than finesse fishing when the fish are slow or weary to bite.
On shallow and still waters like small ponds and pockets, casting out a small soft plastic worm or fluke with just the weight of a hook makes a great and natural introduction when hitting the water's surface and slowly drops with a memorizing soft flutter that predator fish can't resist.
I encourage you to give Florida fishing a try. I promise you will find it to be a great choice when venturing out into your next Everglades fishing adventure. 
About the Writer  - Gus OneBear Batista is a Florida Fishing Guide, Air Boat tour guide and has worked with alligators and animal control throughout his career. He and his wife Kristy live in South Florida and enjoy boating and fishing together.