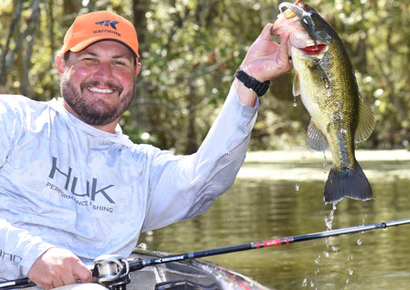 What Fishing Rods Does Major League Fishing Pro Cliff "Cajun Baby" Crochet Use?
A lot of people are asking about KastKing MLF pro Cliff Crochet. One of the biggest questions is about his fishing rod selection. Many of his fans knew about his love for spiral wrapped rods but could KastKing make a rod to fit his style of fishing and taste?
Who is Cliff Crochet?
Cliff Crochet is one of the nicest guys in the fishing industry. Cliff, like many of us, has been fishing for as long as he can remember. He began serving in the Assumption Police Force when he was 18 and then became a Deputy Sheriff. He traded in his badge for a frogging rod in 2010 when he qualified for the Bassmaster Classic and got an invitation to join the Bassmaster Elite Series. In 2016 Cliff won the Bassmaster Atchafalaya Open which was his first victory. Today Cliff is an angler on the Major League Fishing Bass Pro Tour and has a career earnings of over $550K
Why Would Cliff Crochet Choose KastKing?
The announcement came out October 22, 2019 that Cliff would be representing KastKing in the Major League Fishing Bass Pro Tour. "At KastKing, it's all about winning! From the MLF Bass Pro Tour to the FLW and regional tours across the country," said Al Noraker KastKing VP of Business Development. When people ask Cliff about the KastKing Brand he replied "Well, I like and trust them so much they are the only rods and reels in my boat."
So Which Fishing Rods Does Cliff Crochet Use?
One look inside Cliff's Rod Locker and it's easy to see which fishing rod he prefers. Designed with Cliff's input are the KastKing Cliff Crochet Spirale Series Casting Rods. They are built to compete against the best anglers in bass fishing. 
What's So Special About The Spirale Rods?
The Spirale Rods are crafted using two different blank types, the KastKing Cliff Crochet Spirale Casting Rods use either a Toray high-strength IM8 blank or a proprietary 70/30 composite blank to achieve technique specific optimization from model to model. Taking the next step in performance, the KastKing Cliff Crochet Spirale Series Casting Rods are fitted with spiral wrapped American Tackle Microwave Air Guides, which help manage fishing line and keep it directly away from the blank. To keep reels firmly in place, the KastKing Cliff Crochet Spirale Series Casting Rods are fitted with American Tackle G2 Edge reel seats that keep excess weight to a minimum, while maintaining an exceptional connectivity. Complete with triple AAA cork handles for increased comfort and sensitivity, the KastKing Cliff Crochet Spirale Series Casting Rods use Cliff's input and high-quality spiral-wrapped guides to achieve top of the line performance.
KastKing Spirale spiral wrapped casting rods were initially introduced at the Bassmaster Classic Expo and sold publicly through Tackle Warehouse.