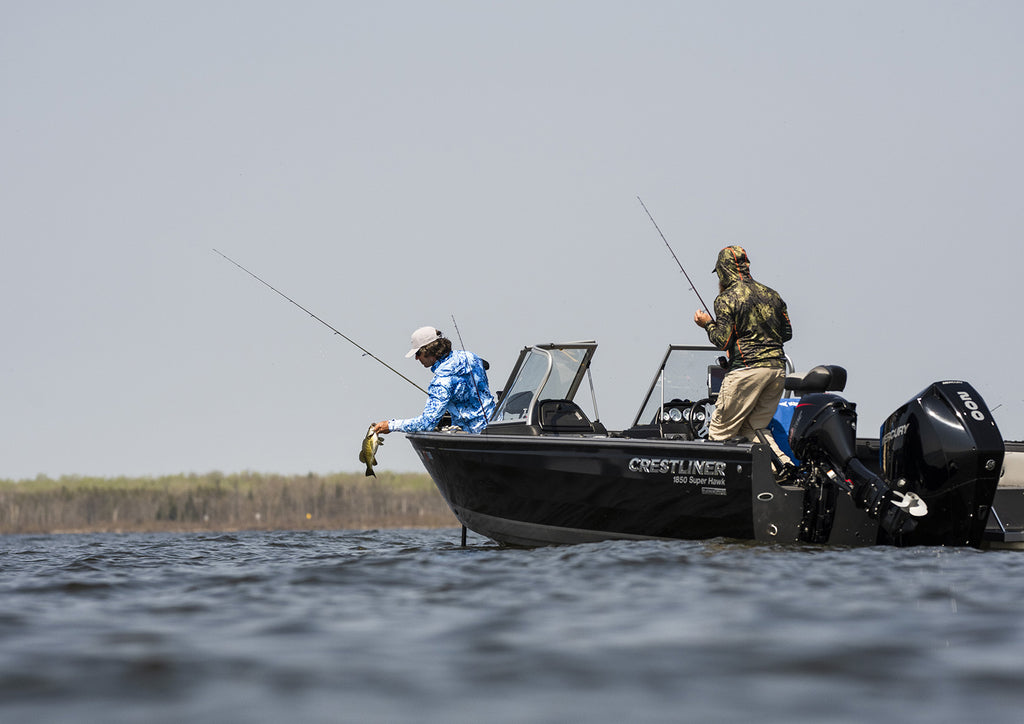 How to Choose a Baitcasting Rod for Bass Fishing
Unlike spinning rods, baitcasting rods need to be carefully matched to the baitcasting reel. Various power levels, length, and action are all critical factors that an angler needs to consider when selecting a rod for bass fishing. To simplify this process, we will explain each factor along with examples of each requirement. To wrap up our article, we will highlight a top choice for each style of baitcasting rod. Let's cast off.
Length
Length is an obvious measurement with any fishing rod. A longer rod grants the angler the ability to cast farther and with more accuracy. Most freshwater rods are between six and eight feet. Long rods have their advantages in casting baits long distances for anglers looking to fish lures that require long retrieves, like topwater frogs or crankbaits. The longer the rod, the better. For all the bonuses of a long rod, there are some situations where a shorter rod is preferred. Techniques that don't require long casts like drop shotting or flipping jigs are best suited for shorter rods in the 5 ½ to 7 ½ foor range. These techniques are often performed in areas where overhanging branches can interfere with casting. Having a short rod reduces the chances of getting caught on tree limbs. A shorter rod will work just fine for anglers fishing small creeks and ponds where long casts are not needed.
Power
The power rating for a rod measures the amount of force needed to bend the rod. The term "stiffness" is often used to describe power, but it's not as all-encompassing as it should be. Power talks about the rod's stiffness but also incorporates the suggested line strength and lure weight. For example, an ultra-light rod will be very flexible and designed to cast light lures on a light line. Using a heavy line or a 3/4oz jig on an ultra-light rod would give the angler no ability to fight the fish or impart any control on the lure. On the flip side, an angler using a heavy action rod designed for casting big lures for big fish wouldn't be able to cast a light sunfish lure well at all. All rods, including baitcasting rods, have their suggested line and lure weights written on the rod for easy identification.
Action
Action is the most misunderstood of all the rod ratings. Unlike power or even length, action is a feature that reflects the overall construction of the rod and how much it bends. The taper of a rod blank effects where the rod flexes. Ratings start with extra fast and proceed to a slow. The slower the action, the more gradual the taper. A slow action rod will bend nearly evenly from tip to butt, whereas an extra fast action rod will bend primarily at the rod tip. An extra fast or fast action rod is ideal for long accurate casts. A fast rod tip will also provide extra sensitivity, the sensitivity needed for moving lures in a direction the angler needs. Baits like topwater lures that need to be "walked" or twitched require a fast-action rod for their best performance. A medium-action rod is best for fishing swimbaits where the lure will move naturally, and the rod's bend will help set the hook. Slow action rods are uncommon for today's rods, with the exception of ultralight setups like flyfishing or ice fishing rods.
The Best Baitcasting Rods
As we alluded to earlier, baitcasting rods can come in a number of different styles depending on how anglers intend to use them.
Pitching/ jigging
For flipping and pitching jigs, anglers should look for a fast-action rod with a medium to heavy power. The fast tip provides anglers with precision to drop their rig in just the right spot to target bass hiding in heavy cover. The heavy power is needed to flip heavy jigs with high-strength line into thick cover like lily pads and brush piles.
The KastKing Valiant Eagle Passage is a great rod that is available in a fast-action-heavy power package with a total length of 7 and a half feet. The rod's length is a great "do-all" length for fishing from a boat or the bank. The Valient Eagle is also a travel-style rod that breaks down into four pieces so fitting it in a backpack or car trunk is no problem. This model is also an excellent choice for fishing with topwater frogs, where anglers still need heavy lines to wrestle bass out of the weeds.
Crank Baits and Swim Baits
The KastKing Speed Demon Pro Tournament Series Fishing Rod is a prime example of what a crankbait rod should be. The 7'10" casting rod with a medium power and moderate action provides plenty of backbone when fighting fish but is forgiving enough not to tear the hooks out of the fish. Furthermore, the medium action allows swimbaits to move freely in the water and not be drastically changed by bumping into cover.
While there is no limit to the combinations of factors to make a good casting rod for bass fishing, it is apparent that KastKing makes an option for almost all of them. Taking a few minutes to familiarize yourself with the ratings on casting rods will save you hours of frustration on the water as you try to match your rod to your bait. So long as no one is looking, go ahead and order two rods. You never know when you may need to swap from pitching a jig to throwing a crankbait.