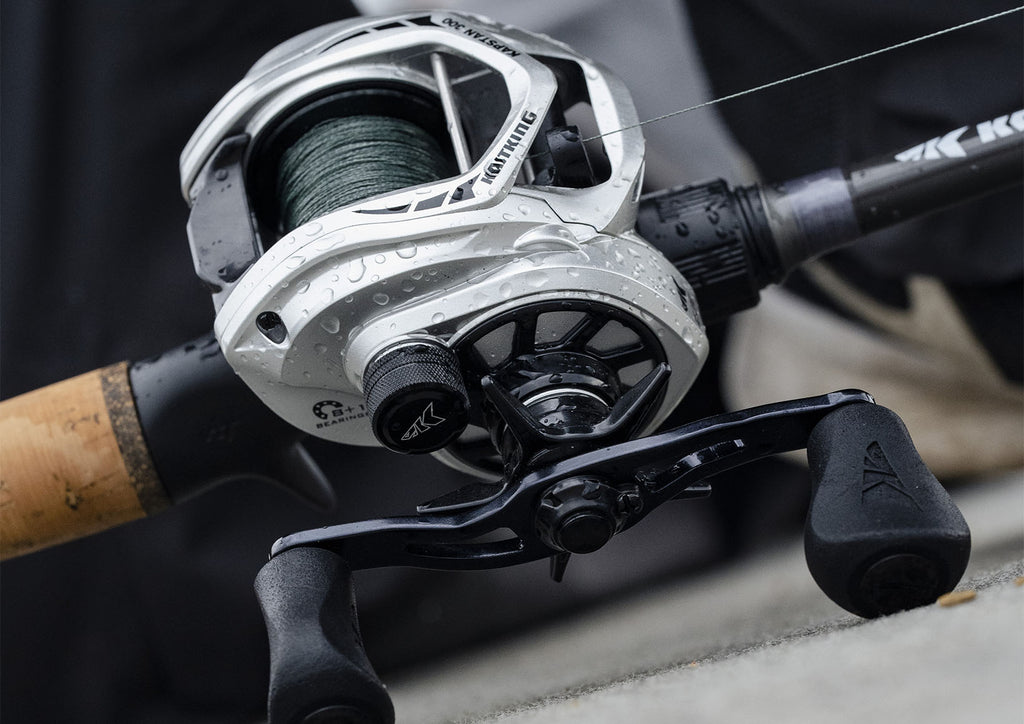 How to Choose the Right Saltwater Baitcaster Reel
Anglers spend a lot of time and effort to find the best possible gear for their fishing. It is extremely important that you get the right gear for the task at hand, especially when it comes to anything to do with saltwater fishing. Without the right gear, you risk breaking or damaging your equipment, losing a fish, or simply not catching anything altogether.
Finding the right saltwater baitcaster reel can be one of these difficult tasks to accomplish. There are so many different options out on the market today, each with its own set of unique features and price points. How do you know where to get started? Luckily you have come to the right place, as we are going to go over how you can choose the right saltwater bait caster reel for your next fishing adventure!
What is a Baitcaster Reel?
Before knowing what to look for in a baitcaster reel, it is important to understand what they are and what makes them special. Although they can be hard to learn and master, baitcasters are often the preferred choice for saltwater fishing as they are extremely tough and durable. They can better manage the larger fish species that are often targeted in salt water.
Today's saltwater baitcaster reels come in all shapes and sizes, each with unique features or characteristics depending on the model or the brand. The saltwater variety are much larger and beefier than baitcasters designed for freshwater, again to better manage the larger and stronger fish. They will have many saltwater-resistant parts and components and come equipped with heavier drags.
What to Consider When Choosing a Baitcaster Reel
There are a few things to think about before making a decision on a new baitcaster reel, especially one that will be used in saltwater. Here are a few of the most important aspects to consider:
Saltwater Only Reels
Baitcaster reels come in both freshwater and saltwater varieties. While either one can technically be used for saltwater fishing, you will want to stick with brands and models that are specifically designed for saltwater as these will usually have much better durability and resistance to corrosion. Saltwater can very quickly corrode your gear, so get a baitcaster reel that is made for saltwater environments to ensure it lasts you a long time.
Types of Fish You Will Pursue
Thinking about the types and sizes of the fish that you will be fishing for is easily one of the most important things to consider when trying to choose a saltwater baitcaster reel. This will help you to determine the proper size and power of the reel that you choose. You do not want to use a reel that is too small or large for the fish you are after, as this will result in low success rates. It could also help to determine what brand you end up going with, as some companies produce certain sizes and strengths while others will not. Consider not only the species of fish you are most wanting to catch but the general size as well.
Features and Extras
One aspect that is often overlooked when selecting a baitcaster reel is the bonus features and extras that the reel might come equipped with. You may see that there are two reels that are similar in price, size, and everything else, but one may come with a few extras that the other does not. This could be many things, such as an upgraded drag system, anti-reverse, a slimmer or thicker profile, or additional parts that are coated for corrosion resistance. No matter what it might be, consider all aspects of the reel and look for additional features or extras that the competition might not include.
Price Point
Most anglers of course are going to have to consider the price point when thinking about picking up a new saltwater baitcaster reel. Most of us work hard for our money and don't want to waste it on a piece of trash reel, but at the same time our money is limited and we can't afford to buy the most expensive reels out there. So what do you do? This is when it is important to think about your budget and what is most important to you in a reel. After establishing what you are willing to spend on a reel, you can begin to narrow your search and start to look for those that have the size, features, and quality that you want. Just remember, the higher the price tag will generally mean the higher the quality. And the higher the quality generally means the longer it lasts and the better it performs!
Quality and Construction
Speaking of quality, this is another important detail that often goes overlooked. After all, what good is a saltwater reel if it falls apart after only one or two uses? Buying a quality reel ensures that it will be up to the standards it needs to be to not only last you a long time but to catch the fish that you are after. A quality baitcaster should be made of good materials and have tight tolerances. It should also have many of its parts be made corrosion-resistant to saltwater. This will help to increase its value and life.
Final Thoughts
After you consider all of the various aspects of what makes a good saltwater baitcaster reel, you can begin your search! As we mentioned, there are plenty of great options out there on the market today, and by considering things such as the size, power, features, and price tag on the reels you can start to narrow in on the specific reels that will be everything that you need and more!