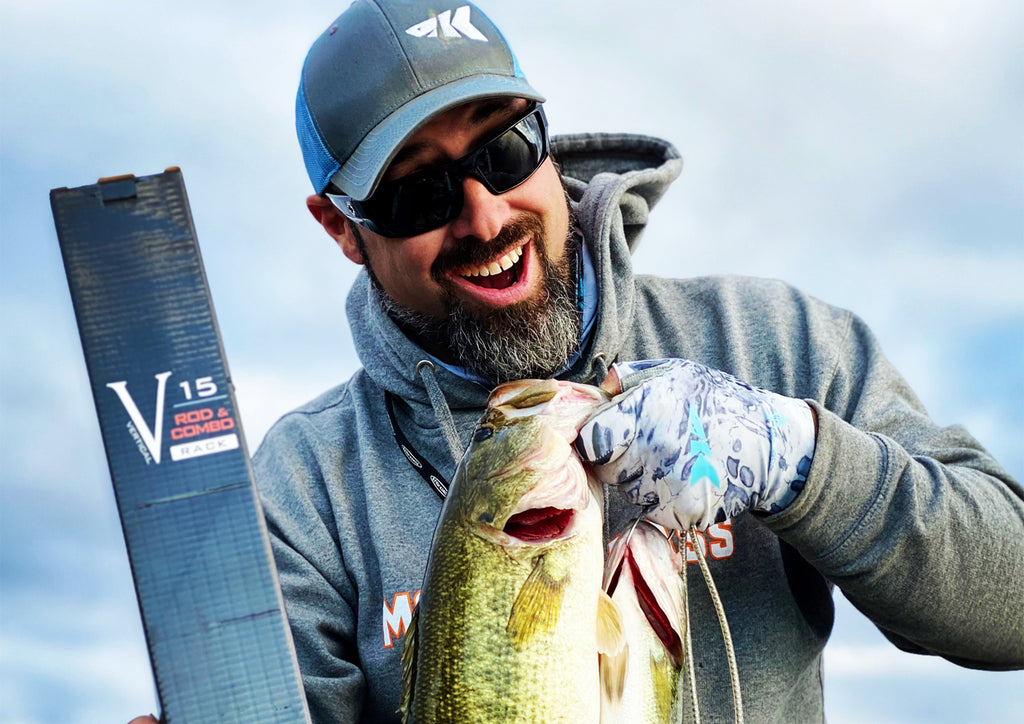 How To Store Fishing Rods
After many years of birthday rods, gift rods, buying, and manufacturer - try this out rods, the ultimate question of "How to Store Fishing Rods" is a main concern! At present, I own about 45 fishing rods, with a combination of saltwater and freshwater. These rods range in size from 5 feet long to 11 feet, and all have a place in my garage. Over the years I have made various rod holders for the garage, but lately, I have found the KastKing V10LS Spooling Station and Rod Rack, V15 Vertical fishing rod holder and the KastKing Fishing Rod Rack will make storing your rods easy. I will say however, the longer rods over 10 foot are still stored on a horizontal rack, unless you have a ceiling that can accommodate the longer rods standing up vertically.
Plain Jane for the big boys
Before we get into how to store fishing rods with fancy KastKing ultimate rod racks, let's take a look at a few older ideas, which were specifically meant for longer rods. On the Northeast Coast, and the Pacific for that matter, anglers utilize a lot of one-piece rods in excess of 10 feet long. For these rods, typical stand-up racks will just not work.
Must be horizontal
Needs to be stable
Must protect the blank
In the old days we made two types of racks that would serve the purpose for longer rods. The best I found was a simple bolt or screw with a piece of rubber tubing projecting from the wall of your garage or "Man Cave." The second was a rod storing rack that mounted to the ceiling utilizing PVC pipe for the butt end and an S-Hook for the forward part of the rod. We also coated the S-Hook with rubber to ensure no damage was done while hanging.
V15 Vertical Rod Storage
The V15 can hold up to 15 rods of varying lengths, but there is one caveat, this rod rack, in my opinion is best suited for two-piece rods. The holder, which has wide and narrow "holders" allows the angler to put the butt section, then the tip section and so on, through-out the rack. The rack will also work well with one-piece lighter freshwater rods.
15 Rods in 18 inches
Large or Small V-Grooves hold rods tight
Simple Installation
Accommodate 1/2 inch diameter rods with reels in place
All-in-all, the V15 fishing rod rack will hold most of your fishing rods, especially the two-piece models, in place and secure. The KastKing V15 fishing rod holder is molded with tough amorphous polymer material which is resistant to heat, chemicals, and impact. The v-grooves are co-injected with a tacky thermoplastic polymer material to ensure rods and combos are held securely in your rack and doesn't damage or mar your rods.
KastKing Fishing Rod Rack
The original KastKing Fishing Rod Rack is great if you have ample floor space like a fishing room, man cave or open space. The rack, depending on size will hold 12 or 24 rods, and has room to hold your fishing net as well. The lightweight aluminum frame make it easy to re-locate in any room you choose.
12 to 24 rods
Adequate Spacing for rods and reels
Easy Assembly – no tools required
This fishing rod rack is a good, sturdy addition for storing any of your rods. If your ceilings are tall enough, larger surf fishing rods and heavier boat or pier rods can be stored easily. If you have normal 8-9 foot ceilings then any fishing rod and fishing reel combo shorter than the height will work well.
This is the ultimate system for how to store fishing rods. The rack also doubles as a spooling station so you can be ready to go when the fish start biting. What I like about this rack is it takes up about 18 inches of wall space, plus stores 10 rods. The rack mounts on your wall, taking up minimal space, plus offers a neat and clean look. If you are looking to store fishing rods, then this rack is one you need to check out.
Unique Curved Design
Adjustable butt cups to stagger reel height
Line Spooling Station
Shelf Storage
Only 18 inches of wall space needed.
Overall, this rod storing rack is highly functional, holds 10 rods, tangle –free and offers the ability to spool up reels with the patent pending line spooling station. I showed this storing station to several friends who immediately hit the internet at www.kastking.com and bought one. In fact, my one buddy bought three!
In Conclusion
How to store fishing rods has always had anglers scurrying about to make sure their prized rod and reel combinations safe, secure and out of harm's way. The horizontal racks made for longer rods will always be needed… unless you have 12 foot high ceilings, then you could use the KastKing V10LS or V15 racks! 
I have used all of these racks for storing my fishing rods. I like them all, and they all serve my needs well.
V10LS holds 10 rods
V15 holds 15
They both take up 18 inches of wall space.
12 to 24 rods for KastKing Fishing Rod Rack
As I have a large combination of heavier saltwater fishing rods and reels, plus a ton of smaller freshwater gear, I prefer the V10LS rod rack for how I store my fishing rods. There are several reasons for this. One is a like the way it looks on the wall. Okay, call me vain, but I take pride in how I store my gear. The line spooling station works great, and ensures my reels are filled properly, and with the correct tension. The cost is also a factor to weigh in as the V10LS is double the price of the V15, but half the price of the floor mounted model. I still feel the V10LS offers a much better design, and will hold "all" of your rods under 8 feet in length easily. Of course if you have a higher ceiling, it could even hold your longer surf fishing rods of 9 to 11 feet. How to store fishing rods has always been a talking point at club meetings, on the docks, and in general discussions on those rainy, windy un-fishable days. Pick a rod rack that fits your budget and needs and go for it. For me, it is the V10LS! How you store your fishing rods is critical in keeping them organized and safe form damage.