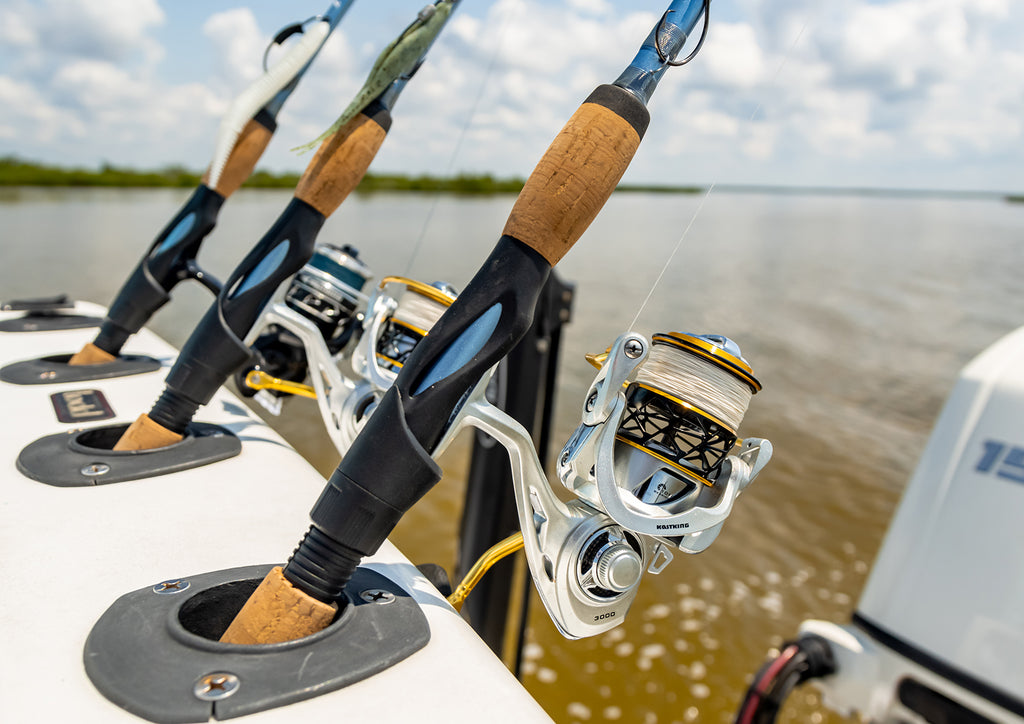 How to Choose Spinning Reel Size
There are many factors to consider when choosing the right spinning reel, and reel size is one of them. You may be tempted to forgo this consideration because of how complex it is made out to be, but the truth is, it's not that complicated. 
Moreover, choosing the suitable reel size can not be overstated, as it affects the casting distance, weight, relationship with the line, and the type of fishing you're interested in, whether for freshwater or saltwater. 
Therefore, in this article, we will tell you how to choose the right spinning reel size to have a perfect fishing experience. Let's begin!
Two Sizing Systems 
Before we move forward, it is important to know that there are mainly two sizing systems in place for spinning fishing reels. These classifications are basically how popular manufacturers choose to size their reels. 
There is the KastKing-Shimano-Daiwa-PENN system that classifies reels into 1000s. The smallest sizes start with 1000 and go up to 6000, except for game reels that can even go up to 30,000. This also happens to be the most popular sizing system, which is why we will be talking about reel sizes in 1000s.  
The second system is used by manufacturers like Pfleuger, Abu Garcia, and others. These brands classify their reels with two fewer zeros. Smaller reels start from 10, 20, or 30; medium ones start at 40; and the number increases along with the reel size. 
In other words, all you need to look at when choosing the size of your spinning reels are the first two digits. Here is a detailed conversion chart between the two sizing systems. 
Choosing the right spinning reel size will allow you to have a great rod-reel balance that will result in a satisfying fishing experience. Let us now look at different sizes and what type of fishing they are best suited for.  
Reel Size 1000
As already discussed, spinning reel sizes are in ascending order. 1000 is one of the smallest reel sizes and is most commonly used for species like perch or small wild brown trout. This size is best suited for ultralight lure fishing tactics.  
Reel Size 2500
Reel size 2500 is also on the smaller end, and like the size 1000, it is best suited for light lure fishing tactics like drop shotting, spinning, or jagging. An increased number means that the spool and line capacity are slightly larger than the size 1000 spinning reel.  
Reel Size 3000
Reel size 3000 is considered the ideal size for a trout spinning reel. Since it lies between the lighter 2500 and the heavier 4000, it provides the best of both worlds. Because of an increased line capacity and an overall compact size, this reel can work with higher breaking strain lines and give a stronger drag system.  
Reel Size 4000 
Perfect for larger specimens, a 4000 size spinning reel can provide a satisfactory experience when fishing pike, salmon, and trout.
This size offers increased cranking power and line capacity. This allows more accommodation for higher diameter lines and breaking strains. Furthermore, the reel picks up more lines because of the greater spool circumference. Lastly, large spools also allow for stronger drag systems. 
Reel Size 5000 
When extra cranking power is the need of the day, you can't go wrong with the 5000 spinning reel. It is commonly used for freshwater salmon when targeting deep and hard-flowing rivers. Big game saltwater tropical species like Mahi Mahi, Giant Trevally, barracuda, and others are also targeted using a 5000 size reel.  
With these size descriptions, you'll find it a lot less complicated to choose the spinning reel size that is perfect for you. Let us now look at some of the frequently asked questions about spinning reel sizes. 
FAQs 
1. What is the ideal spinning reel size for bass fishing? 
The answer has to do with personal preference, type of bass fishing, and the size of lures. Generally, a size between 2500(ultralight bass fishing) and 4000 is a good reel size for freshwater bass fishing. I prefer the KastKing Sharky III Fishing Reel, since they have a variety of sizes; I can choose based on the type of bass fishing I feel like doing that day. 
2. What is the ideal spinning reel size for surf fishing? 
To ensure a successful surf fishing/saltwater fishing adventure, it is best to lean on the heavier side, around 5000 or so, coupled with a sturdy surf fishing rod. Since surf fishing deals a lot of saltwater damage, choosing a durable brand with stainless steel ball bearings can save you from spending money repeatedly.  
3. What is the ideal spinning reel size for rock fishing? 
Like saltwater fishing, rock fishing also negatively affects the reel and rod because of salt sprays. On top of that, rough treatment like occasionally dropping your rod on the rocks means you need a sturdy reel and rod. 5000 is a good size if you expect to be fishing larger game while rock fishing.