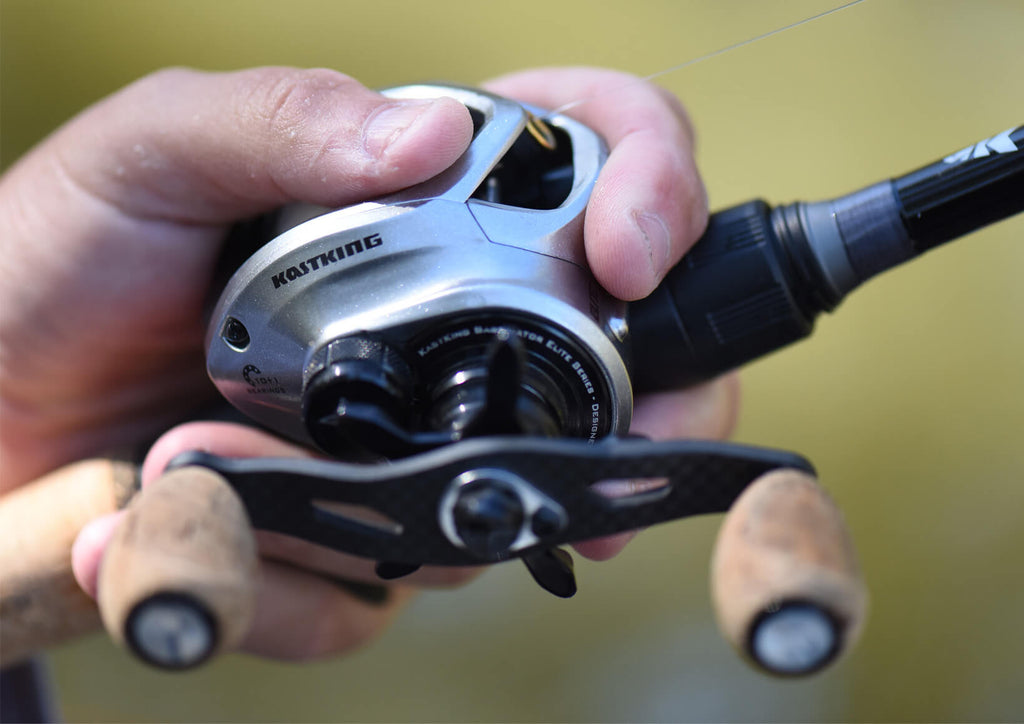 I remember when I was starting to use a baitcaster and  how intimidating and scary it was the first time I put one in my hand. My dad taught me how to use a spinning reel and I used that method until I was about 11 or 12 years of age. The first time I made a cast with a baitcaster, let's just say an explosion happened and it's not the type you think of when a bass hits your topwater frog. It sounded like a gun went off. I backlashed so hard I think I just left the line on that baitcasting reel and bought another reel. As my frustration grew I finally took the time to practice. I got tired of backlashing and spending money on fishing line so I practiced a lot. It took me a while to learn, but I wanted make an article and  list a few steps to help a beginner transition into fishing with a baitcaster for the first time in the hopes to making it an easier process on the beginner.
The basics of a baitcaster are very similar to a spinning reel. The first step, and I think is most important is to understand which hand you throw with; either right or left, but secondly is what each component does on a baitcaster. Depending on what brand you use will determine where these components are on your reel. The components are a first and foremost: the spool with fishing line, star drag system, spool tension knob, brake system, and finally the release button. I am going to go over my breakdown of my reel components and how I set up the reel to prevent backlashes.
How To Use A Baitcaster
The reel is spooled up with line and tied through the eyelets of the rod and a jig is tied on for testing.
Step 1 Tighten All Components.
Rotate your spool tension knob clockwise and turn your brakes to the highest setting. Normally this is a 10. You should be able to hold your baitcasting rod in front of you horizontally with the bait hanging of the end of the rod.
Step 2 Release Button
All release buttons are in the same spot on all reels and are black in color a majority of the time. Click the release button and let your finger off the release button. You should now have the release button pushed down and no finger on the line on the spool.
Step 3 Star Drag System
This is near the handle of all reels and this is your drag system. This helps you fight fish when they get close to the boat. This helps you keep tension on the fish so they don't break the line and get off. Not knowing how your drag system works can take a day of fishing and make it heartbreaking. You can have the fish of a lifetime on at any time, making sure you know how to set this up correctly is and could be the top priority on this list!
Step 4 Tension Knob
The importance of this is if your tension knob isn't adjusted correctly your spool will spin too fast, which causes backlashes the most when using a baitcaster. The tension knob works on the back end of the cast, which normally means when it hits the water the spool will slow down to cause less backlashes. Now you go to your tension knob, and make a slow turn counter clockwise and while you're doing this your bait should start to fall to the ground. You may have to do this a few times to make sure it's perfect, but what you're looking for is the bait to hit the ground and your line not come off the spool very fast. Once your line looks like this you will be ready for the next step.
Step 5 Brake System
We are going to discuss how baitcaster magnetic brakes work. I think for most beginners this will be the braking system they will have on their reel. If you have a dial on the side -- this is a magnetic braking system. This helps at the beginning of the cast, it keeps the spool spinning at a good speed so it doesn't release the line off the spool too quickly. This causes "blowups" or bird's nests as they are called early in the cast. The best way to eliminate this is understanding you don't have to throw the bait so hard. You want to let your rod load up and let the rods action take over. Go ahead and make a cast and see what happens and see how far it goes. You keep repeating this until your feel like you're making long enough cast to be successful and also not having backlashes every cast.
Conclusion
Fishing can be fun, but it can also be very frustrating at times. Take my advice and  go in your front yard and practice before you go to the lake and try these steps out. I wish I had fishing articles like How To Use A Baitcaster growing up to read like todays' beginners. There is a lot of information out there, and my information might not be the best for you, but hopefully it can be a starting reference. There are a lot of videos online about how to use a  baitcaster. Try and find what works best for you and apply it to become a better angler. Trial and error is how you improve on fishing, and understand you can always improve at every technique in the fishing world. I hope this helps you understand what each baitcaster fishing reel component is and gives you the basic understanding of a baitcaster reel and also helps you improve when fishing with a baitcaster. In my opinion, if you want to become an all-around angler, using the baitcaster will help you reach that goal. I think a baitcaster is definitely something an angler needs in their arsenal if you freshwater fish. I now only use casting reels unless I'm fishing finesse style of baits. Try these steps out and this will help you get started on your journey of using a baitcaster. I hope these steps help you and this helps you become a better angler!
Craig Smith is a bass fishing tournament angler who fishes FLW/ MLF tournaments. He lists his sponsors as: KastKing, SmokeCreek Fishing, Big Bite Baits, WooTungsten, Keitech, RedCon1, YumDaddy Sauce He lives in Springfield, Tennessee and is a KastKing Brand Ambassador.