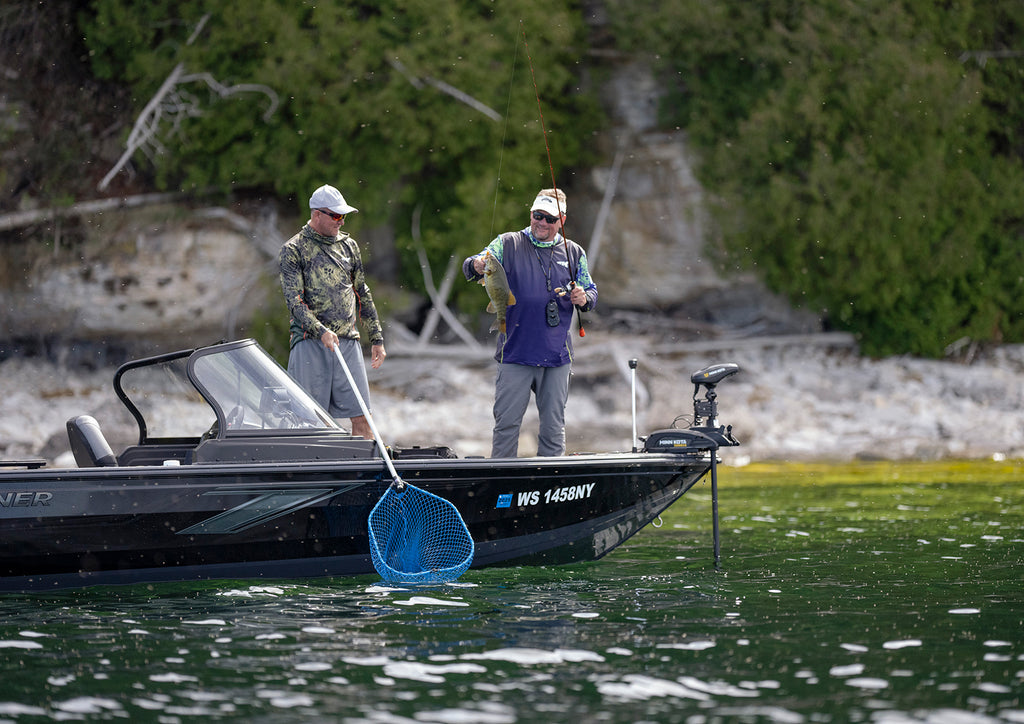 How To Use A Baitcaster Reel: For Beginner
Baitcasting reels are renowned for their pinpoint accuracy and control, and that's why so many professionals use them. However, if you're an inexperienced angler and never used one before, you might find your time in the water particularly difficult.
Throughout this article, we'll go through what a baitcaster reel is with a fundamental breakdown of its components before reeling in how to use it compared to other reels on the market.
When you're used to fishing with spinning reels, the whole aesthetic of a baitcaster reel is going to look foreign. So, let's make sure you know exactly what to do once you unbox your new baitcaster reel.
Parts Breakdown
A star-shaped handle fits behind the reel handle providing easy and quick access whilst you're casting your reel and bringing in a fish. The drag system is extremely compact and ergonomic as it is carefully built into the reel gearing structure. You can set your drag system to your preference, some anglers prefer it tighter whilst others like it slightly lighter.
In a baitcaster reel, there is a secondary braking system often referred to as a variable braking system. Located on the opposite end of the handle, it contains a set of small white blocks which can be pushed either way to activate the brake.
The closer the magnetic brake is to the spool, the faster it will slow down. However, if the magnetic brake is further away from the spool, it will spin for longer and take an extended period for it to slow down.
When you want to engage the free spool after casting, turn the handle of the reel to unlock the thumb bar. After this step is complete, you'll be able to retrieve your line.
We've already looked at two braking systems, however, the primary is located next to the reel handle. This nifty braking system allows you to set your reel up with different lure weights, as it can handle or apply different amounts of resistance.
What is known as the 'level wind', the line management system ensures that everything goes where it should. The level of wind ensures efficiency as the line is set free from the spool whilst casting.
Spooling Baitcasters
Now that we know what all the fundamental parts of a baitcaster reel do, we can start to think about how to spool a baitcaster, and then how to cast it.
Here are the steps on how to spool up a baitcaster:
Place monofilament backing on the spool
When applying the line to the reel, ensure there is tension by holding it and employ it down the middle of the reel.
Avoid line bunching: as you did in step 2, hold the line with tension, but tilt your hand towards the side of the spool with less line. This will help to spool the line more effectively and evenly.
Casting With Your New Baitcaster Reel
Everything seems to be in order. We've gone through what each part does on the reel that may have seemed unfamiliar, and we've also taught you how to spool up your baitcaster.
All that is left to do is figure out how to cast a baitcaster reel.
The first step is to detach the reel's side plate. Often the spool is going to spin much faster than you want it to when it is first activated, and it can cause the line to tangle up. To mitigate against this, you're going to want to engage four of those brake blocks that we spoke about earlier. After all, there is nothing worse than a tangled-up line before trying to cast.
Next, you're going to want to attach a lure to the end of the rod. And tighten the tension knob. Keep tightening until you physically can't anymore.
Earlier, we mentioned what the thumb bar did. At this point, you're going to want to unlock it which will cause the lure to start moving if you've got the right amount of tension in your spool. Now you can slowly start to loosen the tension knob until the lure touches the floor. At this point, the spool should have stopped spinning, if it hasn't, continue to play with the tension knob until it does.
Now you can start to work on the cast. Once more, disengage the thumb bar whilst holding the spool. Like you normally would, cast your rod, but ensure that your thumb is placed over the spool. You don't want to touch it but it's there just in case.
If you're a complete newbie to baitcasting reels and you've used the setup that we've recommended, you may be disappointed in how far you've cast. Perhaps, you're used to casting great lengths with incredible skill. However, you're going to want to practise using your baitcasting reel with shorter cast lengths before trying to develop that longer cast. It's going to be better for you long-term to cast efficiently with a baitcaster reel over small distances and to make sure you can get it perfect – every time.
Finally, start to refine your braking system and tension knob. By customising these, you'll be able to maximise your cast distance.
Recommendations
If you've got the extra cash lying around and want to invest in a high-quality performance baitcasting reel then the KastKing Bassinator Elite Baitcasting Reel is a perfect choice.
Its features include:
Designed for competition
Compact design
Hardened aluminium main gear
10 double-shielded, stainless-steel bearings
Carbon Fiber Drag System
On the other hand, a budget-friendly baitcaster reel with excellent performance could be your go-to option.
Consider our bestseller KastKing Royale Legend II Baitcasting Reel:
Redesigned for comfort
Double bearing supported pinion gear technology、
Fast gear ratios
Extra-hard stainless steel gear shafts
Cross-Fire Magnetic Braking System
No matter which route you go down, both options are great. Whether you've got the extra capital to be spending on your reel, or simply you want something reliable that won't break the bank. Either way, KastKing are your go-to supplier of fishing equipment, especially when it comes to baitcasting reels.