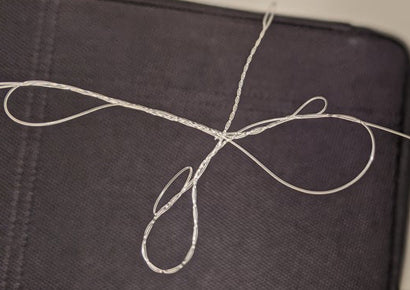 What Is Fishing Line Twist And How To Eliminate It
Have you ever made a cast with fishing line and as the line was heading out you heard this obnoxious sound like an animal running through reeds at the beach going through your guide? Then when your lure stopped 10 feet out and the fishing line was all knotted at the guides you finally realized what it was! It is fishing line twist, and it comes from a variety of reasons. Line twist happens particularly in monofilament fishing line, fluorocarbon fishing line or copolymer fishing line.  
What Is Line Twist? 
This photo illustrates just how twisted fishing line can get. When it gets to this point, casting will be virtually impossible. 
Before we go into what causes fishing line twist; what exactly is line twist?  Line twist is simply the monofilament fishing line, copolymer fishing line or fluorocarbon fishing line getting twisted, causing it to coil into a knot, rather than lie flat on the reel. To explain better, take a piece of line and hold one end tight. Next take the other end and spin it in your fingers in a twisting motion. Notice what happens to the line? It becomes a mess, not a piece of line. When fishing line gets this twisted it becomes unusable, weaker than it is rated for, and can cause other issues that will not make for a fun day on the water. 
But Why Do I Get It? 
Line twist can occur for many reasons, but the number one culprit in my opinion is when an angler continues to reel in while a fish is pulling drag. Every turn of the reel handle puts 4 to 6 twists in your line depending on your reel's gear ratio. Eventually, a cast or two down the road and your line will virtually spring off your reel resulting in a wicked snarl.  
Another reason for line twist is how the line is spooled on the reel. I have seen anglers spool line in many different methods from a pencil through the spool, in an empty spackle bucket, and what I used to do years ago – run the line through a heavy phone book. The main key when spooling line is the correct direction going from the spool on to your fishing reel.  
When spooling fishing line on to a spinning reel, I prefer (and I feel is correct) it be wound on in the opposite direction it comes off. On my KastKing Zephyr Carbon Spinning Reel, the line comes off the reel spool in a counter-clockwise direction when casting. When I spool up, I want the line to come off the new spool in a clockwise rotation. What this means is, that most times, the spool will be facing the reel you are loading, but make sure! 
KastKing V10LS Makes Line Spooling Easy
Notice how the VS10Ls keeps the spool firmly mounted.  
With the new KastKing V10LS Spooling Station and Combo Rod Rack, the correct direction on to the spool will be completely determined for you. The housing for the new spool is clearly marked which direction you want the spool to spin.
Notice how the mounting bracket shows clearly which direction you want the line to come off the spool.
Once the spool is set up on the V10LS, with Line Boss tension band in place, all you have to do is fill your reel to the correct capacity. For me, I like the line to be no more than 1/16 of an inch below the reels lip. The tension band can be adjusted to how tight you want the line on the spool. In my experience and opinion, in all situations, the initial spooling should be fairly tight.  
The Line Boss tension band, when applied, will keep tension on the spool throughout the spooling process. 
A Costly Issue 
There are a lot of issues with line twist that go way beyond a simple snarl within the guides, causing a bad cast. Line twist can cause serious damage and cost you quite a few dollars as well.  
I can remember years ago surf fishing the South Shore of Long Island with 15-pound test monofilament fishing line. It was a good day into evening of fishing, with large striped bass and jumbo bluefish. I had been catching quite a few, and in spite of my efforts, I probably spun the handle too many times while fighting drag pulling fish – it happens. I made a cast, and the line sprung off the reel and knotted up at the second guide down from the tip. The line snapped, sending a $20 plug to the far reaches of the ocean.  
Losing fishing lures is just a minor element of the situation. I have seen anglers tossing heavy sinkers with bait have their rods and guides snapped due to heavy monofilament twisting up at the guides. Snapping a $150 fishing rod in half is not going to make for a good ride home.  
Line twist can also cause you to lose that trophy fish as well, due to the weakening effect it has over time. If you twist line over and over again, then straighten it, then twist again, it becomes very weak to the point that I feel 15-pound test could be down to 7!  
The last annoying issue with line twist is the wind knot. A wind knot is nothing more than a minor line twist event that causes a small knot to actually be tied within the line, resulting in a snarl at the guide, or a broken line. Again, broken line equates to a lost fish, or lost lure, and we all know how much money lures  can cost these days.  
The Wrap Up On The Fishing Line Wrap Up 
In closing, line twist will never be completely eliminated in monofilament, copolymer or fluorocarbon fishing lines. You will always get line twist. The key to any situation is to minimize negative effects. For line twist, pay attention to these keys. Always make sure the line is spooled correctly. Again, the KastKing V10LS Spooling Station and Combo Rod Rack will make this easy. Pay attention to how you fight a fish and let your properly adjusted drag work, and pump the rod to be able to reel down while your drag is not singing. To do this, lift up slowly to gain pressure on the fish, then drop your rod and reel, avoiding drag singing while you are reeling.  
Line twist is a royal pain, but if you pay attention to the simple things, it will be greatly minimized, if not almost completely eliminated, making your day on the water a pleasant one. Tight lines. 
Tom Melton is an expert in all aspects of inshore saltwater fishing and freshwater fishing. As an authority on angling he strives to excel while teaching others, and in his own outdoors adventures. Whether it is a freshwater bass fishing tournament, or recreational fishing with family, his skills and knowledge always shine. Tom has been an outdoor writer for more than three decades.