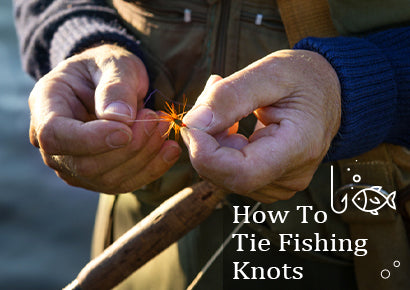 How To Tie Fishing Knots You Must Know!
there are tons of them out there – Alberto knot, improved clinch knot, Trilene knot and many more fishing knots. Whether you are tying fishing knots using any of the KastKing series of braided fishing line, monofilament fishing line or fluorocarbon fishing lines, the main ingredient is how well you tie the fishing knot. 
I believe, and I base this on over 50 years of angling, you need to know four knots, and know them well. If you learn these four knots, you will be well on your way to successful angling, without the fear of knot failure.  
If you know how to tie a Palomar knot, Clinch knot, Double Uni-knot knot and Dropper Loop, you will have virtually every base covered for inshore saltwater fishing and freshwater fishing. These knots will allow you to tie braided fishing line to fluorocarbon fishing line without the use of a swivel. You can tie a lure directly to braided line and it will be as secure as you will ever need. KastKing 30-pound Monofilament Fishing Line to a circle hook for striped bass, no problem. The list is endless. 
Although an important factor of fishing knots is their strength, I feel another important ingredient is the ease of tying. If you have trouble tying a knot, chances are you will tie it incorrectly, or not "smooth" enough to be at its maximum strength.  
I remember some 25 years ago of a trip to the famed Montauk Lighthouse for a night of quality striped bass action. The bass were on the feed, with baby weakfish, bunker and herring all available. For five straight nights anglers had fish over 30 pounds, with several real brutes over 50 as well. And, this was when there was no braided fishing line around. At that time I was using 15-pound test monofilament fishing line, so tying a correct knot was even more paramount. At one point I looked over towards Don Musso of Super Strike Lures. Don was in fact tying a Bimini twist under the Lighthouse, at night, with waves crashing with monofilament line! I couldn't tie that knot sitting in my den under perfectly lit conditions. Although Don could do that, not many anglers could have, hence, even though it may be a great knot, if you cannot tie it correctly, it is useless.  
Tying fishing knots correctly requires the angler to be attentive to what it is supposed to look like when it is done. If you tie a clinch knot and coils are not smooth and inline all the way through, the knot is not going to be strong, and will probably fail. On the double-uni-knot, if you do not put enough coils the knot could slip. I found this out when I first tried the KastKing 13X. The knot kept failing, then I realized it was human error. I needed to use 8 to 10 loops on the KastKing braided fishing line side and the standard 5 to 6 on the fluorocarbon side. Same holds for the dropper, if you use too few loops, it will just pull out. The last, and probably most important step when tying fishing knots is to always moisten the line before pulling the lines tight. For the double-uni knot, you can also add a drop of fishing glue to make an even stronger knot.  
PALOMAR KNOT
How to tie a Palomar Knot
 The Palomar knot is one of my favorite knots. This knot is so simple to tie, you could close your eyes and probably make the perfect knot. The knot will make a solid connection with braided fishing line to any lure or hook, without slippage. I use this knot with KastKing monofilament and braided fishing lines. What makes the knot great is its ease of tying, which is basically a loop with an overhand knot.  
CLINCH KNOT
How to tie a Clinch Knot
 Many anglers use the improved clinch knot, but believe me when I tell you if you tie the clinch knot with at least 6 to 8 loops, moisten the line before pulling tight and make sure the tag end is cut close, but not too close, this knot will never fail you! I have used this knot extensively for over 50 years. The one drawback is it is basically useless for tying braided fishing line, but that is why we have the Palomar knot. And, similar to the Palomar, the Clinch knot can be tied very easily. The clinch knot is just 6 to 8 loops, then come back through and tighten up. If you want a little stronger clinch knot, run the line through the eye twice, then make the knot.  
DOUBLE-UNI KNOT 
How to tie a Double Uni-Knot
The double-uni knot is the easiest way to tie a KastKing Konert Fluorocarbon fishing leader to the new KastKing 13X braided fishing line. You can also use the knot to tie two braided fishing lines together. In surf fishing, I use KastKing KastPro Braided line in 20-pound test, but I like a trace of 40-pound test tied in for the last 20-feet. This additional trace allows me a buffer while landing a fish in the rocks or even sandy beaches in a heavy surf. It also gives my finger a break when casting as I do not use any type of finger protection. The double uni-knot is perfect for this. 
This knot is easy to tie and ends up very small in diameter, so clearing the rods guides is a breeze. The double-uni knot will work well on fluorocarbon or monofilament leaders up to about 20-pound test. I have tied it to heavier lines, but feel the knot becomes too large for my liking. For heavier lines you are probably better off using a small barrel swivel in between the lines.  
DROPPER LOOP 
How to tie a Dropper Loop
The dropper loop is a critical, but fairly simple knot that is used in freshwater and saltwater applications where you need a loop for a snelled hook with leader or plain hook. In freshwater, the dropper makes for a great drop shot loop, while in the salt, a hi-lo rig utilizes a dropper loop, or two to three of them in sequence. For summer flounder (fluke) fishing, I use a dropper to make a teaser rig about 16 inches above the bucktail. The dropper allows me to add a skirt above the standard Carlisle hook. 
In closing, if you learn these four fishing knots, you can be assured that if your line fails, the chances are it was not a bad knot but rather a nick in the line, too weak of a line, or some other factor. Learn these four fishing knots and trust me, you will be quite happy with their ease of tying and strength.