---
Free Shipping on Any Order
30-Day Money-Back Guarantee
Hassle-free Warranty to Keep You Fishing Fun
Product Description
KastKing Perigee II Fishing Rods
Features:
PREMIUM COMPONENTS - KastKing uses the best quality components in a Perigee II fishing rod. World renowned Fuji O-Ring line guides, tuned ergonomic graphite high-strength reel seats, high-density EVA grips, Saf-T Keeper hooker holder, the finest sensitive "bare and beautiful" finish carbon fiber for light weight rod blanks, and outstanding cosmetics. Rod action ranges from baitcasting rods that are fast action rods to spinning rods that cover moderate, moderate fast, and fast action rods.
SMOOTH POWER - KastKing PTS (Power Transition System) hybrid spigot joints in Perigee II 2-pcs rods transition power smoothly throughout your fishing rod blank. Specialized high technology computer control wrapping at four angles (0⁰, 45⁰, 90⁰, 135⁰) keeps the power flowing. Whether you choose an amazing and affordable Perigee II casting fishing rod as a bass rod or a KastKing spinning rod as a walleye rod, or for any species, you will agree it feels exactly like a one-piece fishing rod!
Specifications:
Length-Action-Power: Spinning-6'7 /Fast /M
Line Wt(lb.) | Lure Wt(oz.): 6-12 lb. | 3/16-5/8 oz
Details: 1Pcs /7+1 Guides

KastKing Sharky III Fishing Reel
Feature:
NEXT-GEN - The brand new design KastKing Sharky III spinning reels are built tough to land trophy fish in all fishing conditions. Sharky III are superb lightweight fishing reels built with a high percentage fiber reinforced graphite body and rotor!
PURE POWER - You will love Sharky III spinning reel's amazing best-in-class up to 39.5LBs / 18KG of smooth, reliable triple disc carbon fiber drag, oversized stainless-steel main shaft, and stronger precision mesh manganese brass pinion gears for more fishing muscle.
K.I.S.S. - Sharky III spinning reels are sealed with a KISS! Sharky III has a unique protection water resistant design for its spool, body, and rotor - K.I.S.S. (KastKing Intrusion Shield System). It helps keep water and dirt out.
SUPER SMOOTH - You'll be blown away by the quiet, silky smooth retrieve of the Sharky III. Plus, with the unique Shark Fin Braid Ready aluminum spool, you no longer need to use backing line when spooling on braid fishing line.
Specifications:
KastKing SuperPower Braided Fishing Line
Feature:
STRONG KNOT STRENGTH – dynamically incorporated strands in KastKing SuperPower Braided Lines allow you to easily tie a more solid knot; you can even tie an improved clinch knot. The special proprietary treatment (without a waxy coating) allows the supple fishing line to zip through the guides to your target and gives you better lure swimming action.
LOW MEMORY – helps you achieve a better, farther casts, less chance of wind knots
GREATER ABRASION RESISTANCE – of KastKing braided fishing line decreases the likelihood of losing your "big one"! KastKing SuperPower Braid line's powers are...super!
Specifications:
Color: Low-Vis Gray
Strength/Diameter/Length: 12 LB (5.5KG) 0.10mm/327 Yds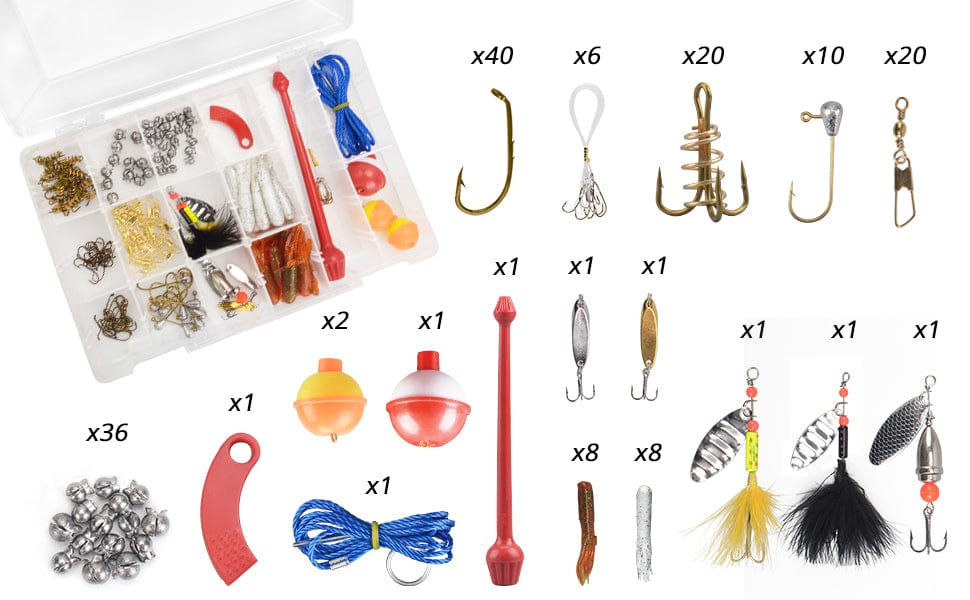 MadBite Species Tackle Kits
Features:
Complete Fishing Lure Tackle Kits – Each MadBite Species Specific Fishing Tackle Kit gives you everything you need to go fishing. Every fishing lure, fish hook, terminal tackle item and bait is selected to be perfect for the species you are fishing for. There's a: Bass Fishing Tackle Kit, Trout Fishing Tackle Kit and Panfish kit for Crappie, Bluegill, Perch species and more. All of the fishing lures and bait are neatly packed in a plastic tackle box for storage and transportation.
Trout Fishing Kit – The MadBite Trout Fishing lure kit includes 160 pcs of the most effective lures and bait for trout fishing. Included in this fishing accessory kit for trout are a large assortment of fishing hooks including bait hooks, treble hooks, jig hooks and even pre-tied snelled hooks. There is a large number of sinkers and weights plus floats and snap swivels. The most effective spinners and spoons are included along with plastic tube jigs plus a line nipper and stringer.
Specifications:
 Number of pcs: 160
Specifications
Hide the non-stock items?
Sign up for KastKing news and updates
| Image | SKU | Combo | Qty | Price($) | |
| --- | --- | --- | --- | --- | --- |