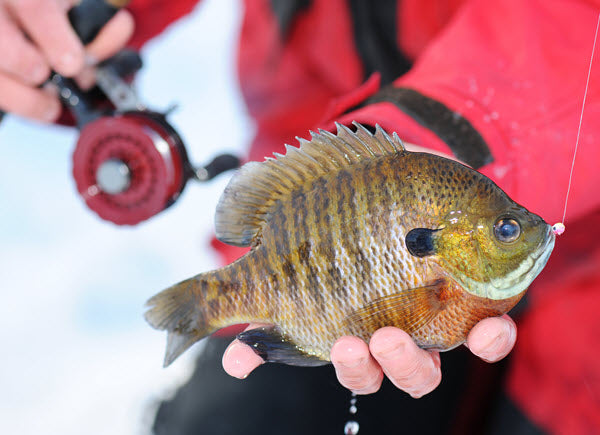 Best Ice Fishing Rods - Ice Fishing Is Fun
To say ice fishing is fun is a huge understatement! Whether you are a seasoned angler – young or old, or a first-time angler – young or old, you will need the best ice fishing rods to make it even more fun! I can remember fishing on the ice at Pleasure Lake in upstate, New York. I had arrived at a buddies lake with the intention on playing cards for the weekend, but also planned on getting in a little ice fishing, and test out some of the best ice fishing rods I owned at the time. What makes ice fishing fun is the unknown. You could catch yellow perch all day, which are great on the fire pit, or you could lock into a 20-pound pike or big lake trout. Imagine the look on your son or daughter's face when the head of a huge pike pokes its head through the hole in the ice!
Over the last several years, KastKing has come a long way in the fishing rod and fishing reel area, especially where hard water comes into play. Let's take a look at the best options for what you will need for a great day around the ice hole.
Staying Safe On The Ice Is a Must
Before you can have fun, you must first make sure of two items. The first is that the ice is safe even with the top of the line fishing rods and fishing reels, and the second is that you stay warm. If the ice is unsafe, things can get ugly fast, and could result in a trip the Emergency Room or worse. For me, I always liked the buddy system and ice of at least four inches thick. According to charts on safe ice, four inches is safe for "foot" travel. If you plan on using sleds, ATV or snowmobiles, then you need much thicker ice. Always carry a set of ice picks as well. They will get you out of the water if the ice breaks. Another item to always wear would be the KastKing Extremus 23-Spike Ice Cleats. These cleats are made to keep you ultra-safe on slippery surfaces like ice and snow with 23 individual spikes on each foot, making them perfect for the outdoor enthusiast that enjoys ice fishing. They are available in three sizes - medium, large and x-large, and will fit most boots from a women's size 5 all the way to a men's size 14.
For the second part, staying warm is just as important. And, KastKing has made staying warm a breeze. The Extremus line-up of winter skiing and hiking apparel will keep you snug as a bug. As most of your heat loss is through the head, the new Extremus IceKap Balaclava Face Mask is a great option. Add in the Extremus Peak Padded Jacket or vest and your core is sure to stay warm while having fun while on the ice. A good pair of waterproof bib pants and undergarments, combined with the Extremus Convertible Mittens and you are now ready to hit the ice.

Best Ice Fishing Rods
For ice fishing, the new KastKing Konvert ice fishing spinning rod is all you need for a great day of fun on the hardwater. These fishing rods, which come in two models actually gives you four rods! Each model has one butt section, with two different tips, with a different action. One is a Medium action and the other is a Medium-Light action. You'll always be ready for the perfect lure presentation with the perfect action tip. KastKing Konvert Hardwater Ice rods are made using a light and sensitive, 100 percent IM6 Graphite Blank. This material is used in the handle and all the way through both the Medium and Medium Light tip section. They are highly sensitive for light bites and still powerful for solid hook sets. Best of everything in ice fishing rods in just one rod.
Whether you are fishing in a dark ice hut or outside in bright sun or even on stormy days, you'll see more subtle bites because of the Konvert's bright, chartreuse green strike tips. Even the lightest bites are transmitted visually with this contrasting color. Once you use our strike tips, all other rods seem obsolete. For me, I would also add in the use of the KastKing Super Power Silky 8 in yellow to add to the visibility, enabling an even better detection of bites. 
Best Ice Fishing Spinning Reel 
We have the warmth and safety covered. We have the best ice spinning rod available, so let's add in the best ice fishing spinning reel to complete our ice fishing adventure and have some fun.
Hands down the new KastKing Royale Legend II Ice Fishing Reel is the one you want paired with the Konvert fishing rod. The line-up of spinning reels come in a size 500 that features an outdoors-ready, durable, non-rusting reinforced graphite body and rotor and a tough anodized aluminum spool. The feature I like the best however is the extra length on the handle stem. Have you ever tried to use a regular spinning reel with heavy gloves? If you have, then no doubt your glove interfered with the spool at some point. The new extra-long reel foot stem gives an increased distance between the fishing reel seat and reel body for easier cranking with heavy winter gloves and to avoid hitting the rotor. The spinning reel also has a super smooth three disc drag for light ice fishing lines.
When Winter settles in throughout the northern regions it will not be long before you can find "safe" ice on most lakes. If you want to have a fun day outdoors, then watch the weather, stay in tune to ice conditions, put the best ice fishing rod in your hands, and hit the hardwater for some ice fishing…it's a fun way to help the winter pass quickly!
Tom Melton is an expert in all aspects of inshore saltwater fishing and freshwater fishing. As an authority on angling he strives to excel while teaching others, and in his own outdoors adventures. Whether it is a freshwater bass fishing tournament, or recreational fishing with family, his skills and knowledge always shine. Tom has been an outdoor writer for more than three decades.