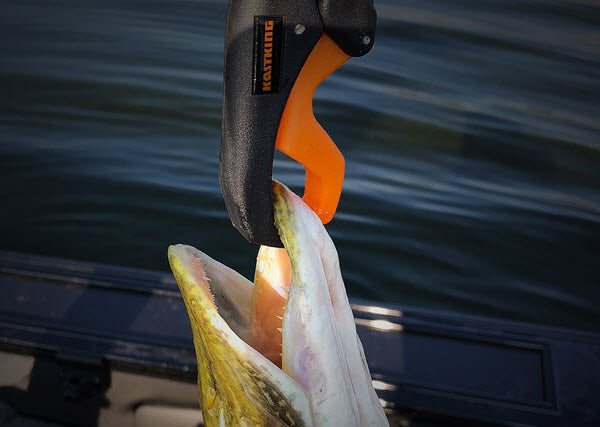 About 25 years ago I landed what I believe was my largest bass ever. I was fishing in an area called "Stump Pond," inside Southaven County Park on Long Island, NY. The lake itself was always known for trout action as the state stocked it twice yearly. I also knew from past experience, the lake held some real big largemouths. I was fishing a small chartreuse spinnerbait on 10-pound test monofilament fishing line. The rod and reel was a shorter 6-foot spinning rod rated for 4-10 pounds. I made a cast from the shore towards a large stump. As I like to bounce my spinnerbait off anything, the stump was a prime target. The cast landed about three feet past the stump. I reeled slowly, banged the spinnerbait off the stump and "wham" the spinnerbait stopped and headed in another direction. I fought the bass for what felt like an hour, but in actuality it was probably only a minute or two. I landed the bass, picked her up and was in awe at the size. I was a mile away from my truck and had no fishing scale and no way to measure the fish. As I never intentionally kill a largemouth bass, this one was not going to see its demise either. I put the rod next to the bass and with the hook from the spinnerbait, scratched the fishing rod so I could measure later. After marking, I slid the bass back into the lake to spawn and live out her life.
When I got back to my truck, I took out my tape measure and measured to the mark I had made on the fishing rod. The tape reached out to 24-3/4 inches. There is a formula that is very accurate on largemouths but is off if the fish is extremely egg laden, or extremely thin after laying eggs. But for the most part a healthy bass will come in very close to the actual weight. Seeing as the timeframe was late July, and there was no way this fish had not spawned, and no way this fish did not already fatten back to normalcy after the spawning process, I felt good about using the formula. The formula is simply length multiplied by length multiplied by length divided by 1600. Using this formula, this bass weighed approximately 9.47 pounds. Now to some of the southern and western anglers out there a 9 plus pound bass is not that huge, but to most northern anglers this was a bonafide trophy fish. Just to put it into perspective compared to other more productive "big" bass states, the New York State record is only 11 pounds, 4 ounces.
The KastKing scale with lip gripper makes releasing a catch easy and fast.
If you use the hook to weigh your catch, make sure you are careful not to touch the gill plates. This will ensure a safe and healthy release.
ALWAYS HAVE A FISHING SCALE
Fast forward to today, whenever I go fishing, I always have a fishing scale, and preferably a digital fishing scale at the ready! I may not have a ruler, extra tackle or rod and reel, but even if I just jump out of my truck to make a few casts, the scale gets hooked on my belt loop or in my pocket. I will never again, not know what a potential trophy largemouth may weigh, or any other fish I catch weigh.
The new KastKing Waterproof Floating Digital Fishing Scale is one tough and accurate set up. The scale not only is very accurate, it also floats and is waterproof in case you accidentally drop it in the lake from the bank, or off the boat. The scale also comes with a no puncture, floating lip gripper, which can be hung from the fishing scale to make weighing, and then releasing quite easy. The scale has a high strength ABS handle, is strong and light weight, and features TPR non-slip sides which give you a firm grip when weighing your catch. The wide handle opening makes it easy to hold for any hand size, with or without gloves and the scale weighs only 5.6 ounces. You can quickly and accurately weigh your catch in pounds and ounces from 0 to 50 pounds or easily convert to Kilogram measurements from 0 to 22.68 Kilograms. There is also a memory function where you can store up to nine different weights so can refer to them at any time.
TOURNAMENT OR FUN
Having a scale to weigh a fish is always important in my book, but even more critical if you fish any bass or other species in the tournament setting. In tournaments you will use a livewell to keep your catch alive.
On a recent trip with good buddy Rick Holmberg who fishes the ABA Circuit in Connecticut, I asked Rick why he thought it was important to have a scale at all times.
Rick said, "The fishing scale, whether it is a digital scale or standard fishing scale allows me to weigh my fish before I put them in the live well. By weighing the fish, I know, without removing them, which one is the smallest and can be culled. Once I have five fish (limit allowed in live well), the next fish can be quickly weighed and determined a keeper or throw-back without hanging the fish on a balance beam." "This also ensures the fish in my live well remain healthy and safe, so after the weight in, they can be quickly returned the water."
"The new KastKing Digital Fishing Scale is a great tool, and with its ability to store weights, it also makes for culling fish an easy task," Rick said in closing.
Having a fishing scale with you for tournaments is a no brainer, but I also feel you should have one with you whenever you go fishing. Fishing is fun and if you are like me, it can be very rewarding catching a large fish and then releasing it. Picture this. You are on a trip to a wreck located 10 miles off the coast. A place where you may never fish again, or at the very least not very often. You lock into a fish and then land a huge blackfish that was easily pushing the 20-pound mark. Only problem is blackfish season is closed and the fish must be returned. Although a photo and fishing scale weight, even if the scale is in the photo, does not qualify for an IGFA World Record, having this info sure gets you a lot of bragging rights in your fishing circles. Another great feature of the fishing scale is the lip gripper. The lip gripper will make landing a fish with a hearty set of teeth easily without harm to the fish, or to the angler. And, after un-hooking the fish, releasing it is also a simple task.
Before heading out on your next fishing trip, I strongly urge you to grab the new KastKing Waterproof Floating Digital Fishing Scale. The scale will give you accurate weights, make releasing fish easy, and help cull fish during a tournament. Add all these attributes up and you have a "must have" tool in your tackle box or boat.