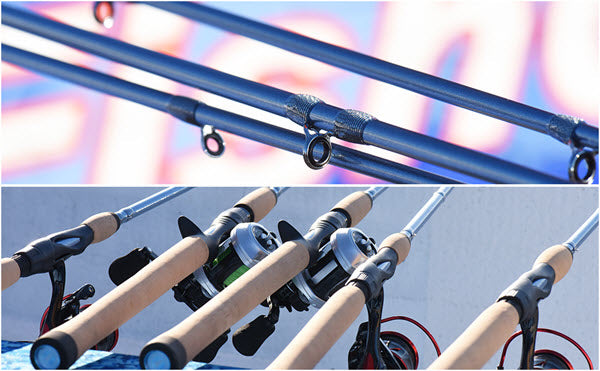 KastKing Estuary Fishing Rod Review-A Great Inshore Saltwater Rod Addition To Your Arsenal
The new Kast King Estuary inshore spinning rod line up could be a game changer when it comes to inshore fishing action. This fishing rod series comes in five inshore spinning rods and one inshore casting rod. The spinning rods come in three sizes – 7-0, 7-6 and 8-0, with the two in the 7 foot class offering rate of 8-17 and 10-20 pound classes. The 8 footer is rated for 20-40, so this may be your big fish and heavy gear option. The lone casting rod is rated for 10-20 pounds and comes in a 7-6 length.
Multi Species Saltwater Rods
These rods, whether you are fishing for redfish, snook, drum, striped bass, bluefish, tarpon, trout and many other inshore species will surely meet your angling needs. They are lightweight ranging from 4.63 to 8.12 ounces, making them an easy rod to cast all day or night, without worrying about fatigue. The only fatigue you get from using these fishing rods will be from battling all the fish you are going to catch.
As fluke (summer flounder) season was winding down in New York this past September I had the chance to put the 7-6 foot, 10-17 rated inshore fishing rod to use. The rod handled my bucktail offering just fine, along with several fluke to 20 inches. What I especially like about these rods is the longer butt length, giving you a nice "under the arm pit" hold while battling a fish. Where I feel these rods will really shine is on the local docks of any fishing grounds or aboard a party boat where casting is needed. In New York (Long Island) the "FishFinder II" out of Captree specializes in casting Bass Assassins in light tackle for striped bass and bluefish. The 7 or 7-6 size rated for 10-20 pounds will fit the bill perfectly. In some of the southern areas, fishing piers offer a great opportunity for anglers. These rods, specifically the longer 7-6 spinning model or 8-foot baitcaster are perfect for larger species like tarpon and big striped bass, etc.
Nano Blank – An Inexpensive One
These fishing rods have a true nano resin technology, which in most other brands is upwards of $150 and higher. The new KastKing inshore series is around $120, with only the 8 footer jumping up a bit to $129. Once again KastKing keeps the cost reasonable while offering a quality rod for all anglers to enjoy, and afford, even on a tight budget.
Even with its relatively inexpensive price tag, the Estuary series rods are top of the line. These fishing rods are incredibly light and powerful fast action rods that look great and stand up against extreme saltwater fishing conditions.
The rods are built on Toray IM7 Graphite Blanks, with the KastKing proprietary KastFlex technology. An exceptional 30 million modulus graphite that gives you superior strength and amazing sensitivity. Add in the Nano Resin technology and you have a rod that is higher in strength by 22 percent, and still keeps the weight to just over 8 ounces maximum for the longest and heaviest rated fishing rod.
Check Out Those Line Guides
The Estuary Series inshore fishing rod series comes with the all new American Tackle Microwave Air MW20 and MW12 Guides. KastKing chose these line guides as they not only increase casting distance, there are extremely corrosion resistant; something that is well worth the effort where saltwater comes to mind.
When my first inshore fishing rod arrived, I was quite skeptical of the first guide, which looked odd to say the least. The guide appeared sized right for the rod, but then there was this smaller guide tucked inside the frame. In my mind, I was like, there is no way this can aid in my casting distance.
Why American Tackle Guides
According to the technical data I received from American Tackle, "Using the MicroWave Line Control System will make any rod better. The MicroWave does this by reducing guide train weight allowing the blank to load and recover without compensating for lost energy. Line speed is also enhanced by controlling the line with the first guide shooting the line straight eliminating the oscillation you get with a regular guide train. The ability to manage fishing line during a cast will also allow an angler to improve casting results. The goal for guides has always been to tame or manage line effectively. Some guide innovations use different materials and finishes that address weight and durability, while others use frame design for specific applications. Combining new theories and technologies, the MicroWave Line Control System reduces weight, improves rod balance, and perfects line management for total line control giving both rod and angler improved performance."
Reel Seats
To round out the rod, KastKing opted for the American Tackle G2 Apex spinning rod reel seats for all spinning rod models and AT G2 Edge casting rod reel seats. Both models are extremely strong and light and keep fishing reels firmly in place while fighting large, powerful fish. Each features an exposed blank section for the ultimate in rod sensitivity. I liked how tight they were, but more important to me, believe it or not, was how easy it was to untighten. I like to take my reels off at least once a month and just make sure there is no salt build-up under the reel foot to seat area.
Cork Handles
The handles - another feature I really like -  are full length, custom, select 3A cork with EVA protective end caps. This setup provides excellent comfort and give KastKing Estuary Inshore fishing rods outstanding eye appeal.  These high-quality cork handles are finished with high density EVA sections to protect the rod and cork handle during use. The rear handle is finished with an engraved Aluminum butt cap.
The bottom line is the new Estuary Inshore Series fishing rods is a game changer on quality in workmanship, ability to be fished all day without fatigue, good looks and best of all affordable and durable. Before heading out to chase tarpon, reds, bass, blues or others, check out the new Estuary series.
Pair up the Estuary 7-6 spinning rod rated for 10-20 with the Sharkey 4000, 13X 20-pound braided fishing line and a Tommy Togs resin jig and false albacore don't stand a chance!
Tom Melton is an expert in all aspects of inshore saltwater fishing and freshwater fishing. As an authority on angling he strives to excel while teaching others, and in his own outdoors adventures. Whether it is a freshwater bass fishing tournament, or recreational fishing with family, his skills and knowledge always shine. Tom has been an outdoor writer for more than three decades