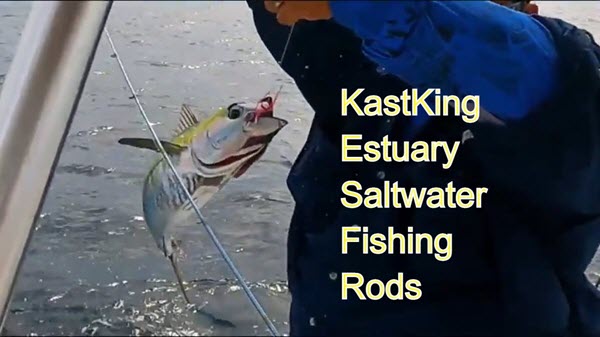 KastKing Saltwater Fishing Gear Review
A look at KastKing saltwater fishing tackle including KastKing Estuary saltwater fishing rods.
This article is from the KastKing Saltwater Fishing Gear Review Ft Gus OneBear video. In this KastKing fishing gear video Gus goes offshore fishing with KastKing Estuary Inshore saltwater fishing rods, KastKing KONG rods, KastKing Kapstan 300 and ReKon baitcasting reels, and Spartacus II Spinning Reels
KastKing saltwater fishing rods and saltwater fishing reels used in the video.
Here's what Gus has to say about his saltwater fishing tackle, "What's going on guys? Welcome to the channel. All right folks we're here in our marina and we're in Key Largo. We're fixing to head on out to the Atlantic and do some trolling, but before anything, I want to take the time to show you my saltwater fishing gear.
"I want to show you the setup that I use for offshore trolling. Let's start with my favorite saltwater reels.  The first reel is the powerful Kapstan 300 baitcast reel, along with the ReKon level wind roller and also the Spartacus II 4000 spinning reel. Now two of my favorite rods that I like to use for my offshore trolling. it's a KastKing KONG, but the one I really want to talk about is the new KastKing Estuary inshore saltwater fishing rods. I remember when KastKing announced that they were going to come up with these inshore rods and the first time I got to see them was when we worked at the Miami boat show in 2020. Brand new saltwater inshore estuary rods these things are insane! I was so impressed with these rods that I had to pick out one of each action. These rods are incredibly light, ultra-sensitive, and powerful. And, even though they are considered to be an inshore fishing rod they're very capable of being used offshore.  Here's a clip of us trolling and all of a sudden this happens. In this clip we're using our eight foot, fast action heavy Estuary rod."
" 'Is it? It's a tuna?' Yes, you have the right rod this thing handled it phenomenal."
"Don't let it fool you guys. For being such a light rod, they are incredibly powerful and this has to do with the Toray IM7 graphite blanks.  They are designed with 30 million modulus graphite Toray carbon fiber providing superior strength and amazing sensitivity. This is due to the nano resin technology that increases the strength and sensitivity up to 22 percent."
"They are so sensitive that sound will travel through the blank. The American Tackle Microwave Air Guides are 316 stainless steel, which stands up against saltwater corrosion. It also comes with American Tackle Reel Seat and a full length triple a cork handle."
"So you got to see what I use for my offshore fishing. Now I'm going to show you my inshore setup. What I have is the Estuary 7'6" medium heavy. This is what I use for my popping cork."
"Also what I have is a 7' 6" medium heavy bait casting rod. Again this is awesome for, for your lures your shallow runners, your top water, and also for your cut bait. And then I have another a seven foot medium heavy rod. Now what's really awesome about these Estuary rods they're one piece and again you can use them for just about anything fishing the flats fishing the mangroves. I also use them for offshore fishing and they handle well. Our fishing setup on this particular boat is a little different. We don't take our gear home.  Our fishing gear stays on the boat at all times. We'll sit here exposed in the sun in the rain in a saltwater environment and if you can see, folks. These guides, okay these Microwave guides, are amazing. Not only that they're really tough, very durable, but they're 316 stainless steel. They have not rust at all. I can say the same for the KONG rods. They have been holding up pretty well. You could use them for catching bahias, you could use it for catching tunas, and bonitas. You want to go inshore for redfish, sea trout, snook. I mean these are great. Or, if you want to have a designated mangrove snapper rod. There you have it. And guys, this is pretty much my setup. Again I really love these Estuary rods. I think they are amazing and I'm thinking about getting me a couple more just so I can finish outfitting what I need to have. The KONG rods are great. That might be another video."
To watch the video about KastKing's best saltwater fishing rod, KastKing Saltwater Fishing Gear Review  Ft Gus OneBear, associated to this Blog on the YouTube channel.