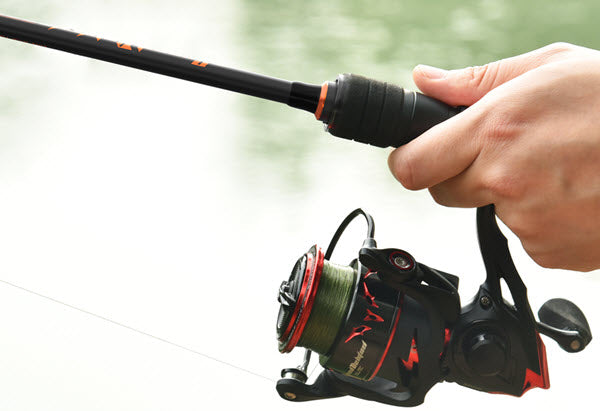 Spinning Reels…What Line is "Best?"
Over the years I have had hundreds of anglers ask me the following question regarding fishing reels, specifically spinning reels.
"Tom, you fish all over, and fish a lot, what is the best line for spinning reels?"
My reply is usually the same; "That is a loaded question my friend, but I'll explain it to you."
Choosing the right fishing line for a spinning reel is paramount in any fishing that you do. However, there is a problem with this because if you poll 100 hundred anglers as to what is the best for spinning reels, you will get a load of different answers. The problem is, in my opinion, no "best" line for spinning reels. There is however a wide array of line types that will fit any spinning reel need you have.
Let's stroll down memory lane a bit first. When I started surf casting the northeast waters at the age of 17, there were not a lot of choices. Braid fishing line was non-existent for the most part and there was no fluorocarbon line, so monofilament fishing line was the go-to line. Back then, when fishing the famous Montauk Lighthouse area; an area that is rock and barnacle strewn, we used 15-pound test pink Ande Monofilament fishing line. The line was durable, abrasive resistant and cast very well. Was it the best…at the time, again in my opinion, yes it was.
Fast Forward
Today, anglers have a plethora of options, and from what I have seen and used over the last 15 years or so, there is no braided fishing line, fluorocarbon line, or monofilament line that clearly outshines another. This again is my opinion, because just like the question of what is best, you will also get 100 different answers when asked what manufacturer is best.
However, due to new technology, there is now an option for fishing line designed specifically for spinning reels. It shows promise as the frontrunner. I will get to that in a moment.
When choosing lines you have to decide first what type of fishing you are going to be doing. Are you targeting bluegills at the local pond? A monofilament fishing line in 6 to 8-pound test will suffice. Are you targeting mahimahi on some ocean debris? A fluorocarbon casting line is a good option. How about drop shot fishing big smallmouths at Lake St. Clair? Yellow or chartreuse braid with a fluorocarbon leader is best. I could do this all day with a multitude of species. Instead, let's take a look at what fishing line works best for spinning gear in various situations based on my experiences and opinion.
Surfcasting
To this day I still employ Ande Pink monofilament fishing line for casting into the surf. The only difference is I use it strictly for leader material as opposed to the main line that fills my saltwater fishing reel. Surfcasting at times requires long casts to reach breaking fish off the beach. The areas you fish may be rock filled or open sand, but either way, braid line on the reel is the way to go. For me, I like several different lines. I use Sufix Performance Braid, Power Pro or KastKing KastPro braided fishing lines in 20 pound test on the reel. I have found that all three of these are tough, fairly limp and hold knots well. The Ande leader (30 or 40-pound test) is tied in with a duo lock snap, and visibility has never been a problem. Look, just because braided fishing line is thinner by a lot than a mono, does not mean you need to use 65-pound braid because it has the same diameter as 15-pound mono. Remember what I said, distance may be needed, and 20-pound will get you that distance and be more than strong enough to land anything you may catch.
Boat Casting – Saltwater Fishing
If you plan on doing any kind of casting from a center console type boat, I feel monofilament fishing line is probably your best choice. Monofilament line is very durable, casts well, and if spooled and checked will not give you issues. When casting from a boat, distance is not really a factor, so there is no need for braided fishing line. Water clarity and species will determine whether you need a fluorocarbon leader or not. If I am chasing chopper blues with Diamond Jigs, you could use 1/4 inch rope and still get bit, so mono with a heavier mono leader is all you need. If I am chasing false albacore then a fluorocarbon leader is a must as those babies have eyes! Another plus of mono fishing line is it floats, making topwater poppers a lot easier to work.
I mentioned spooled right and checked. There is nothing more frustrating is to get a wind loop or line flying off the reel for no reason. When spooling monofilament fishing line, you must use tension and the KastKing V10LS spooling station or Radius Line Spooler is the best way to achieve that. Another factor is line awareness. After a handful of casts, feel your spool. Does it feel soft? If so, make a cast and then hold the line tight and re-spool it onto the reel.
Flats Fishing Or Bass Boat
Stealth is usually the key when using spinning tackle on flats boats or bass boats. There are two types of fishing from a flats style or bass boat perch. The first would be those long casts as to not spook a fish, and the second is the drop-shot, wacky or Ned rig straight down or close to the boat fishing style.
For long casts, in my opinion, nothing beats the new KastKing 13X Finesse braided fishing line. This line is silky smooth, casts great and is as durable as heck. The 10-pound test braid will cast a mile, even when using a fairly light lure or jighead. KastKing designed this braid line for spinning reel use specifically. It has 12 strands of braid line fibers wrapped around a central core fiber. The result is an incredibly limp line that flies off the spool and is not prone to tangles. The weaving technique used gives the KastKing 13X Finesse braid an extremely thin profile with 34 wraps per inch that greatly reduce friction through the line guides, which increases casting distance. KastKing also makes an 8-strand version, KastKing 8X Finesse braid, which will save you a few bucks. It is made with the same process but with 8-strands and is just fine for baitcasting reel applications. It could still be used successfully on your spinning setup, but the 13X certainly shines on a spinning reel.  
For the down under the boat style, again, in my opinion, the KastKing 8X or the Mega 8 serves the angler well. I like the 8X a little better do to color. The chartreuse is a little brighter and easier to detect than the Mega 8 yellow. In this type of angling, a lot of times you will be line watching as opposed to feeling for the bite. The chartreuse is easy to see in the water, even on windy days.
For either application, I always use a fluorocarbon leader, and today I have been using the KastKing Kovert.
So What Is The Best Spinning Reel Line?
Back to the original question of what is best for spinning reels? There is no real clear cut answer. Some anglers may love Sufix, Power Pro, Bass Pro, KastKing, Ande, Berkley or any of a number of lines. The key is knowing what you are targeting, what you are trying to achieve – distance, stealth, visibility etc., and then choose what will be the best application.
Another key factor is "what you believe is best." If you are using a specific line and it works for you, stick with it. This is a line you trust, may have used for years and still do. Confidence in what you use goes a long way to success.
The Wrap Up – The Best Fishing Line For You
In closing, as a writer and avid angler, I try a lot of different gear. For the last five years I have used the KastKing brand fishing lines pretty much exclusively. I feel for the cost and quality factor, they are right up there with any other brand on the market. If you really like the line you are using, then stay with it and make sure it matches – pound test and type – for the fishing you are doing. If you are not overly thrilled, then give KastKing's lines a shot, I guarantee you will be pleasantly surprised.
Tom Melton is an expert in all aspects of inshore saltwater fishing and freshwater fishing. As an authority on angling he strives to excel while teaching others, and in his own outdoors adventures. Whether it is a freshwater bass fishing tournament, or recreational fishing with family, his skills and knowledge always shine. Tom has been an outdoor writer for more than three decades.