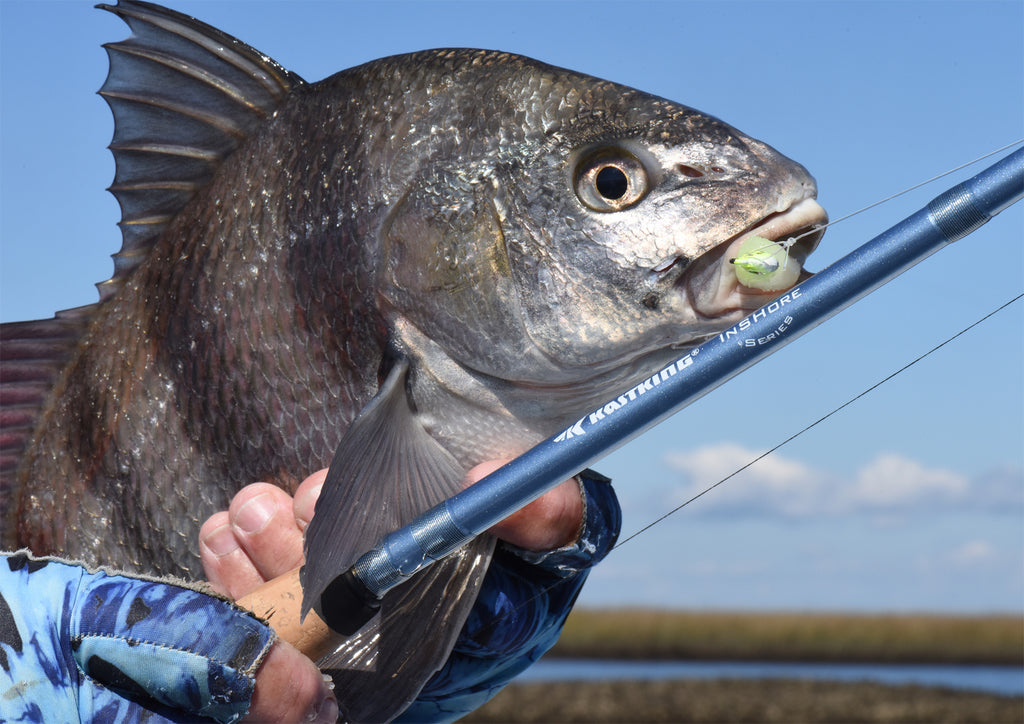 Best Inshore Spinning Rod
After years of fishing, for me, one of the best inshore fishing rods is the KastKing Estuary series! These rods offer anglers an array of lengths, weight classes and taper. With five spinning rods in the line-up, anglers looking to tangle with redfish, bluefish, stripers, kingfish, snapper, cobia, specks and more can easily find a great option. Another great inshore spinning rod series would be the Speed Demon. Yes, the Speed Demon! These are not just freshwater rods, they make great inshore rods as well. Let's take a look at both, and see if we can narrow the choices while searching for the best inshore spinning rod.
1.Estuary Inshore Saltwater Spinning Rod
Like the name implies, the KastKing Inshore Saltwater Fishing Rod is made for the briny. These fishing rods are incredibly light and powerful fast action rods that look great and stand up against extreme saltwater fishing conditions.
Rated for 8-17 pounds, all the way up to 20-40 pounds.
Full length, custom, select 3A cork handles.
American Tackle Microwave Air MW20 spinning rod guides.
American Tackle G2 Apex spinning rod reel seats.
I was recently talking with several anglers as to what they feel makes a good inshore series of spinning fishing rods. From what I could gather, and the Estuary offers this to a "T," is they all wanted a rear handle length 12 inches or longer. The key they all felt was the longer handle enables the rod to be tucked into the armpit and apply a great amount of leverage while fighting a fish. Thus really comes into play when the over-size fish grabs your lure or bait. Smaller fish in the 2-6 pound class for argument can be whipped with any 7-8 foot rod, but have a 40-pound tarpon (small one at that), chopper bluefish pushing the teen class, and you will need the extra leverage.
I also spoke to two of my best fishing buddies, Charlie, and son-in-law Isa and asked them what they felt was important. Both felt a taper in the fast or moderate fast was the way to go. The taper in this range enables the inshore spinning rod to work lures well – even smaller lures – but yet have a blank and butt section capable of loading up to set the hook and whip the fish.
7-foot, Moderate/Fast, Medium, 8-17
7-Foot, Fast, Medium Heavy, 10-20
7-6, Moderate/Fast, Medium, 8-17
7-6, Fast, Medium/Heavy, 10-20
8-0, Fast, Heavy, 20-40
In the list above you can easily see why I feel the series offers a nice selection of inshore spinning rods, which will easily beef up your arsenal, and make you a better angler across the inshore spinning rod fishing game. Another big plus is the KastFlex technology blanks are reinforced with Nano Resin technology to increase realized strength by about 22 percent while reducing weight. This is made possible by using high modulus, Toray carbon fiber graphite which provides superior strength and incredible sensitivity. This is one tough spinning rod! Another big plus is the American Tackle MicroWave Line Control System. From the folks at American I learned that this system is the most effective and efficient line control system ever created. The very purpose of line guides are to capture loose line coming off of a reel and control it during the cast, efficiently allowing the rod and angler to perform at their best. Combining science and practical application, the MicroWave Line Control System captures and controls line immediately in the first guide and throughout the cast with total line control. The results are improved rod reaction and better angler performance.
KastKing Speed Demon
I use a wide assortment of Speed Demon fishing rods on each trip I take. I use them to primarily fish freshwater species, but realized over time, these rods make great inshore spinning rods as well. There are several models I use for fluke (summer flounder), bluefish, striped bass, and more than any other specie – weakfish! The rods will work equally as well on cobia, snook, redfish, snapper and any other of the great inshore species in your neck of the woods. The line-up offers four spinning rods I feel will double as freshwater options, but also give you a great rod for inshore fishing.
Elite Carbon blanks.
Fuji guides and reel seats.
S-Glass Crankbait Spinning Rod
The three rods in the series I feel will work well for inshore fishing range in weight class from 6-12, 8-17 and 10-20 pound class. The lighter of the three is my favorite for throwing small jigs and minnow style lures for weakfish in and around the local docks and canals. The remaining two I use on the boat or dock for chasing fluke on the flats with bucktail jigs or throwing topwater poppers to cocktail to 10 pound bluefish and school size striped bass.
7-0, Moderate-Fast, Medium/Light, 6-12
7-3, Moderate, Medium, 8-17
7-3, Fast, Medium, 10-20
These three rods will add to your arsenal and double for freshwater action as needed. I encourage you to not sell them short – they are the top of the line KastKing series of rods and believe me, they will make great inshore spinning rods. As for durability, the Fuji components will make these a durable option in and around the saltwater environment.
In Conclusion
I use both of these series of inshore spinning rods in the saltwater area. They are both durable, stand-up well to salt, offer great components, and fish well. The rods have a good range of weight classes and lengths for targeting any of the inshore species in your area, plus take on the stray larger fish roaming inshore – like a tarpon you might encounter near a local southern bridge or dock area, or that stray 30-pound striped bass.
However, if I had to pick what I would feel is the all-around best inshore spinning rod, I would have to give the nod to the Estuary Series. The biggest element to me is the butt length. Believe it or not, the added few inches will make the rod feel and act like a much longer and stouter rod. You will be able to tuck that butt into your armpit and put an amazing amount of pressure on whatever fish you are fighting. The second feature which gets the nod is the tapers. The Speed Demon has similar tapers, but with a slightly shorter butt, you will lose a little of the power when setting the hook. The Estuary will give you the ability to work lures well, fish a chunk or live bait – especially the 8-0 model, and win the battle. Call me vain, but I also like the color of the Estuary rod – it just flat out looks like saltwater!
You cannot go wrong with either, but for me, the Estuary is the winner where the best inshore spinning fishing rod is concerned. Hit the web and grab yourself one or two of these beauties and then upload your favorite inshore catch to the KastKing Facebook page and become a star.