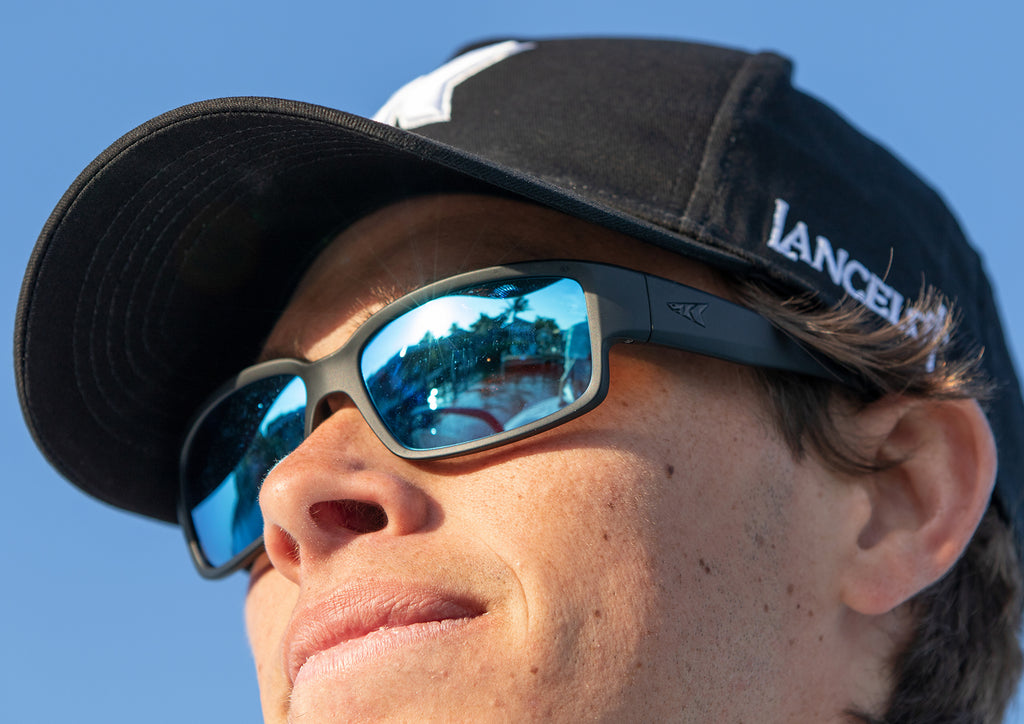 Best Polarized Sunglasses For Fishing
If you're a regular fisherman, you're probably on the hunt for the best-polarized sunglasses for fishing. 
One of the problems with fishing in the sun is it can be highly damaging to your eyes due to UV rays bouncing off the water.
And a decent set of polarized sunglasses can help protect your eyes by removing the sun's glare. But that's not the only thing polarized sunglasses are good for when you're fishing. 
Because they take the glare off the water, you're actually able to catch the fish in the water, so you'll never miss out on a bite again. 
So, in this article, I will introduce you to three of the best-polarized sunglasses for fishing. But, before I get into that, let's first talk about how to choose them and what you should be looking out for. 
Sound good?
How To Choose The Best Polarized Sunglasses For Fishing
Identifying the best-polarized fishing glasses is very important, especially if you're new to this world. It can be very easy to get carried away by fancy terminology that you've never heard of before. 
And the problem is: 
Many manufacturers will use these big fancy words or claim to have some sort of unique feature. But does it actually make the sunglasses better for fishing, or is it just a gimmick? 
This section will show you everything you should be looking for in a pair of polarized sunglasses, so you don't get strung along.
Glass Lenses Vs. TAC Lenses
There are a few types of polarized lenses you can use, but in this section, I'm going to be talking about polarized glass lenses vs. TAC lenses:
Glass Lenses
One of the most popular options in regards to polarized sunglasses is glass. And this is because they provide you with a crisp view compared to other styles. 
Glass lenses are scratch-resistant, so you don't have to worry too much about your view being compromised from scratches. 
The downside is that they are a lot weaker than other lense styles due to them being made from glass. And this means you have to be more careful to protect them from drops or your fishing fly coming back at your face.
TAC Lenses
TAC lenses are a lot lighter than their glass counterpart, which can make them feel more comfortable when you're wearing them for long durations  
They are also more durable than glass lenses, which means they should last you longer, and you don't have to worry about shattering if anything hits you in the face. 
And because TAC sunglasses are made with multiple layers, you can now get a clearer image than ever before. That being said, glass lenses still provide a clearer picture than TAC lenses.
Lens Colors
One thing that many people don't know is the color of your lens can significantly affect your fishing experience. So, before you pick a color, you need to think about what type of fishing you will be doing. 
Of course, you might not be doing the same style of fishing at all times, but you should try and match the color to the fishing style you're doing the most. 
And in this guide below, I'm going to give you a quick breakdown of what you can expect from each color:
Yellow Lenses:They are best for low light conditions and overcast skies. So, you can use these comfortably if you're going to be doing various fishing styles.
Green Front, Amber Inside:These colors are usually best suited for people fishing inshore or in shallow water.
Blue Front, Gray Inside:These colors work best for people planning to fish offshore. The front lens matches the color of the offshore waters and cuts through the glare more effectively.
Gray:These are the best choice for general all-around fishing, so they are ideal if you don't know where to fish the most. 
By following this tiny guide above, you'll have a better chance of finding a polarized lens that matches the style of fishing you're going to be doing.
Lens Curvature 
The last thing you should be looking for is a lens that fits your eyes. In other words, the lens curvature and how it compares to your dimensions. 
Ideally, you want your vision to be as close to normal as possible when wearing your polarized fishing sunglasses. 
If your fishing sunglasses have too much curvature, it will mess with your vision and distort your perception of where objects are. 
Your lens should curve on the side of your peripheral vision but should stay flat from top to bottom.
If you're unsure if your fishing glasses will distort your vision, there's a quick test you can perform. 
Put your glasses on your head and move your eyes in every direction. If your vision distorts at any point, you're going to have trouble with your perception of objects.
The Best Polarized Fishing Glasses 
Okay, you know what you're looking for when it comes to fishing sunglasses, but now I want to give you a few options to choose from:
KastKings Iditarod fishing glasses are available in four different lens colors to help you find the right ones for your fishing style. They also used a TAC lens to protect your eyes from any flying objects and provide more durability.
Multiple lens colors
100% UV protection
Exceeds the U.S. ANSI standards
Made with TAC lenses 
Finally, they can block 100% of harmful UVA and UVB rays. They also feature large temples, which help block sunlight from hitting your eye from the side.
These TAC lenses come in multiple colors for the perfect fishing experience. The polarized lens is 1mm thick and helps prevent eye strain. The TAC lenses are also impact-resistant to protect your eyes from flying objects.
Ultra-lightweight Grilamid frame
Stunning color range
0 mm polarized lens
Impact-resistant 
They also use superior frames, made with Grilamid material used by the military and in medical applications.
The stylish fishing glasses come with a highly durable frame to hold the TAC lenses in place. And this helps to provide extremely strong fishing sunglasses that you can't find anywhere else.
Multiple frame designs
100% protection from UVA & UVB rays
Multiple lens colors
Includes hard case and Prym1 microfiber pouch 
The TAC lens comes in multiple colors for you to choose from and can block out 100% of all harmful rays. And this feature helps you to see your surroundings clearly when fishing in your prime location.
Final Thoughts & Takeaways
I hope this article has helped you understand how to find the best-polarized fishing sunglasses without getting gaslit by fancy, unnecessary features. 
Remember, the lens is one of the most essential features, and if you get it wrong, your sight could be distorted.