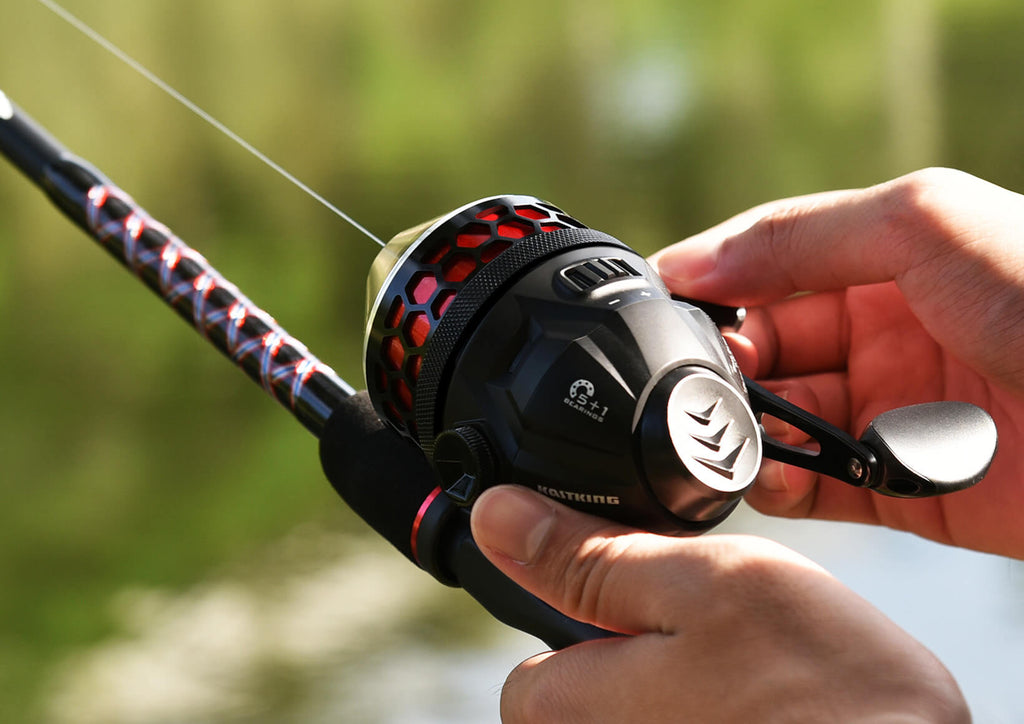 Best Spincast Reels for 2022
Although, the list of the best spincast reels for 2022 may be short, there have been many contenders for best the spincast fishing reel over the years. Historically there were a lot of options for the best spincasting reel including the Zebco 33 and Zebco 404 plus a Pflueger spincaster, or two.
Spincast reels, or bullet reels, push button reels, or closed face reels as they are sometimes called, are often consider a kid's fishing reel or a fishing reel for a beginner. However, even though many bass fishing pros got their start on a spincast reel and rod combo, many more anglers started with one before moving on to spinning setups or baitcasting rod and reel combos for trout fishing, crappie fishing, pan fishing or bass fishing.
What makes a spincast reel the best? Is it price, quality, or ease of use? There are some prerequisite requirements to qualify for the Best Spincast Reels For 2022 list:
Candidates must be a spincast fishing reel with line that comes pre-spooled with quality fishing line --  essentially monofilament line
 The push button reel must have dual line pickups to pick up slack line efficiently
The dual line pickups must be stainless steel that prevent corrosion and provide a good fishing experience
Quality components
It must be competitively priced
Are Spincast Reels Any Good?
Like a lot of things, beauty is in the eye of the beholder. But, making the case for whether or not spincast reels are any good, there are a lot of variables among brands. To be considered good the reel should meet the criteria listed above at a minimum.
Are there any good spincast reels? Of course there are. Many fishing tackle companies have made their bread, and butter, or got their start with these reels.
1. KastKing Brutus Spincast Reels
KastKing Brutus spincasters are a lot of bang for the spincasting buck. They feature an exquisite stainless steel dual pick up system that helps beginner fishermen have a fun day on the water without annoying birds' nests, backlashes and fishing line tangles.
Brutus Spincast Reels have 5 ball bearings, and exceptional amount for a budget fishing reel. It gives the reel smooth performance while an instant anti-reverse bearing gives the angler a solid hookset.
They arrive to the consumer with premium quality 10 lb monofilament fishing line. That's an added plus as many spincast reels come loaded with cheap line. What's more, the Brutus has a larger line capacity than other brand spincasting reels at a higher price. In fact, Brutus reels hold about 30% more fishing line than competitor's reels. Again, an added plus for making the best of list.
11 lbs of drag, a quick 4.0:1 gear ratio gives faster line retrieve, and a reversible double grip aluminum handle that easy to switch from one side to the other added to the reasons to put this on the top of the list.
And, the final qualify feature is the friendly low price of this spincasting reel. As of this writing the retail price is only $34.99. The price, combined with features that are usually only found on (or may not be available at any price on other brands) more expensive spincasters make this the best spincast reel for 2022.
2. KastKing Cadet Spincasting Reel  
It's the perfect starter reel or for the beginner who wants a low price fishing reel to try their hand at fishing. The KastKing Cadet Spincasting Reel made the Best Spincast Reels For 2022 list because of that, and that it met the necessary requirements for the best features in a spincaster.
First and foremost is the great value of this reel. With a mere $24.99 price tag, and meeting all of the best fishing reel requirements, it was easy to include on the best of '22 list. Even with all other features aside, at this price it's affordable enough for most novice anglers to get a reel to start fishing.
Like the Brutus, easy to use Cadet spincast fishing reels come pre-loaded from the factory with premium grade monofilament fishing line. Coming pre-spooled gets a new angler out on the water quicker without spending time on trying to learn how to add line to a spincasting reel. Its durable graphite body and nose cone will stand up to the occasional dropping mishap. A softly padded single handle is a great fit for smaller hands, and KastKing placed the reel handle close to the reel body to further help reduce hand fatigue, an important feature when taking kids fishing.  
Again, like their big brother KastKing spincaster, Cadet has have two, stainless steel fishing line pick-up pins for flawless performance and ease of use. Its Teflon drag washers provide 6.6 lbs of smooth drag that greatly reduce line break offs that can occur when using lighter fishing line on a spincast reel.
How Do I Choose The Best Spincast Reel?
In conclusion this article gives you a couple of suggestions for what the best spincasting reels for 2022 are. Things you should also take into account are: is it easy to use, does it have good eye-appeal so that you can feel comfortable giving the reel as a gift,, the fishing reel warranty, and what are the customer review ratings of the reel on selling websites such as Amazon?
Once you buy a closed face reel, after a few fishing seasons you may be ready to move on to other best-of fishing reels, whether an open face spinning reel or a baitcasting reel. But, if you want to stay with a spincaster reel, that's absolutely fine. That is why I suggested spincast fishing reels that are built to last.
The final take away for the Best Spincast Reels For 2022 is, whether you purchase a KastKing reel, or another brand, the bigger story of the spincaster reel is about getting people started in fishing, taking kids fishing, or just getting yourself out on the water in the great outdoors and having fun. Fishing with a spincasting reel is a great way to reduce stress; not create it.