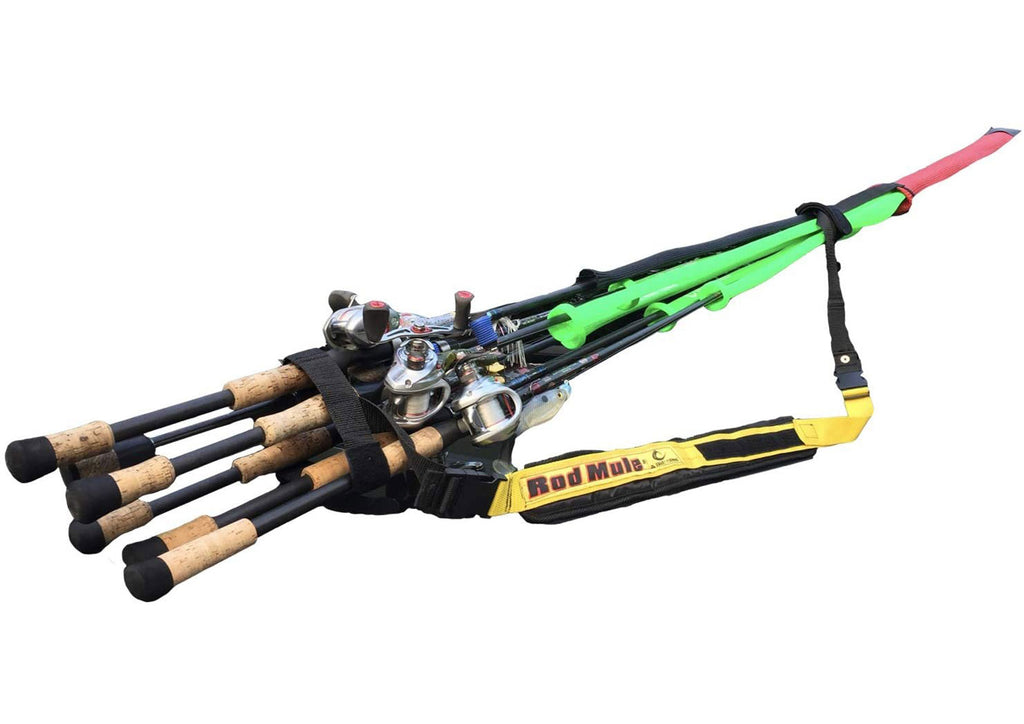 The Best Fishing Rod Accessories in 2022
In this day in age, it is not always just about the fishing pole, but also about the best fishing rod accessories! "Accessories Tom? What are you talking about?" When I think of rod accessories, I think of rod socks, cleaners – Mr. Clean, lure keepers, carrying racks and best of all a Butt Dial! Add all of these up and you have the best fishing rod accessories around.
Mr. Clean Fishing Pole Grip Cleaner…Lucas Wax Too
Do you have a favorite cork gripped or light colored EVA gripped rod that appears old and grungy? I am meticulous about how my fishing rods look when they are lying on the deck of my Javelin. I like them to be shown off to other anglers as they pass by… what can I say, I am proud of my fishing gear! For cleaning all my bass fishing rods, I use a Mister Clean white sponge. They are inexpensive, work great and have all my grips looking brand new. Grips are not the only area I want my rods to be sharp looking. I want the blank to glow like it just came off the tackle shop's wall. For this, I use Lucas Slick Master Fast & Easy Speed Wax spray wax, which I also use on my boat. The wax sprays on, wipes off easily and leaves no slimy residue. The rods looks brand new and makes this one of my favorite fishing rod accessories for 2022.
Lure and Hook Keeper
Almost all fishing rods come with a lure / hook keeper to keep the hooks safely in place while walking, lying on the deck, or in a rod carry rack. The worst part however is, if one breaks, or is located in an area you may not like. On my gear, I like the keeper above the reel seat. On a lot of new rods, the keeper is located below the reel seat. This is done so when you bag the reel, the lure is safely inside the bag, not outside where you could still get hooked while carrying it. To add one is quite simple thanks to the Fuji EZ Keeper. The hook keeper easily attaches via UV resistant O-rings anywhere you want it. A must have for all your spinning rods and conventional set-ups.
Cali Clip Drop Shot Sinker Holder
Another neat fishing rod accessory is one made for drop shot fishing. If you have ever utilized a drop shot rig, you have also encountered trying to figure out what to do with the weight after you put the hook in the hook keeper! Another great product by Cal-Coast is the Cali Clip. The clip attaches to any fishing pole, and best of all serves as a hook keeper and a drop shot or Texas rigged sinker holder. The clip has a slot where you can slide your line into and keep it secure without un-hooking the Texas Rig or just holding the drop shot sinker in place.
Rod Socks
Have you ever stacked several poles together and wrapped with a rod wrap? I am sure you have, and I am also sure that when you undid the wrap, the rods were a tangled mess! How about trying to get a rod out of your rod locker on the boat? Ditto, a tangled mess. Thanks to fishing pole rod socks available from a lot of manufacturers – Lews, Mustad, Falcon and Academy Sports VRX rod sleeve, your sticks will not get tangled, and the guides will remain safe. You also have the option of making your own socks by using expandable electrical cable sleeving. I made a bunch and did it for about $3 each.
Rod Carrying Case
As far as best fishing rod accessories go, a rod carrying case is right up there with one of the must have items. If you are not fishing on your own boat chances are you are either walking to a honey hole or fishing on a buddies boat. If you fish any tournaments as a co-angler, you will need to bring your fishing rods to the boat. Carrying a handful of rods is not easy without some form of case/holder. My favorite for this is the Cal Coast Fishing Rod Mule Rod Carrying System. What I like most is that after using, it takes up virtually no space at all.  Another way to carry your rods would be the KastKing Fishing Tackle Backpack. This backpack will hold several fishing rods, plus a ton of fishing tackle for walking to your favorite honey hole.
The Butt Dial!
By far, one of the best fishing rod accessories out there today is the Butt Dial. For years anglers have always had issues remembering what line they had on a given fishing reel. Was it mono or copolymer, what pound test was it. We tried everything from writing it down on paper, which was useless because most of us lost the paper. Then we tried putting it on the bottom of the reel. That was great until I switched from 10-pound braid to 15-pound fluorocarbon. Ever try removing permanent Magic mark? Thanks to two fishing buddies of mine – Dan McGarry and Chris Nehlen, the Butt Dial was born. The Butt Dial fits on most rods and will stay put once installed. The dial has four readings for fishing line – monofilament, copolymer, braided fishing line and fluorocarbon. It has 18 settings for line weight from 4 to 80 pounds. Simply dial in what you have on the rod and you are set! The Butt Dial was developed to fit handles with butts that are 1-3/16" in diameter or larger. They will 'not' fit tightly on smaller diameter handles or butts with round bottoms. Use one and you will no longer be the butt of any jokes when you can't remember what fishing line is on your spool!
I have either used all of the above best fishing rod accessories, or have friends that swear by them. For 2022, make your fishing rod lineup look good, be functional, hold your lures and rigs safely and always know what line size and type you are fishing at all times. If you utilize any or all of the best fishing rod accessories listed, I can guarantee you will be thanking me the entire year as they make your day on the water even more pleasurable.