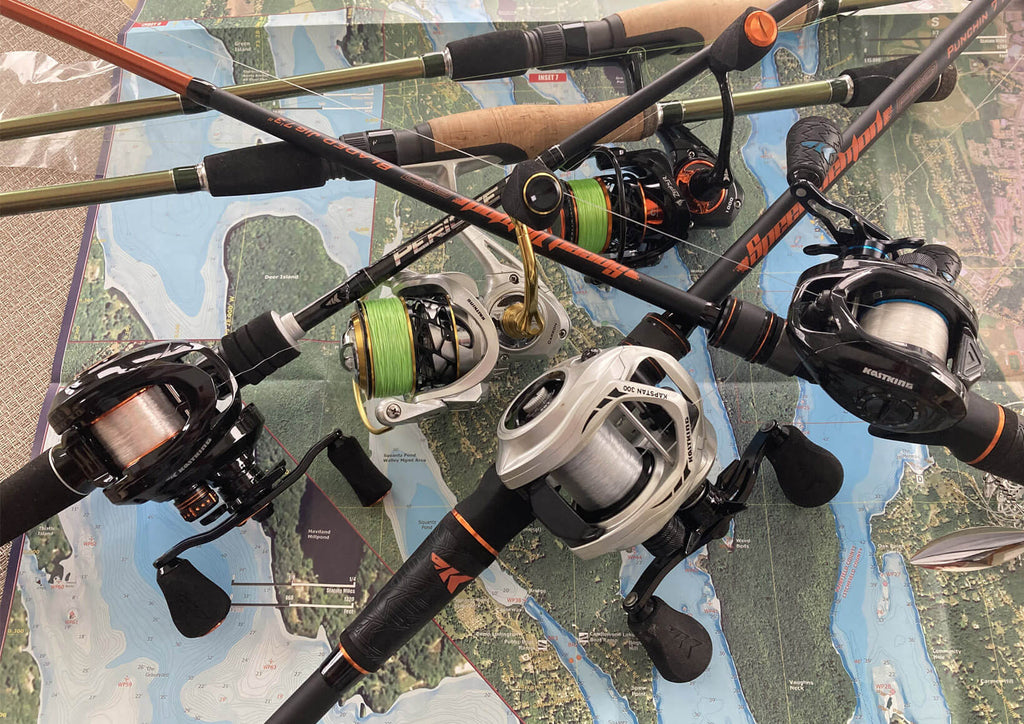 Baitcaster vs. Spinning Reel
Read this KastKing article that may answer the question, what is the best fishing reel when it's a Baitcaster vs. Spinning Reel
What do you prefer when fishing – a baitcaster or a spinning reel? This is a question that has been asked thousands of times across the globe. And, the answers are as split as the difference between the two. Let's delve into the question of baitcaster vs spinning reel and see why I prefer a baitcaster, spinning reel or both! I have been using both types of fishing reels for the better part of 45 years. I have used both styles in the surf of the Northeast Atlantic Coast to the waters of El Salto in Mexico. I have caught a ton of fish on both, and to this day, I still use baitcasters and spinning reels on every trip I take... it is just a matter of what works best.
Back when I was growing up however, there was never an option for a baitcasting reel. Partly because I am old, but more so because I grew up on Long Island, where saltwater fishing far outweighed freshwater. Although we used a lot of round reels, conventional reels were nowhere near what anyone would call a baitcaster. My first reel was a Mitchell 300. I bought it at the local sporting goods store. The reel was cool, super smooth, and I caught a ton of fish on it… and it was a spinning reel. As baitcasters evolved, so did my attention to these funky looking revolving spool reels!
Differences Between Baitcaster vs. Spinning Reel
We all know some of the differences between a baitcaster vs spinning reels and it usually comes down to distance. But, did you know that a well-tuned baitcaster is capable of casting just as far as a spinning reel, if not farther? Super caster Ron Arra won many a casting tournament long casting revolving spool baitcasters!
These are some of the feats Ron achieved, using a baitcasting fishing reel:
In 1983 Ron broke the DuPont Stren U.S. Open "Distance Surf Casting" world record with a cast of 212 yards with a 4-ounce bank sinker and an 11-foot rod.
He was the first American to cast over 600 and 700 feet in Tournament Competition.
He set a new National Record cast of 758.44 feet in the 1985 USA Sport Cast Tournament.
And lastly, he was the first person to ever cast across the Cape Cod Canal with a distance of nearly 800 feet.
Regardless of Ron's accomplishments, the baitcasting reel was always made for power and for right handed anglers. The spinning reel was built for casting and speed, and also built for right handed anglers. The handles of these reels were on the right for baitcasting reel and left for spinning fishing reels. There is a reason for this. When using a baitcaster, your power hand is on the reel handle. When using a spinning reel, the power hand is on the fishing rod. Fast forward to today and you can get spinning reels and baitcasting fishing reels with handles on either side. Sure, if you are a true left handed angler you can opt for the handle on the correct side. However, if you do not like to switch hands after casting, then you can get a baitcasting reel with the handle on the left side. The same holds true when casting, as casting is just like throwing, so your dominant right arm is doing the casting. This is why anglers cast both reels from the right side.
If you look at today's fishing reels, you will find that baitcasting fishing reels and spinning fishing reels really are quite similar in line capacity, gear ratio, size, ball bearings and weight. So then, why would you use a baitcaster vs a spinning reel? The answer is simple – personal preference, because today's reels can cross over and accomplish whatever the angler wants.
Baitcaster vs Spinning Options
There are various styles of fishing where you may want to utilize a baitcaster over a spinning reel or vice versa. For example, if you were throwing very small 1/32 ounce hair jigs in the colder months, a spinning reel and 2 to 4-pound test line would be the optimum setup. On the other hand, if I was deep cranking a Duo Realis Crankbait G87 20A, which dives down to 20 feet, the KastKing Speed Demon 7-10 deep crankbait or 7-11 Punchin' rod and Kapstan 300 casting reel is a great choice. Heading back in the opposite direction, the smaller hair can also be thrown quite comfortably with the new KastKing BFS (Bait Finesse System) and 4 to 6 pound test line,
whereas that deep crankbait can be handled with a 7-4 KastKing Perigee II rod and KastKing Spartacus II Spinning Fishing Reel that has a 4.4:1 gear ratio, which offers plenty of torque for the deep diver. In either scenario, the options for baitcasting fishing reel vs spinning fishing reel are endless.
There is one huge difference between the two that may have anglers opting for the spinning reel and that is backlashes when using a baitcasting reel. It takes some practice, even with baitcasters offering magnetic and centrifugal braking systems. On the other hand a spinning reel is quite simple. Open the bail, hold the line, make the cast. Although, baitcasting reel is very simple to use once you really understand what you need to do!
Making The Case For Baitcast Reels
On my baitcasting fishing reels, all the brakes are in the off position. I can do this because over the years I have learned from some of the best pros around how to make them cast without issue. Do I still get the occasional backlash – absolutely yes! And, if you tell me you do not get backlashes, you are lying! So what is the secret you ask? I have found, through a lot of trial, error and most of all talking to guys that can sling it, the key is spool speed. You cannot go slowly with a baitcaster for the most part. The lure and line needs to be coming off the reel as fast as the spool is spinning. If you try to finesse the bait and go slow, the spool will over spin, causing the backlash. It takes practice, but it can be achieved. I also suggest that until you get a "feel" for the baitcasting reel, utilize the brakes to help slow the spool, then slowly back off until you do not need them anymore.
The question of whether to use a baitcasting fishing reel or spinning fishing reel will forever be a question that has no definitive answer. When it comes to a baitcaster vs. spinning reel they both have their place in your arsenal, and both can achieve the needs of your fishing adventures. Before you choose just one, make sure you give both a baitcasting fishing reel and spinning fishing reel a chance to impress. And, for the record, baitcasters get the nod for me, especially since I now have the KastKing BFS fishing reel for finesse baits!
Tom Melton is an expert in all aspects of inshore saltwater fishing and freshwater fishing. As an authority on angling he strives to excel while teaching others, and in his own outdoors adventures. Whether it is a freshwater bass fishing tournament, or recreational fishing with family, his skills and knowledge always shine. Tom has been an outdoor writer for more than three decades.