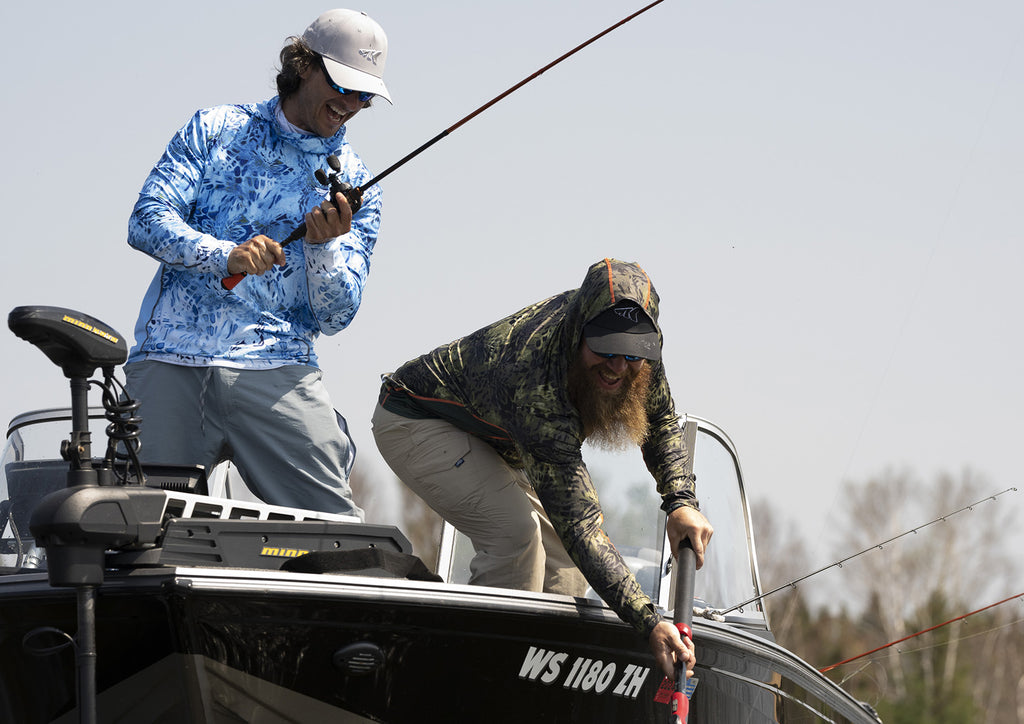 Choosing the Right Bass Fishing Rod Length
Bass fishing is a sport of worldwide popularity. While largemouth bass is considered America's premier gamefish, they are also common in nations as far away as Japan and South Africa. Besides the near-infinite places to catch largemouth bass, the techniques are equally as numerous. This can make selecting the right bass fishing rod difficult. However, we have compiled a list of the best features and most popular styles of bass fishing so you can find the right length bass fishing rod for your needs.
We will cover techniques and lengths in a moment, but first, we wanted to touch briefly on the materials for the rod. When selecting a rod, anglers should also consider the material it is made of. Most bass rods are made of graphite or fiberglass.
Graphite rods are generally lighter, stronger, and more sensitive than fiberglass rods. Graphite rods also allow the angler to feel the slightest of bites. Graphite rods are a newer material than fiberglass and tend to be more expensive than traditional fiberglass. Fiberglass rods are generally heavier and less sensitive than graphite rods. However, fiberglass rods are also less likely to break and provide anglers with more forgiving action. Ultimately, the best rod for bass fishing is the one that fits the angler's style and technique. Anglers should consider their techniques and preferences when choosing a rod. With the right rod, anglers can maximize their success and catch the biggest bass.
When it comes to bass fishing, choosing the right rod is essential to success. The right rod can make the difference between catching a few bass and catching a lot. When selecting the right length bass rod, there are a few things to consider. For each of the styles mentioned, we will briefly touch on the action of the rod, too. While this article is primarily about length, it's important to understand that there are more factors at play in rod selection than just length. Don't worry. We have another article dedicated to understanding rod action too.
On average, a largemouth bass fishing rod is between 6 and 8 feet. The longer the rod, the longer an angler will be able to cast. Longer rods give a greater range and accuracy, which can be helpful when casting lures designed to cover large areas like crank bait or spinner bait. However, the length of the rod may become too long for an angler to control. When fishing heavy cover like docks and submerged trees, a long rod isn't necessary to place the lures close to the target, especially since the lure won't need to "swim" a long distance back to the boat. Not only can long bass fishing rods become tangled in low-hanging branches, but an angler who plans on casting the same rod all day will quickly become tired of slinging a longer rod back and forth all morning.
Jigging
When jigging for bass, a medium-heavy rod is best. This type of rod is generally between 6'6" and 7'6" in length and has a fast action. The fast action allowed for quick strikes and increased sensitivity. The medium-heavy action also gives anglers the leverage to control the jig and set the hook. Jigging most often involves covering lots of distance, giving the bass plenty of time to locate and strike the jig bouncing across the bottom. The longer rod allows for better casting distance and lets the angler use it for leverage when casting heavy jigs. When fishing in heavy cover, such as pitching a jig, the added length becomes an asset not in casting distance but in the ability to leverage the fish out of heavy vegetation like lily pads. 
Senko
When fishing with a Senko, a lighter rod is preferred. This type of rod is generally between 6' and 7' in length and has moderate action. The moderate action helps the angler feel the subtle bites of the bass as it takes the Senko. The lighter action also allows the angler to make accurate casts. Fishing a Senko or similar stick bait doesn't require long casts. These finesse lures are best used to target specific bits of cover, such as an opening in a weed line or a boat dock. Anglers use the 6 to 7-foot length rods to effectively place their baits directly in front of fish. In this case, it would be a disadvantage to have a longer rod that would ultimately move the angler farther away from the target, eliminating the precision needed.
Crank Baits
When fishing a crankbait, the angler needs a rod that can launch a bait as far as possible. Not only does the long cast mean more area (water) is covered, but in deep diving crankbaits, the lure needs distance to dive to its maximum depth. Anglers who plan on fishing primarily with crankbaits should look for a rod with slow action and medium power to draw the maximum amount of distance out of their casts. Rods in the 7 to the 8-foot range are ideal for making these long casts. When fishing lighter or shallower diving crankbaits, anglers can opt for rods in the 7-foot range. Anglers fishing deep divers should look for rods at least 7 ½ feet long.
While this list doesn't encompass every style of bass fishing, it covers what are considered the three most popular styles commonly used by everyone from pros or Lake Biwa to weekend enthusiasts in Arkansas. Taking these factors into account for anglers looking onto their first or next bass fishing rod can guarantee a great fit and a less frustrating day of fishing.