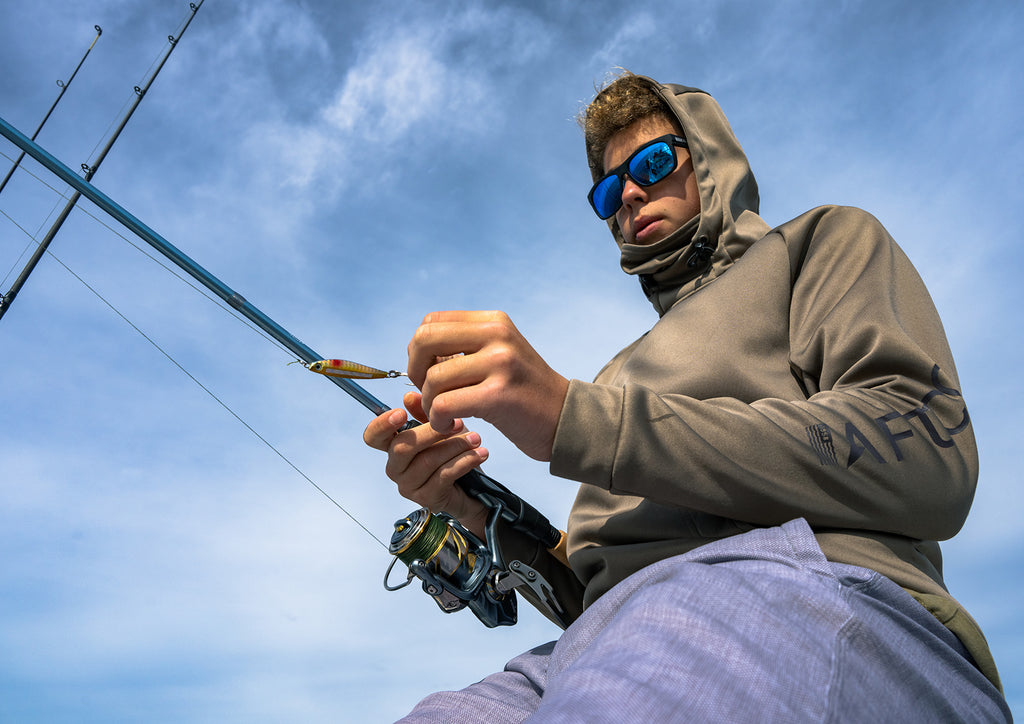 Reel Review: Kapstan Elite Spinning Reels
There are hundreds of spinning reels on the market today, but there are only a handful that are truly made for saltwater. Spinning reels that have been designed to withstand the invasion of saltwater, or to keep saltwater totally out of the main gear case for years of quality service. These reels come in all price ranges with some exceeding the $1000 mark without blinking an eye. New for this year is the KastKing Kapstan Elite Spinning Reel. I used this reel extensively this past fall in the hard saltwater environs of Long Island. Let's take a look at what I found out while using, what I feel, is a new player to the saltwater spinning reel, and comes in at a lot less that what you would expect for its quality.
If you plan on fishing like this, then you better make sure your spinning reel is up to the task. Photos by Tim C. Smith
The Nuts and Bolts
KastKing had done a phenomenal job in the Kapstan build. This reel is a tank, with high end components, and machining that rivals spinning reels in a lot higher dollar value.
100% Waterproof fishing reel at IPX6 designation, with up to 15 EverSeal rubber rings to keep water out of the main gear
I.S.S. system includes labyrinth-style greased sealing grooves that reduce rotational resistance and provide an innovative water-tight seal
IPX6 100% Waterproof rating for saltwater fishing
15 EverSeal rubber rings to keep water out of the main gear
Exceptionally strong and smooth quad-disc carbon fiber drag*
Max-strength CNC aluminum frame construction
HRB 90 high strength aerospace alloy pinion gear with manganese brass gear
Premium CNC Aluminum Power Handle
Available in 3000, 4000, 5000, 6000 and 8000 sizes, *triple-disc carbon fiber drag featured in 3000 and 4000 models. Six disc on 8000.
Care
While fishing in saltwater, the first question I always hear is; "Is that reel waterproof?" Before we get into how waterproof a reel is, let's bear in mind that I don't care how waterproof your reel is, you still must take care of them. Just because no saltwater may get into the gear case, the saltwater will destroy all the components outside that area easily if not taken care of.
After a trip to the saltwater environs with any of my spinning reels, I always – no matter what time I arrive home – rinse off the reel with freshwater. This simple rinse believe it or not will go a long way in ensuring the spinning reel will last for years.
For years I used two different, non-sealed spinning reels for surf fishing. They were the Crack 300 and Penn 706Z. Both these reels allowed water to get into the gear case. On these reels, they were always rinsed, and every other trip, the gear case was opened up and drained of any saltwater that entered and given a quick spray of WD-40, which dispersed the saltwater. As the reels were packed with grease, just getting the saltwater out ensured they would last. At the seasons end, these reels were totally broken down and thoroughly cleaned and re-greased with fresh grease.
For the Kapstan Elite Spinning Reel, this is not needed, but a simple rinse of the exterior and the removal and cleaning of the drag washers needs to be done after every trip. If you do these simple things, this spinning reel will last for years in the saltwater environment.
The Bucket Test
I have done this test with a lot of reels over the years just to see how waterproof they really are. I call it the bucket test. It is a pretty simple test, set up a bucket of water and dunk the reel for an hour. After an hour, remove the reel and open the gear case to see what you find.
I put the Kapstan Elite Spinning Reel to the test. After an hour I opened up the side gear case and not one single drop of water came out. This is a controlled test and the high pressure splash of a surging wave may force water into any reel, but for me, knowing that a simple dunking won't see saltwater in the gear case is phenomenal.
All of the high end reels – Van Staal, ZeeBaas, Shimano Stella SW, Daiwa Saltiga, Tsunami SaltX, Penn Torx and Visser will all pass this test with flying colors. However, short of the Tsunami coming in at only $100 more than the KastKing Kapstan Elite, the others are all over $500 each! Don't get me wrong, these reels are all worth every penny, but if your budget is not allowing that kind of spend, the option of the KastKing Kapstan Elite is the way to go.
In Conclusion
I also like the build of the Kapstan Elite as it is a tank. The machining that has gone into it is high end. The components are quality and offer a solid platform for the spinning reel to perform flawlessly. Another key component is the drag and this reels drag performs as smooth as any out there, and allows a lot of pressure if needed. If you want a solid spinning reel for saltwater use, this bad boy needs to be your next purchase.
Just for sizing, I use the 3000 size on a 7-6 KastKing Estuary series rod and the 5000 on my Lamiglas 11-foor surf stick. The 6000 would be a good fit on the 11 footer as well, while I feel the 8000 would be best suited for the offshore boat side, chasing tuna and sharks. The 4000 size is a great fit for 8 to 10 foot rods.
If you want a high end saltwater spinning reel, then check out the KastKing Kapstan Elite series. You will not be disappointed!