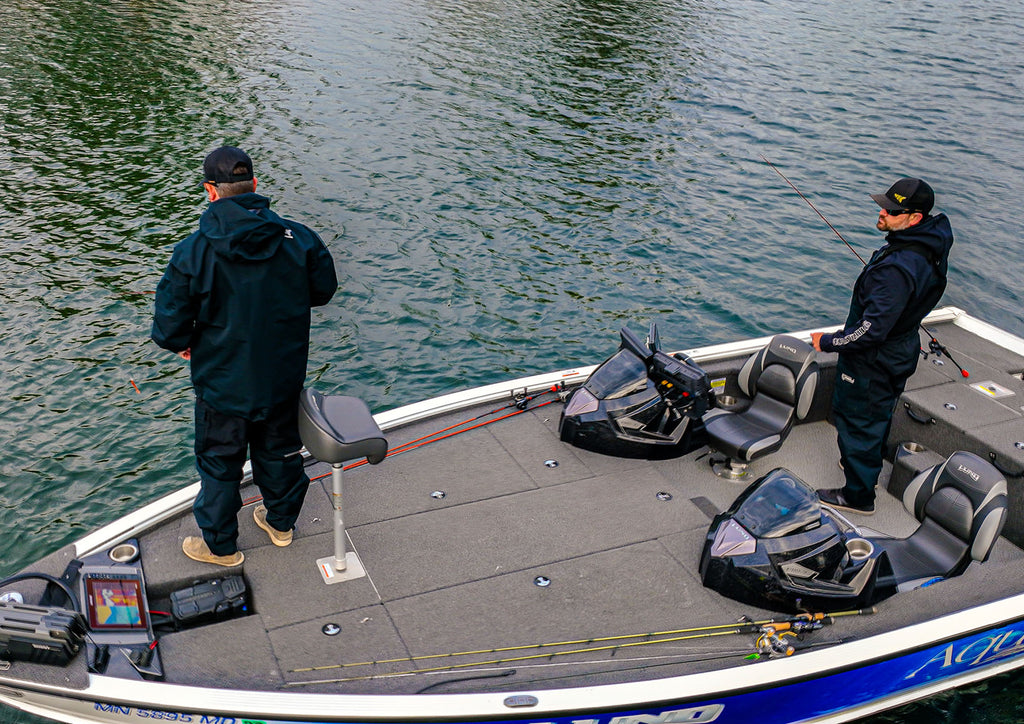 Staying Dry: Choosing the "Right" Rain Gear
If there is one thing that can put a damper on fishing, it's being soaking wet because you have no rain gear, or inferior rain gear and a down pour hits! Rain gear is something all anglers should carry at all times when fishing. Not only will it keep you dry, it will keep the wind at bay, which will aid in warmth as well. Virtually every company out there has rain gear for anglers… and the prices can go from low budget to high end. Just because a rain gear is lower in cost, does not mean it is inferior though. Let's take a look at what I feel you need for certain situations and why you need it. 
Before you can choose the "right" rain gear you need to figure out what you are looking for. Are you a bass boat angler scooting along the lake at speeds that are almost criminal? How about the inshore guy who is rubbing against the boats gunnel all day and protected from the center console or cabin? Are you the guy that walks the banks of his favorite honey hole? All of these situations require a different set of rain gear. One of the most critical components of any rain gear to me is taped seams. Seams that are not taped will eventually leak, or leak right out of the box. 
The Bass Boat Guy
As I am one of those bass boat guys, let's start there! The most important feature on any rain gear where these anglers are concerned is total waterproofing. I am not talking about the torrential rain when I am sitting still as most rain gear, even the less expensive ones will keep you dry. I am talking about slicing rain with winds from a moving boat finding any crevice in the rain gear. Bass boat guys want the total package – something the new KastKing Deflektor offers. We will get more into this suit at a later date. For now, all you need to know is what style rain gear offers the best attributes. 
Flexibility – I want the suit to move with me in all directions and not impede my casting, moving around the boat or slipping on my life jacket to move to another spot.
Pockets – I love pockets, but they have to serve the right purpose. I need some large ones for soft plastic baits, smaller ones, which really need to be waterproof for a cell phone and a plier holder at the bare minimum. 
I want either a high back bib or tail on the jacket so when I sit down to drive, there is no way my bottom gets wet.
Inshore Fishing
Inshore fishing may require a totally different type of rain gear. Not to say the bass boat guy's rain gear will not work, but different issues arise on a center console than a bass boat. For one, you almost never sit down on a center console, so a tail or super high bib pants are not as critical. However, leaning on the side gunnel of a console all day is putting serious pressure on your pant legs, which may cause holes or rips. For some reason, pockets are almost never wanted by these boat guys!
Heavier material PVC or similar to aid in wear against rubbing
No pockets. Anglers fishing inshore have ample storage and usually never carry anything in pockets, and pliers are on the deck box or similar
Preferably a pull over jacket to eliminate zippers of any type
Walking the Beat
Just like the bass boat and center console saltwater inshore guys, shorebound anglers also need to stay dry and comfortable from the elements. The biggest difference between the three is shorebound guys can't just throw their rain gear in a locker on the boat when they are not needed. For shorebound guys, we need light, packable rain gear. 
Light and packable – this will aid in storage when the rain gear is not needed. Most shorebound anglers carry small backpacks or bags, with limited storage space.
Breathable fabric which aids in reducing sweat on the warmer days while trekking to the favorite honey hole in the rain.
For comfort while walking, most will prefer the pants style bibs rather than high bibs. 
We All Need…
When choosing the "right" rain gear for fishing, the most important factor may be the bottom line. Price point is critical to all of us, but staying dry is also just as critical. There are hundreds of rain gear sets on the market. Some are much less than others, and some companies offer a variety of price ranges. You do not need to break the bank to get a good quality set of rain gear. The biggest difference between the really high end gear and mid-range to low budget is durability…how long will they keep me dry over a period of time; in days, months and years?
I have used a lot of different rain gear sets out there from high end $600 sets to low budget $69.99 off the rack. Most will keep you dry in regular rain storms. However, if you are running a bass boat, or plan on being out in heavy, wind-swept conditions at times, you want to go with one that pretty much seals you from the outside world in the way of cuffs, drawstrings, taped seams and water tight zippers. 
There are a ton of rain gear sets out there. Talk to your buddy, the guys at the ramp, local tackle shop or internet search to see what style and price range is "right" for you. Bottom line is you have to like it… but it also must work and keep you dry.