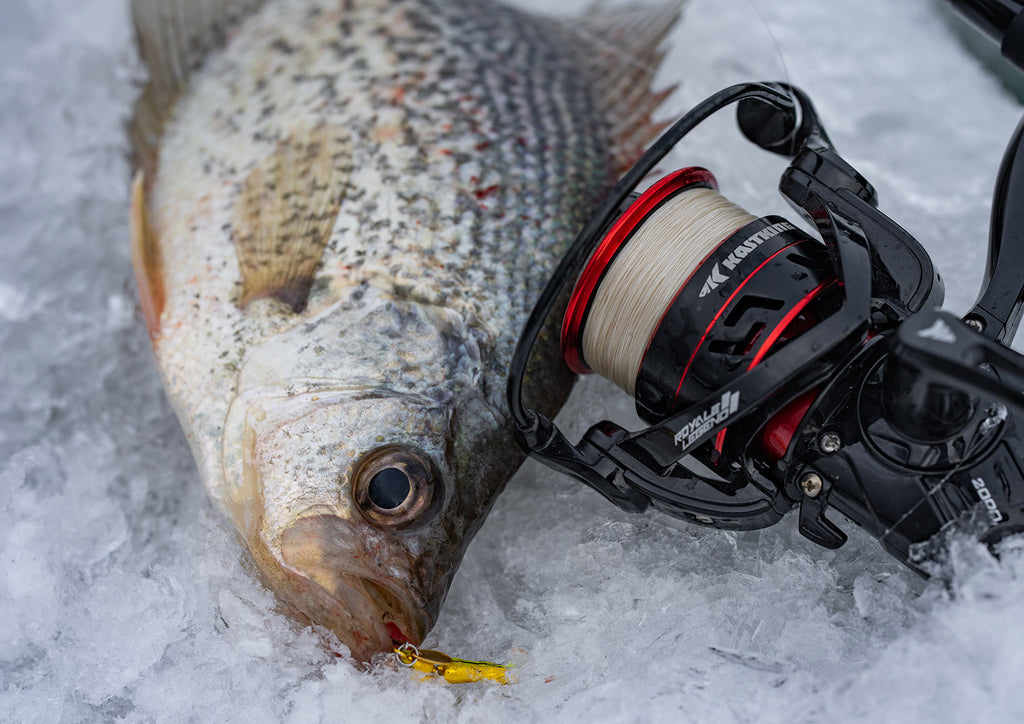 Best Ice Fishing Line - Mono, Fluoro or Braid
Many of you can share my excitement to head out and start ice fishing again. Winter is here and the frozen lakes will be ready to be fished, here are my tips to have a successful and fun trip on the ice. First and foremost I feel it important to address the very important safety concerns with ice fishing. I have been just a handful of times and have always been a bit apprehensive of getting on the ice. I am very much focused on how to be as successful as possible when fishing, but will emphasize the need for safety when ice fishing is concerned.. Please, please consult with your local tackle stores and community service groups to assure you have all of the safety protocols in place prior to going. Personal safety items such as floatation devices, ice spikes to walk and measuring the ice to reduce the opportunity of falling through should all be considered. With that said, let's talk about line choices when ice fishing.
Monofilament
One of the most widely accepted and standard ways to fish is using monofilament line. Tried and true mono has properties that help all types of fishing including in the ice but like many things, there are two sides to the coin. Let's start with the benefits.
Mono is well known to be very clear and nearly transparent under the water. The ratio of strength of monofilament to the diameter is very good. Mono is known to be very cheap and widely accessible in many stores, even ones that do not specialize in fishing tackle. The line has little memory, a term used to describe the way a line keeps a shape like on the spool of the reel. When used on a regular basis and not exposed to too much heat, mono comes off the spool without much curling. Another feature is that the cold temperatures affect the flexibility, there are versions that can be purchased that reduces the effect of the cold temperature drastically. When used properly and on a regular basis though there is no need to buy something specific, regular monofiliament is just fine. I do however suggest buying spool of it and changing your line once a season, especially if you use it in diverse temperatures and throughout the summer. The trade off in using mono is that is stretches when there is pressure on the line, at some points up to 25% of the line length. This stretch makes it more difficult to feel the bite and can also be the source of the line going slack which then could provide the fish an opportunity to spit the hook. Consider also that monofilament inherently floats so the line has a more difficult time to get to the bottom with some of the lighter weights being used in ice fishing.
Fluorocarbon
Many anglers are already very familiar with the benefits of fluorocarbon but it is worth discussing. Basically a multiweave version of mono, fluorocarbon is very close to being transparent under water. In the process of creating the fluoro, it is also more abrasion resistant than mono. This is a great attribute when fishing for fish with teeth or that could rub up against structure after being hooked.
Fluorocarbon also sinks which helps the line and bait get down to the bottom of where you are fishing and you can then use lighter weight which permits a more natural presentation. As far as stretching, fluoro does not stretch as much as mono but still has a good amount of give to it, which again depending on the angler could pose a risk of letting the line go slack and give the fish the opportunity to spit the hook. With all of these great features, it seems like everyone should use fluoro all the time, right? Some of the downfalls with fluoro is that it is very expensive. Easily twice to three times the price of mono, you pay for the benefits. Another negative is that fluorocarbon also has more memory than mono. Coming off a spool, you will see a noticeable amount of curling as the line slides in the water. That is of course, assuming you have enough weght to pull it down.
Braid
This type of line has evolved the most over the years. Formally referred to as Spectra or Dacron, this line is basically a weave of threads around a core and spun like a miniature and more dense line of yarn. Some advances in this line can include Kastking Destron which is a line that is weaved in one direction like clockwish and then that line is wrapped around the core in the opposite way. This prevents memory and allows the line to be more pliable. Some other attributes of braid is the number of carriers that is being used to weave it. KastKing 13x finesse is very thin 12 carrier braid that is weaved around a core making it extremely sensitive and thin. Braid is much thinner than mono with the same lbs rating. It has no memory when coming off the spool and in normal conditions, lasts many seasons. Since it is not a polymer or plastic that is extruded and needs to be woven, it is more expensive than the other kinds of line.
Ice fishing is the only exception in my opinion on the use of braid. Normally a huge advocate, I do not normally suggest using braid for ice fishing. Consider that the braid is actually woven fiber and has a tendency to freeze up and wear down quicker. Braid also floats and because of it's density actually makes getting to the bottom take a bit more weight. What is great about braid though is that it has zero stretch and memory. While fluoro and mono may get nicked which could develop to a larger fragment or crack in the line, braid will not be affected. Another negative with braid is that you can see it very clearly under water. It is a non-translucent fiber weaved line that shows up very clearly and may scare away your potential catch.
One thing that can be done is use a combination of braid and one of the other types of line. I personally normally use a combination of braid and fluoro for all other types of fishing with the exception of ice fishing where I mentioned earlier I do not use braid. To attach one kind of line to the other, I suggest learning how to use the FG knot. Small, thin and very durable when tied properly. When using a combination, you gain the benefit of both lines such as reduced visability where the fish would normally see, near the hook.
I wish you luck with the selection of line and keep in mind that what I use in the areas I go to may differ to yours in size and behavior, always be ready to change things up to accommodate your local fishing.