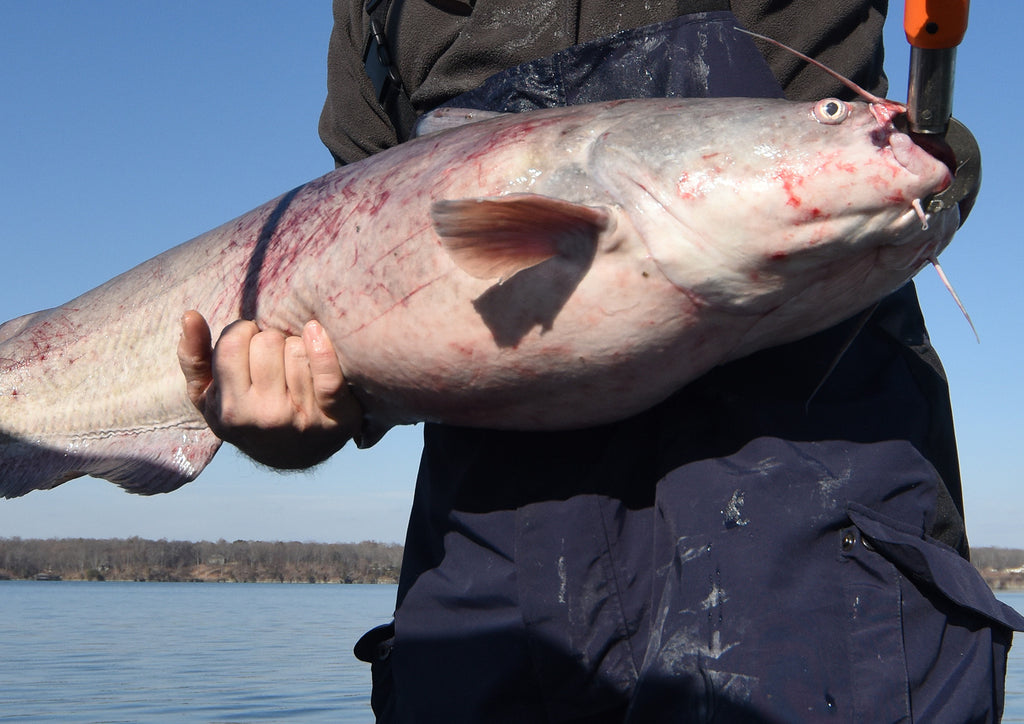 Choosing the Right Braided Fishing Line for Catfishing
Catfishing is far too often considered a cheap hobby, and the fish themselves are "trash fish." Considering the high-quality table fare of a catfish and the excellent fight of a big blue or flathead catfish, nothing could be farther from the truth. For anglers willing to put thought into their gear and presentations for catfish, the reward is more fish and bigger fish. An angler should consider choosing the right line for the job on every catfish setup. In the case of catfishing, we are talking about fishing with a braided line and how to choose the right braided line for catfishing.
Feeling the Bite
Braided line is ideal for catfishing, first off for its incedible sensitivity. The ability of an angler to detect even a subtle bite from a catfish is key to a good hookset and fewer lost fish. The sensitivity of bradied line allows anglers dropping baits into deep channels to still feel these knocks and nibbles of catfish regardless of current. If you will, the receiving end of this sensitivity is that hooksets are much more forceful. An angler can gain some assurance that the hook will be going where it needs to go when they set the lever to strike or set the hook on a big catfish in the current. Look for a braid with minimal stretch and a focus on sensitivity, like the KastKing Mega8.
Capacity
A massive bonus for anglers selecting braided line for catfishing is the increased spool capacity from the thin diameter of the braided line. Braided line is significantly thinner than monofilament line of the same strength. In the case of KastKing Destron braided line, it is 75% thinner than monofilament of the same strength. Now a reel spooled with a 20-pound braided line can hold more than twice the amount of line as if it were spooled with monofilament. For anglers who fish for catfish in large rivers where baits need to be placed a distance from the bank or boat, this capacity increase is a welcome sight. At a reduced line, diameter anglers can also bulk up their line and select heavier strength braided line to give them an edge over the river monsters like massive blue catfish that can top 100 pounds.
Abrasion Resistance
Catfish, by their nature, love to live in the nastiest pieces of rivers and lakes that they can find. Their underwater layers are often rock piles, sunken logs, or culverts. Any of these pieces of structure will destroy the line. Of all the line types on the market, braided line has the best abrasion resistance making it well-suited to fish in and around nasty bottom structure. Even a catfish's mouth with its rough sandpaper jaw can quickly wear a monofilament line during a long fight.
By definition and design, braided lines are designed to be ultra-strong and resistant to fraying and abrasions, which is essential when it comes to catfishing. The multiple strands of line braided together help share the load under strain and allow small knicks in the line to not become catastrophic failures common on monofilament lines.
Taking all of these factors into account when looking for a braided line can seem daunting. Luckily braided line solves many of these problems before we even compare brands. On average braided fishing line is thinner, more responsive, and more abrasion resistant than a monofilament line. The challenge or fun, depending on the type of shopper you are, begins when looking at individual brands and products. Looking at all of these different requirements of a serious catfish angler, the choice of any of the KastKing braided lines would be sufficient. However, the Kastking SuperPower braided line fits the bill nicely. SuperPower has all of the sensitivity of a good braided line, so you can feel that flathead grab a live shiner down near the bottom. With a thin diameter, anglers can fit plenty of line on the spool, perfect for getting baits down deep on a river bend and having plenty of line left to fight a big one. So thin, in fact, that 30-pound braided is only one-tenth of an inch thick! Superpower's abrasion resistance is nearly second to none. Comprised of ultra-high molecular weight polyethylene Braid fiber, SuperPower is literally bulletproof. The fibers used in this line are the same as what ballistic vests comprised of.
One additional consideration that wasn't mentioned but also leans in favor of SuperPower is cost. One complaint that frequently arises when anglers attempt to outfit their reels with braid is the increased cost compared to monofilament. Sure some of that perceived cost is in the amount of line required to fill a spool, but some are related to the cost per yard of braid versus the other options on the market. SuperPower is a price-minded option for anglers. At 5 cents a yard, the line is only a few cents more than monofilament. With the added value from not losing fish and having a much better response from a hook set, it's not a hard call to make. For the cost of a fast food burger an angler can bump their odds of landing a big catfish dramatically in their favor and switch to SuperPower braided line.