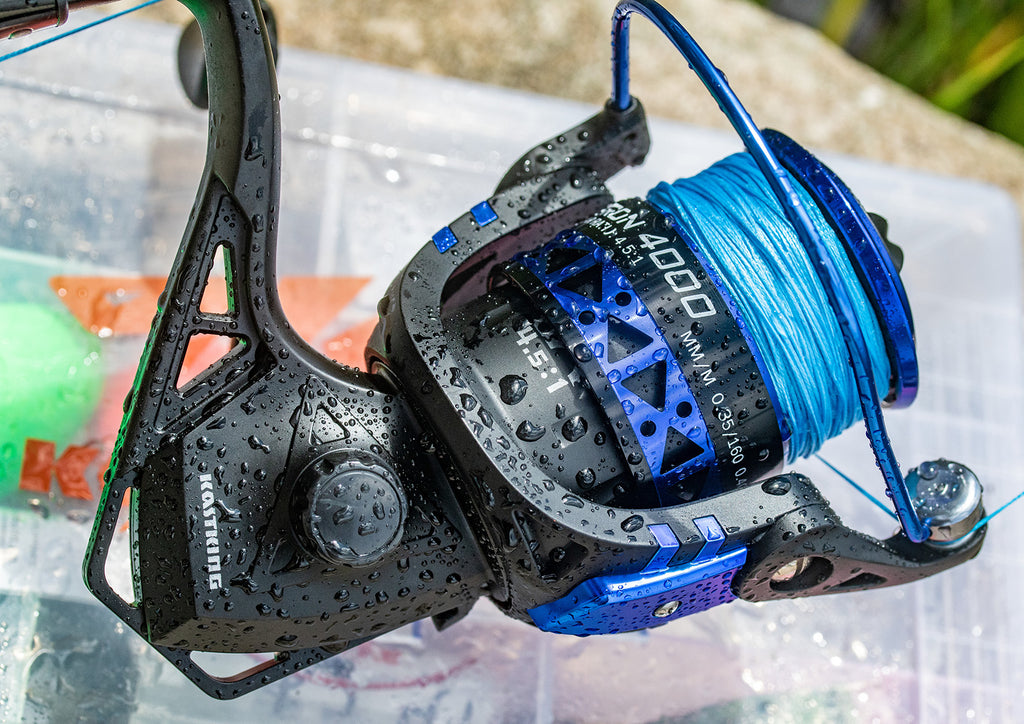 The Best Saltwater Fishing Gear Combo For Starters
If you are new to saltwater fishing, the process of gearing up can be challenging. What type of rod and reel should you buy? What kind of line and lure? How do you choose the right tackle for your needs? In this article, we will provide all the answers to Saltwater Fishing Gear Combo For Starter, to help make the process a little bit easier.
1. KastKing Spinning Bundle For Beginner Fishing
The KastKing Spinning Bundle is an excellent choice for beginner Saltwater fishers. It comes with the Crixus Fishing Rod, which has a 6'6 length, fast action, and medium power. The rod is two pieces and features 7+1 guides. The Zephyr Spinning Reel adds to this setup with its size-2000 5.2:1 ratio and 7+1 ball bearings, providing a smooth retrieve.
The reel is lightweight at only 7.4oz and offers a max drag of 18 lbs with 26.2 inches per turn for anglers who love to fight their catch. KastKing has included its World's Premium Monofilament Fishing Line with an ice-clear color and 8 lb strength to complete the bundle.
Finally, the MadBite Species Tackle Kits come with 177 pieces of Panfish lures that will surely help you catch those Saltwater fish! Altogether, this Saltwater Fishing Gear Combo is an excellent choice for starters.
2. KastKing Centron Spinning Combos
The KastKing Centron Spinning Combo is the perfect choice for saltwater fishing starters. The combo includes a lightweight and sensitive Toray IM6 graphite blank rod that is strong and durable. The rod is also fitted with stainless steel guides with O-rings for added durability and strength. The contoured EVA handles, and fighting butt makes it comfortable to handle and cast.
The Centron Spinning Reel is also included in the combo, designed with Maxi-Dur ball bearings for smooth operation and maximum durability. Additionally, it has an anti-twist line roller to minimize line twisting during casting. The reel is constructed with a lightweight graphite frame and aluminum spool for maximum strength.
Overall, the KastKing Centron Spinning Combo is an excellent choice for Saltwater Fishing starters. It offers a strong, lightweight, and comfortable rod with a smooth operating reel for maximum performance. Start your Saltwater Fishing adventures today with the KastKing Centron Spinning Combo.
3.KastKing Crixus Fishing Combos
KastKing Crixus Fishing Combos are designed to provide anglers with excellent quality and versatility at great value. These combos come complete with a spinning or baitcasting reel, a KastFlex IM6 Graphite Blank rod, stainless steel guides with zirconium oxide rings, and a super polymer handle for maximum grip and control.
The Crixus spinning reel features a lightweight, carbon-infused frame, CNC aluminum spool, and powerful carbon drag system. With 7+1 double-shielded stainless ball bearings, this reel is designed to deliver smooth operation and long casts with minimal effort. The baitcasting combo also provides an excellent casting experience thanks to its precision-crafted spool and powerful drag system.
The Crixus combo also includes a KastFlex IM6 Graphite Blank rod designed for power, sensitivity, and durability. This blank is available in light, medium, and heavy power ratings from 5'6" to 7'0". The stainless steel guides with zirconium oxide rings are designed for maximum line protection and smooth casts. The super polymer handle is comfortable to hold and provides an exceptional grip in wet conditions.
The Power Transition System (PTS) further enhances the performance of this combo by allowing it to feel like a one-piece rod when connected. This ensures the rod is highly responsive, even when casting with heavier lines.
All in all, the KastKing Crixus Fishing Combos are an excellent choice for anglers of any skill level who want a quality combo at a great price. The combination of the lightweight reel, durable rod blank, and powerful drag system make this combo ideal for those looking to fish in saltwater and freshwater.
With the added bonus of the super polymer handle and PTS technology, this combo will surely be a hit with anglers looking for an all-in-one solution. For those looking for a reliable saltwater fishing setup, look no further than the KastKing Crixus Fishing Combo.
How To Choose The Right Combo For Your Needs
Choose the right type of rod and reel combination for your fishing style. Saltwater fishing requires a different set up than freshwater, so consider what type of fish you are trying to catch and the techniques you will use to do it.
Consider your budget: Saltwater fishing can be quite expensive, but there are some great deals out there if you shop around. Determine what type of combo will fit your budget, without sacrificing quality or performance.
Choose a rod that is comfortable to use and fits your hand size: Saltwater fishing often involves long days on the water, and you want a rod that won't cause fatigue while allowing you to make accurate casts.
Look for a reel with a good drag system and smooth operation: Saltwater fishing requires reels with powerful drag systems that can handle the stronger fish found in saltwater environments, but also ones that are easy to operate.
Consider purchasing a combo package: Many major Saltwater fishing gear companies offer combos with all the necessary components, so you don't need to purchase them separately. This is a great way to get everything you need, at an affordable price.
Considering these factors, you can be sure to find the best Saltwater Fishing Gear Combo for your needs. Get out on the water and catch the big ones! Happy fishing!
Conclusion
As an angler, having the right saltwater fishing gear combo for your needs can make all the difference in success. Saltwater fishing requires specialized equipment that is often more expensive than traditional freshwater fishing, so it's crucial to invest wisely in the best combination of rods, reels, and tackle to get you started.
Understanding the basics of saltwater fishing before getting started is essential, as this will help you make better decisions with your gear purchases. Saltwater fishing can be gratifying, so don't forget to have fun and enjoy the process! Good luck, and happy fishing!