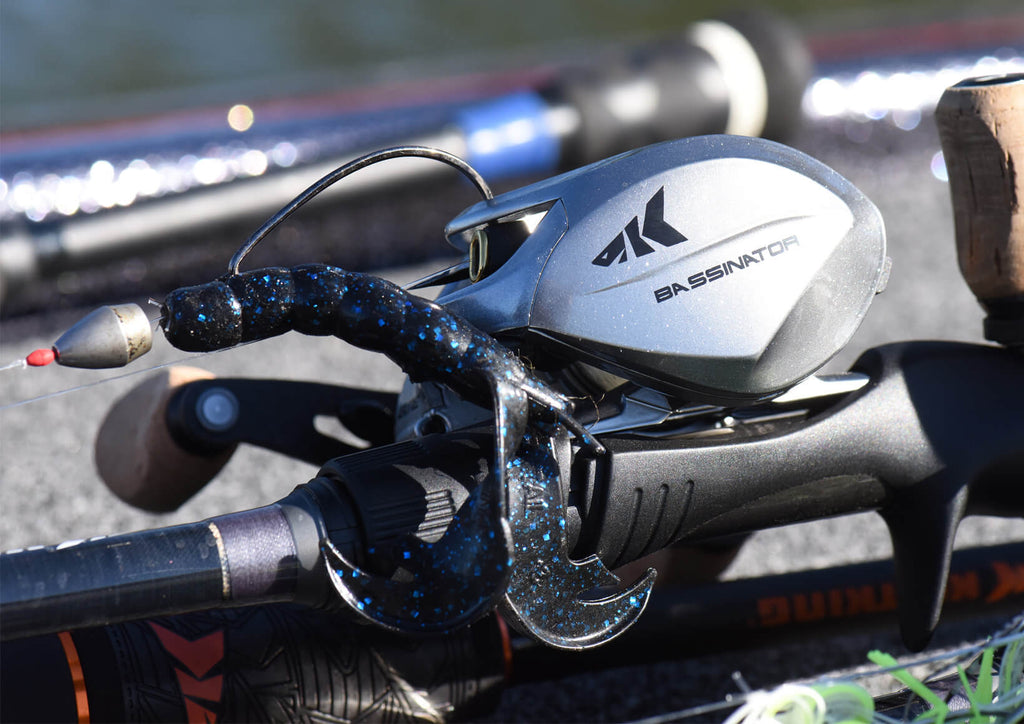 Five Best Baitcasting Reels for 2022
Here's my list and opinions of the five best baitcasting reels for 2022. All of my picks are KastKing baitcasters. They are listed in no particular order as some special feature concept reels may hold a better value for some anglers. Best value is a key consideration. KastKing has many casting reels that would qualify in the best baitcasting reel under $50 or best baitcasting reel under $100. These reel are a bit over the hundred dollar threshold, but they offer great value at their price points. They all fit within KastKing's slogan of Affordable Innovation. What are the best baitcasting reels they offer? Read on for some new surprises…
1. MegaJaws Elite – The world's most versatile baitcasting reel
KastKing has termed this not only their best baitcasting reel, but they also crammed MegaJaws Elite full of features to call it the world's most versatile baitcaster.  Here's why…
Zero Backlash Brakes
A patented-design "Auto-adjustment Magnetic Braking System" that never backlashes. The amazing AMB system alone could make this fishing reel a top contender against any brand. The global patented AMB system adjusts the brakes depending on the speed of the spool. When the spool spins fast, the four discs rotate out and cover more magnetic area that provides more braking power. As the spool slows down slightly one pair of discs retracts decreasing the magnetic brake force. As the spool continues to slow down even more the other pair of the discs retract. With this system you can cast farther and without any backlash.  This reel removes the fear of bird nesting while casting with a baitcaster. KastKing AMB completely eliminates the need for centrifugal brakes.
Flippin' Great
MegaJaws Elite has a Flipping Switch. The flipping switch system immediately turns the MegaJaws Elite into a special pitching and flipping reel. Flipping switch reel are not new to the fishing tackle market, but this is the first time KastKing has offered a baitcasting reel with this feature. It will also be a worthwhile option for anglers who bottom fish. It lets out and stops line out by simply depressing the thumb bar. Given that it's a saltwater ready reel, this will be a bonus for fluke and flounder fishermen.
It Will Fit Your Mitt
KastKing utilized their Palm Perfect Design resulting in a super low profile height of 41mm.
It Can Cast a Mile
MegaJaws Elite baitcasters have the KastKing LFTV (Low Friction Tapered Vortex). It's a funnel shaped line guide that reduces line friction a lot, giving you super long casts. KastKing LFTV was introduced on the original MegaJaws and has undergone some further developments since its inception.
What's more:
MegaJaws Elite has a 9 + 2 + 1 ball bearing configuration.
It features two super-bearings on the spool that can spin for days.
A short main shaft generates faster spool speed for great castability.
Nine other double shielded stainless ball bearings keep the reel super smooth and corrosion resistant for saltwater fishing.  
Tough, But Light On Its Feet
MegaJaws Elite casting reels have a CNC machined rigid aluminum alloy frame for strength and stability and weight reducing carbon fiber side covers with a swing-wing side cover that stays attached to the frame when opened.
The reel weighs only 6.4 ounces.
It's got incredibly strong gears.
A 7075 aerospace aluminum main gear hardened to Rockwell Hardness 80.
Manganese brass pinion gear increases longevity and durability. It gives smooth cranking and a great gear feel even under heavy load.
Double Your Pleasure; Double Your Fun
MegaJaws Elite baitcast reels come in two double trouble gear ratios that can cover a wide range of fishing techniques.
A popular ratio of 7.2:1 is the black version.
The red model has a high speed ratio of 9.1:1.
I'd suggest at least one of each gear ratio to cover the bases.
Honorable Mentions
Carbon fiber drag system has three discs that gives you up to 17.6 lbs. of drag without any hesitation.
A spool tension knob with clicker detents.
An oil service port round for easy maintenance out the.
There's no question that the KastKing MegaJaws Elite baitcaster is real deal of reel deals. It's on the top of the brand's list for 2022 when it hits in the Spring of '22, as well as topping my list of the five best baitcasting reels for 2022 buying guide.
2. Speed Demon Deadbolt
KastKing built the Speed Demon Deadbolt reel that is a real performance baitcasting reel with no drag. Let me repeat…no drag.  There's no star drag. The fishing reel is locked down solid. There's no drag so there's no chance of your drag slipping or ever loosening up. This is a boon for power anglers everywhere who fish heavy cover. That's what the Deadbolt is all about; fishing heavy cover. Flip your bait in the thicket, hook them up, and get them out without the drag slipping. There's no question that they're coming out.
Thoughts of a Pro Angler
Deadbolt was built on the idea presented to KastKing by MLF Bass Pro Cliff "Cajun Baby" Crochet who is the epitome of power fishing for bass. He worked side-by-side with KastKing throughout the development and testing of the new baitcaster.
Rock Solid
Speed Demon Deadbolt baitcasting reels have a sturdy, solid aluminum frame, which is important because it prevents twisting when torquing forces are applied to the reel from the zero-drag setup.
Much thicker and bigger main gear and brass gear
Everything You Need In a Baitcast Reel
It has a centrifugal braking system that allows you to set the reel for longer casts on open water with the wind.
You set your centrifugal brakes on the inside as you would with a normal casting reel and then you can fine tune it on the outside with the external Demon Eye brake setting.
A 7.4:1 gear ratio lets you do everything.
It is a good, versatile gear ratio that gives you performance and enough speed, and it gives you power to pull fish out of heavy cover.
10 + 1 stainless steel shielded high-end ball bearings.
Strengthened aluminum handle.
An outstanding strong aluminum alloy body.
All of these features give you a smooth solid performance reel with a little bit of everything you need.
Bulletproof Components
There's a lot of stainless steel in this reel. There's a bulletproof stainless steel pawl, a stainless steel split main shaft and stainless steel hardware. Everything that's put in this reel from the stainless steel parts, to the brass gears, and alloy frame are all built to take abuse and handle the no drag system. Reinforced carbon side plates help the KastKing Deadbolt weigh in at a respectable 6.7 ounces. Not bad at all for a baitcasting reel with a lot of stainless steel and brass parts.
Words of a MLF Pro
Here's what the Cajun Baby Cliff Crochet, who makes his living bass fishing in heavy cover, said about his concept reel, "If you're looking for the perfect heavy cover reel the Speed Demon Elite - Deadbolt is what you're looking for; trust me. We've done the work. We had an idea, we brought up the prototypes, we put it to the test. We broke stuff, we corrected stuff, we fixed stuff. We put together the best heavy cover reel that we can come up with and that's the Speed Demon Deadbolt by KastKing. It's Cajun Baby tested…Cajun Baby approved."
Due out in the Spring of 2022 there's no question why the KastKing Speed Demon Deadbolt belongs on the five best baitcasting reels 2022 buying guide list.
3. KastKing Speed Demon Elite Skipping & PitchingReel
Here's another concept baitcasting reel developed by KastKing. It was developed solely for skipping bass baits under docks and the like. Based on the Speed Demon Elite platform the Skipper enters the brand to complete the trifecta of Speed Demon baitcast reels. The original Speed Demon Elite the world's fastest baitcaster, aforementioned Deadbolt, and know the Speed Demon Skipping Reel.
Same but Different
There's a lot the same as the original Speed Demon Elite but there's a lot that is different. The pawl, main shaft, supporting shaft, and hardware are all stainless steel. It's offered in one gear ratio. A hard-anodized 7075 aluminum alloy main gear matched to a brass pinion gear produces a ratio of 8.6:1 with an IPT of 34.  Quick enough for a snappy retrieve.
What's Different
The big difference, and the big story, is the line capacity. KastKing used a specialized shallow spool with a mono capacity of (LB/YD) 4LB/130 Yds,  6LB/100Yds,  8LB/90Yds of monofilament line. By comparison the OG Speed Demon holds (LB/YD) 10/140, 12/110, 15/90 of mono. For braid, using KastKing KastPro 20 lb braid as a standard, the new skipping model holds 100 yards, while with the original you could pack on 270 yards of 20 lb KastPro. The reason is that long casts are not a big deal in the skipping game and this new spool is designed to unload faster.
What's the Same
Still the same are:
CNC machined aluminum spool.
Carbon fiber side plates.
10 + 1 shielded stainless steel ball bearings.
Max drag of 18 lbs. weight is 6.7 ounces.
The 90 mm handle is 6061 aluminum.
If you're a bass fishing tournament competitor or a serious recreational angler who goes skipping for bass, add a Skippy to your baitcasting reel must have list. It's on mine.
4. Bassinator Elite Baitcasting Reels
An Elite Reel Among Elite Reels
I had to include the KastKing fishing reel that has served as the flagship for the brand for the last few years.  Bassinator Elite baitcasting reels have been out on the water doing work in bass fishing tournaments in the hands of anglers such as Major League Fishing Pros Brent Chapman and Cliff Crochet and countless others who have also used the Bassinator in competition. There's a "Who's Who" of KastKing Pros on their website who use the Bassinators.
Best Baitcasting Reel for The Money
The greatest outstanding feature of this "Best of 2022" reel is what you get for the money. Features and the quality found in this baitcaster would cost two to three times as much in any other brand. Yes, bargain shoppers may squawk at Bassinator Classic's $179 price tag. But, it's worth every penny. Listen to  the words of 2012 AOY and MLF Bass Pro competitor Brent Chapman. He said, "I have either fished with or tested every other major brand baitcaster out there. All of them. KastKing Bassinator is as good as, or better than, all of them.  And, Bassinator is a bargain in comparison. I have to trust my fishing gear. It's how I make my living. I trust KastKing." That's a big endorsement. Cliff Crochet will tell you pretty much the same thing.
Two Choices
Bassinator comes in two models. The Bassinator Classic , which is a matte silver, and the Ninja with "grellow" war paint.  Bargain hunters can save a few bucks by buying the Ninja. The difference between these two reels, aside from color, is the Ninja has EVA grips and only comes in a 6.6:1 gear ratio. Bassinator Elite Classic is available in 6.6 and 8.1:1 with cork grips.
There's a long list of features in this baitcast reel to qualify it as a member of the "Best of 2022" class.
Weight: 5.9 ounces
Max Drag: 17.65 lbs.
IPT: 27.8 inches
Standard Mono Line Capacity  LB/Yds: 12 LB/130 Yds
Metric Mono Line Capacity  mm/m: 0.285 mm/120 m
Weight: 5.7 ounces
Max Drag: 17.65 lbs.
IPT: 27.8 inches
Standard Mono Line Capacity  LB/Yds: 12 LB/130 Yds
Metric Mono Line Capacity  mm/m: 0.285 mm/120 m
Weight: 5.7oz 
Max Drag: 17.65 lbs.
IPT: 34.1inch
Standard Mono Line Capacity  LB/Yds: 12 LB/130 Yds
Metric Mono Line Capacity  mm/m: 0.285 mm/120 m
For more details please visit kastking.com and see the Bassinator listing under casting reels.
When you have a great reel with a name that's a combination of Terminator and Assassin…how can you not love it?
Toss Up?
It was a struggle for me to pick the fifth best fishing reel for this year. I was torn between the venerable Speed Demon Elite, the world's fastest baitcaster with its mega-list of features, and the KastKing Kapstan Elite.
Drum Roll Please
To me, the Kapstan Elite 300 size baitcasting reel is the unsung hero of KastKing. You can use it to fling huge swimbaits on the lake, and you can take it saltwater fishing where it can punch way above its weight. Its huge line capacity and 35 lbs. of drag will give you plenty of backup and stopping power. I've scrolled around the 'net and I can't find anyone who has a bad word to say about the KastKing Kapstan. This powerhouse baitcaster should of made the list, but was edged out by the fastest baitcasting reel on the planet. Here's why…
5. Speed Demon Elite  – The World's Fastest Baitcasting Reel
In our world where being the biggest, fastest, and the badest lead up to being the best; the fifth and final selection for my best baitcasting reels for 2022 buying guide is the KastKing Speed Demon Elite.
Bragging Rights Matter
Simply said, Speed Demon Elite has an unequaled 10.5:1 gear ratio speed and an amazing 42 IPT for super-fast line retrieve. This makes it the fastest gear ratio baitcast reel on the market today.
And, as I have mentioned, everything KastKing does they do with their concept of Affordable Innovation in mind. In any other brand you would be spending $350 - $400 for a fishing reel like this. Bragging rights carry a price.
The Need For Speed
Okay, you may be well aware of the need for speed in a reel. Quicker line retrieve to get your next cast out, slack line pickup on the fish that's charging at you, less wrist fatigue from less cranking and so forth. If cranking speed was an Olympic sport –  KastKing Speed Demon Elite 10.5 would take the gold medal.  
There's More Than High Speed Performance
In addition to speed the Speed Demon Elite gives you smoothness of gear feel, it is comfortable in the hand, easy to maintain, and, at the expense of repeating myself… it's a lot of fishing reel bang for the buck.
In Conclusion
All of the KastKing reels mentioned in my Five Best Baitcasting Reels 2022 Buying Guide are available in right hand and lefthand models at the same price. KastKing does not add a surcharge for lefthand fishing reels. Kudos to KastKing for not discriminating against lefties. Although I am right-handed, I use left handed baitcasters. I have always frowned on brands that charge more for the LH versions.
Again, that leads up to my points about selecting these five best baitcasting reels for 2022. In my opinion, the KastKing fishing reels on the buying guide list are the best value offering the best baitcasting features at the best price. Other brands cannot compete at these price points with the same cost to value ratio. KastKing offers anglers the best baitcasting reels for the money. Period. We can argue all day long about who has the best performance baitcaster, but the price is the price.  The KastKing motto, "Affordable Innovation" holds true with all of these reels. In the current period of economic inflation (as of this writing in 2022 inflation in the US has hit its highest rate in 40 years) and rising costs, I'm sure I'm not the only one who wants to save money on good fishing gear.
Terrence McDonough is a freelance outdoors writer who began his fishing journey more than 60 years ago.