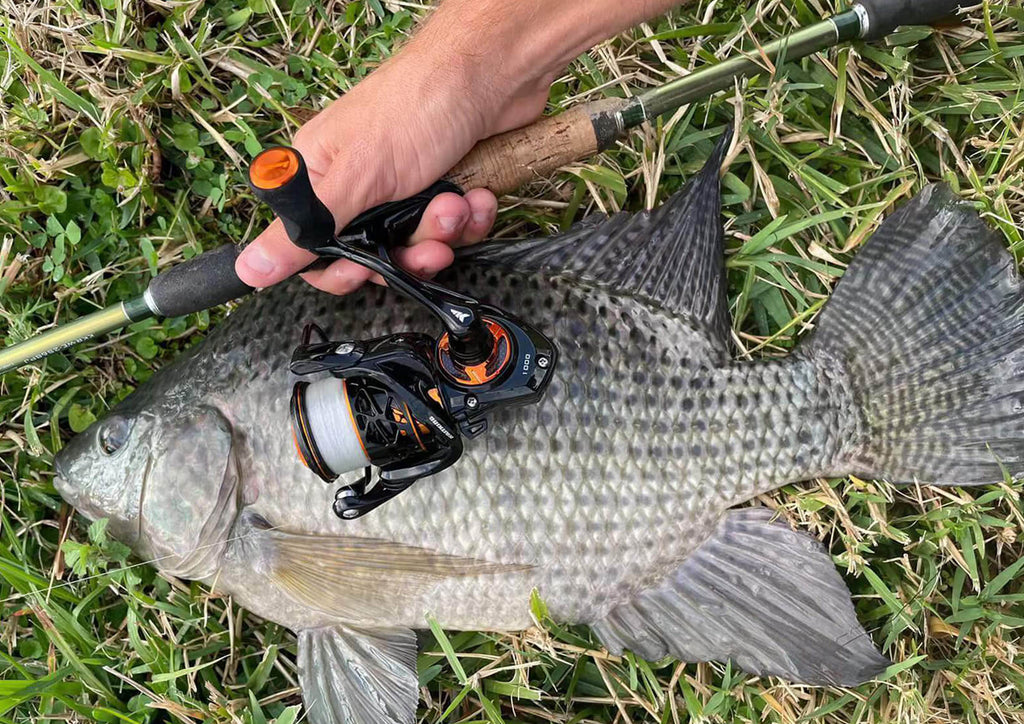 Best Spinning Reels for 2022
There are a lot of choices for the best spinning reel for 2022 from KastKing. This writer takes a look at all of the KastKing reels and gives his opinion on what are their best spinning reels.
With 2022 already seeing some great fishing photos all over the KastKing Facebook Page, I think it's a good time to look through the KastKing fishing reel lineup to see what are the best spinning reels for 2022! There are so many really good reels for KastKing anglers, so even though you may want to know what is the best spinning fishing reel for 2022, there may be several options, depending on your style, price range and what you "like."
KastKing has come a long way in a short period of time on the spinning reel front. From smaller reels for finesse fishing to the new, what could be, the best spinning fishing reel of 2022, the Kapstan Elite for saltwater fishing, or the new MegaJaws Elite Spinning Reel for finesse fishing coming out, too. Add them into the already stellar lineup of Sharky series, Speed Demon, and Zephyr spinning reels, and you have a lot of options for the best spinning fishing reel.
The KastKing Sharky Series
In the Sharky lineup, including the Sharky baitrunner spinning reel, the next Gen Sharky III fishing reels are a top notch offering. It has been a best-selling KastKing reel. The reel has substantial power, is as smooth as glass drag, and is quite friendly on the wallet. This spinning fishing reel offers a high percentage fiber reinforced graphite body and rotor, making it extremely light. The reel is also super powerful with up to 39.5 pounds of smooth and reliable triple disc carbon fiber drag. Add in the oversized stainless-steel main shaft, and stronger precision mesh manganese brass pinion gears for more fishing muscle, and you can see why it could make the "best" list.
KastKing Speed Demon Spinning
Speed is the name of the game where this reel is concerned. With a lightning fast 7.4:1 ratio, this fishing reel takes up line to the tune of 38.6 and 42.1 inches per turn (IPT), depending on whether it's the 2000 or 3000 size. The speed ability serves two options for anglers. The first is, and I have had this happen while cranking largemouths, is moving the bait as fast as the fish is chasing. There are times when a bass will actually be swimming too fast, so your bait needs to move faster. The 7.4:1 ratio makes this a breeze. The second is the ability to get your lure/bait back to the shore or boat, to get back out into the feeding zone quicker. Could the  KastKing Speed Demon Spinning be the new best spinning fishing reel for 2022?
KastKing Zephyr Reels Are On Fire!
The KastKing Zephyr series of spinning reels has become one of my favorite reels this past year and is definitely in the running for best for 2022. I use both the carbon and the 1000 Spin Finesse System (SFS) for smaller baits while targeting smallmouth bass. These two reels offer excellent casting ability, plus the smaller SFS has the narrow spool that has a patented rim design for longer casts. It also has a 5.2:1 gear ratio for a good balance of torque and speed with a line retrieve rate of 24.3 IPT. Back to the carbon reel, I use the size 3000 and 4000 for a mix of light saltwater fishing and freshwater action. Zephyr reels are another super light edition, which casts great and offers a three carbon fiber disc drag delivering up to 22 pounds of smooth drag. Another really good feature is its value for the buck. A good fishing reel, which pricewise some might feel it is entry level, but after using you realize it is a top end piece of machinery!
The New KastKing Elite Model Reels … The Best Spinning Fishing Reels for 2022?
I was hoping to be able to test the new KastKing MegaJaws Elite spinning reel before this best bet primer, but the reel is still being fine-tuned to bring KastKing fans the best is there is to offer. I heard this about the reel from the KastKing tech department.
"The MegaJaws Elite Spinning Reels are the best spinning reels I have ever felt. The one-piece, seamless, aluminum alloy body construction keeps everything perfectly aligned. You really have to try it to understand how smooth it is.
 "We put all of the best stuff in this reel including a CNC machined aluminum body, long cast spool, one piece bail, DSSR, high-end bearings and carbon handle. It weighs only 6.5 ounces, so it will be a nice light edition."
This reel has to be at the top of the list when anglers talk about the best spinning fishing reel for 2022. It was built to satisfy the tournament finesse fishing market that demands top quality fishing gear. The reel comes with Maxidur Double Shielded Bearings (10+1). Double sliding stabilizer rods (DSSR) to eliminate any body twist under torque.
It will be available in a 2500 series with a 6.2:1 gear ratio and as mentioned, is made for tournament angling… plus the average Joe who just wants the best spinning reel for finesse technique applications! This reel will be available at the end of March 2022 and I cannot wait to put it through the rigors.
The last one on the list for best spinning fishing reel for 2022 is the new Kapstan Elite Spinning Reel. Coming in late Spring of 2022, the newest edition to the KastKing Fishing Reel Family will be a game changer in the saltwater world for KastKing, and other, anglers.
The reel will be offered in five sizes – 3000, 4000, 5000, 6000 and 8000. The largest of the five will have a drag offering of 55 pounds, and hold a whopping 425 yards of 65-pound test KastKing 13X Braid fishing line. Want to battle some tuna offshore on spinning gear? This reel can handle it. How about plying the backwaters with an Estuary Rod for reds, snook, stripers or blues; the 4000 will be a perfect fit.
You wanted waterproof fishing tackle characteristics… The Kapstan Elite is IPX6 rated, which is equivalent to a lot of high-end reels out there. IPX6 rating means the reel is extremely waterproof, impenetrable by spray, weather, and even a non-sustained dunking. To pass IPX6 (IPX means  - Ingress Protection X – not tested for solid particles) testing, the reel is sprayed from all directions with 100 liters (26 gallons) of water per minute at a minimum pressure of 15 psi for at least three minutes. You would have to agree, that's way more of a drenching than most anglers would tolerate!
Add in the all-aluminum body of the three larger ones (5000, 6000 and 8000) and the aluminum body/graphite rotor of the two smaller ones (3000 and 4000) and you have a reel that is super light and strong. To round out the reel, KastKing put in a CNC machined 7075 Aluminum main gear, which is stronger than zinc, and much lighter. Just so you don't down-play aluminum over brass or zinc gears. Aluminum 7075 has a tensile strength somewhere in the 75,000 plus area!
For 2022, and although I have not seen it yet, I have to believe the best spinning reel for 2022 will be the Kapstan Elite Spinning Reel. Whether as a saltwater spinning reel or freshwater spinning reel, I expect to see a lot of them in the hands of anglers in years to come. There are a lot of options for anglers in the KastKing lineup that are worthy of the best class ranking. The Kapstan to me, due to its size availability (from 3000 to 8000) and waterproof characteristics will make it, in my opinion, the best spinning fishing reel for 2022. 
Tom Melton is an expert in all aspects of inshore saltwater fishing and freshwater fishing. As an authority on angling he strives to excel while teaching others, and in his own outdoors adventures. Whether it is a freshwater bass fishing tournament, or recreational fishing with family, his skills and knowledge always shine. Tom has been an outdoor writer for more than three decades.