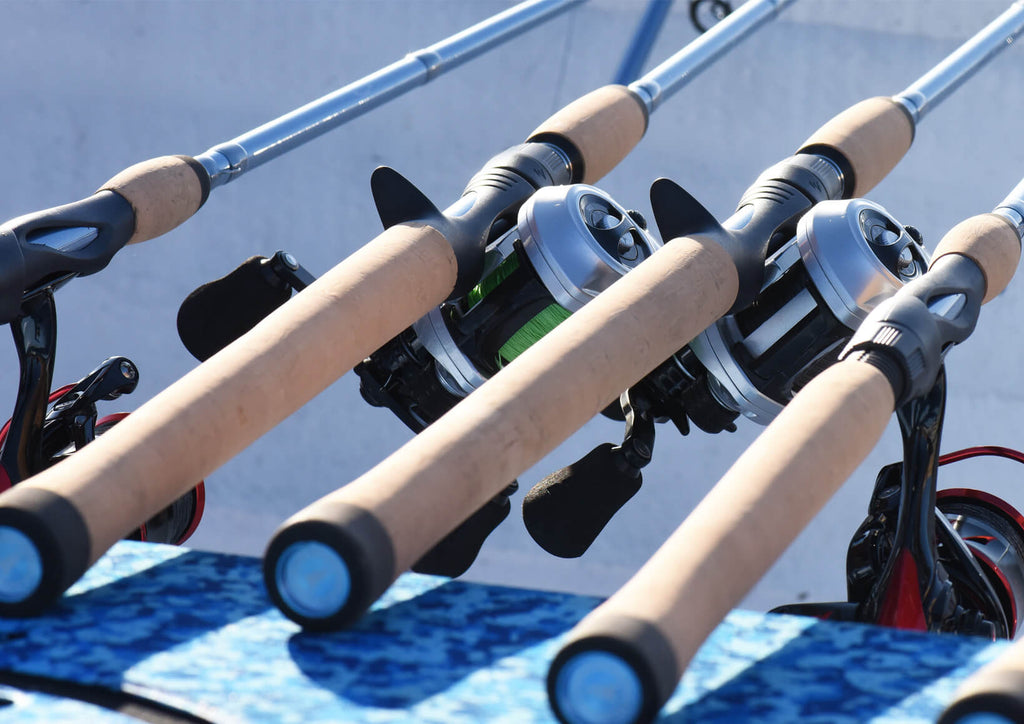 Different Types of Fishing Rods
What's the difference between composite graphite rods and 24 Ton carbon fiber fishing rods? This writer compares two KastKing fishing rods.
Let's take for instance the 7 foot Medium Heavy KastKing Brutus and the 7 foot MH KastKing Perigee II fishing rods.
KastKing Fishing Rod Comparison
The KastKing Brutus fishing pole is made from composite graphite and glass blanks with stainless steel line guides w/zirconium oxide rings. The weight of this particular 7'MH fishing rod is eight ounces.
The Perigee II rod is made from 24 ton carbon fiber using KastKing's KastFlex technology, and weighs about five ounces.
These two rods are the same length and action. Although, they are built differently and one is heavier.  When choosing a rod you have to know what fishing technique you will be using.
King Brutus For Heavy Duty Fishing
I've had my spinning reel on the Brutus. I was using it for Ned rigs, but the rod is too heavy and tuff for that. It's more suitable for walleye fishing, catfishing, salmon fishing or saltwater fishing for many inshore fish. Like big reds, black drum, and small sharks.
The Brutus KastKing Brutus fishing rods are "Brute Tuff." They are ready for you to challenge them to the toughest fishing brawl. They are Brute Tuff composite graphite/glass blanks that stand up when other rods fail. KastKing's combination of carbon fiber and fiberglass result in incredibly durable fishing rods.
A Lifetime of Fishing Fun
Brutus delivers a lifetime of fishing fun without sacrificing performance and a feel that all anglers desire. The Brutus comes in many different spinning rod and casting rod models of power, action, length and number of pieces. I prefer to use the Brutus when I'm just sitting bait and waiting. Making sure to pick the correct rod for what you are fishing for. The fishing line you choose to use with each rod is very important. 30 lb mono and higher is suitable for this rod and 65 lb and higher braid.
Perigee II Fishing Rods For Finesse Fishing and More
It's not to say that the Perigee II Rod isn't strong enough or tuff enough; they are made differently than the Brutus fishing poles.
The KastKing Perigee II rod is more suitable for the Ned rig. It's a flexible rod. It's a power transition system rod, which basically describes where the rod bends when pressure or weight is applied to the rod. Because of this feature it makes the Perigee II rod a more suitable fishing rod for finesse fishing, bass fishing, and light to moderate saltwater fishing.
The Perigee II comes in one-piece and two-piece models, Perigee II Twin-Tip rods come with two tips – your choice of medium light with a medium tip, or a medium with a medium heavy tip end, are priced to fit your fishing gear budget. It's almost like getting two rods for the price of one. These great value rods are not like any other fishing rods for casting and spinning. You can choose any power that you want, light rod, ultra-light rod, medium, medium light, medium heavy and even heavy fishing rods!
Good Fishing Rod Components
KastKing has put great quality components in the KastKing Perigee II rods. Both the one-piece and two-piece Twin-Tip casting and spinning rods have the Fuji O-Ring guides, ergonomic graphite high-strength reel seats, high-density EVA grips, Saf-T Keeper hook holder, the super sensitive of the "bare and beautiful" Toray carbon fibers KastFlex rods. I will use these rods as I'm walking the pier throwing jigs, top water, flounder fishing, bass fishing,  trout fishing, and crappie fishing. This is why understanding what rods are made out of, and what you want to use it for, is important.
Milton Thompson is an avid saltwater multispecies angler who lives in Houston Texas.