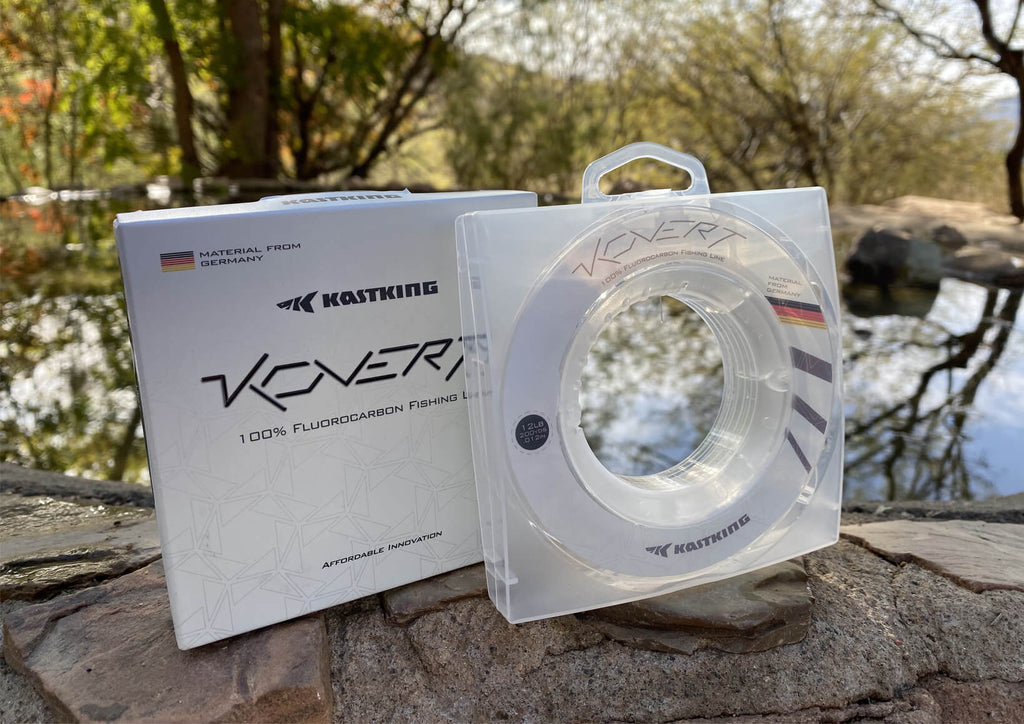 What is the best fishing line for you? There are plenty of different fishing line types to pick from. I am going to go over the different types of fishing line and also what technique I use with each line from a bass fisherman's point of view. With so many options to choose from, how can you pick the best fishing line for your specific situation? You have these fishing line types to choose from: braided fishing line, fluorocarbon line, monofilament line and copolymer fishing line. Now let's go over my breakdown of my line of choice and also break down the differences of each line.
Making The Case For Fluorocarbon Fishing Lines
If I had to pick just one fishing line to use for the rest of my life, hands down I would say fluorocarbon fishing line would be the line of choice. All the other types of fishing lines have a place, but from a versatility standpoint I think fluorocarbon line is the best option for overall stealth and also low stretch for quick hooksets. It's low in stretch and also pretty much invisible to the fish. You could use it for a buzzbait on top, or crank offshore, or you could flip heavy cover as well as go ultra-finesse and use it to drop shot for smallies. Another reason I believe it is the most versatile is because now you can fish with it at night compared to a few years back when you had to fish with monofilament only at night to be able to see your line.
Then There's Braided Fishing Line Types
Braid line is also a very good option in line choice. I use Kastking KastPro for my fishing applications, but recently, KastKing came out with the 8x and 13x Finesse braided line, which is being used on all my spinning reel setups. I have really been impressed with KastKing's 8x Finesse Braid for its strength and also for its abrasion resistance. I am able to flip my Ned rig near lay downs and I don't have to be worried about breaking my line when using a smaller diameter line. I use braided line a lot because of the sensitivity and strength of the line. It is very versatile as well, just not as much for stealth vs the fluorocarbon. When using braid I mostly use it while using spinning rods. I run braid to a fluorocarbon leader when the fish are very finicky. This allows for the most sensitivity and I really have the most confidence when using this application. Another technique option anglers overlook is when throwing topwater baits. I have experimented with which topwater option I think is best when using braid line and most people say walking baits or frogs, and yes I agree but I have been using the 30 lbs moss green 13x KastPro Finesse braid when throwing my buzzbaits and my hook up ratio has improve 75%! I always struggled with my hookup ratio on buzzbaits and started using braid and I now hook up fish 3 to 1. That's the overall goal of any angler is catch the fish that bite and now the finesse braid has really stepped up my confidence. If you haven't tried the finesse braid on a buzzbait, I think you'd be surprised how good this combo is.
Monofilament Line The Old Grandaddy
Now we are going to talk about the real OG of the fishing line; monofilament line. What can you not say about this fishing line if you use this line? It is more affordable for the weekend warrior, and let's be honest, it does flat out catch fish. I grew up using mono fishing line and even today when I go night fishing I have it tied on. Fishing is the same as anything in the world, you have your plain Jane item that gets the job done, but then you have the better quality option. I don't use monofilament as much, just because it now seems braid and fluorocarbon lines have consumed my life, but there is a time and place for this line. Now, after years of messing around, when I throw walking style topwater plugs monofilament is my go to. The reason is it doesn't have the low stretch of other fishing line types in the line and that's why I love throwing topwater plugs with it. I want that bait to have as much action as possible and I've noticed, when I throw walking style plugs, I tend to get bitten from the side or they hit it and turn away from me. This allows the fish to truly hook themselves without ripping the bait away from the fish. Topwater fishing can be very frustrating at times. If you have a higher percentage of landing opportunities I think you will take it. That works best for me and also is best for my confidence. Now I will go over the line that is slowly making me reconsider using monofilament all together and that is copolymer fishing line.
Copolymer Types Of Fishing Line
Copolymer line is a combination of two nylons and it stretches less than monofilament and is less visible. I hadn't used this fishing line much, but this past year, I really started to try it and give it a chance. Honestly for this coming season I am going to get rid of all my monofilament line on my fishing reels and give this a try. I love the fact it's a smaller diameter line compared to the same pound monofilament and doesn't stretch as much as monofilament, but does have more stretch than fluorocarbon. So, I am really excited to see if this line will be my go to topwater line. I do know there is specific copolymer line specifically for topwater, so I am anious to give it a try. One thing I really liked with the copolymer line as a casting fishing line was that I felt it was smoother coming off the reel when casting and thought I could cast a bit farther compared to using monofilament. To be a smaller diameter line, the knot strength was better than fluorocarbon, but I can't say that with confidence just yet. I am really excited to test this out for the 2022 season.
Overall, I believe any good line that you decide to use will help you catch fish. But, I also believe there are better line choices for each fishing technique. I'm not saying my way is the only way, but from a confidence standpoint that is what I like. The biggest thing I can say is if you are considering a certain line, I would honestly give them all a try because that is the only way to understand what works best for you. Copolymer line is the most interesting to me because it is supposed to be more sensitive so I think you can find a place for these fishing line types in your boat or tackle box. I believe both has advantages and disadvantages so there is a time and place for both. I hope this helps you when deciding on which fishing line types to buy the next time you have to buy some, good luck and tight lines!